Looking for some fun and vibrant Midori recipes? Look no further! We've got you covered with some of the best Midori cocktails out there.
Midori is an incredibly underrated and underused neon green Japanese liqueur. It's emblematic of the 1980s and is a staple in many bars worldwide.
While it was popular years ago, its trendiness declined. But it's back and stronger than ever. (No alcohol pun intended)!
And because there are so many creative Midori recipes, we compiled the best of the best cocktails and punches for you to drink all year long.
What is Midori Liqueur?
Modri was first released in 1964 in Japan (where some of the best melons are grown) under the name "Hermes Melon Liqueur".
When it reached the United States in 1978, the name was changed to the Japanese word for "green" – Midori.
It was exclusively produced in Japan until 1987. However, as its popularity reached around the world, it is now made in not only Japan but also France, Mexico, and the US.
Although it's a liqueur, it's not as potent as other liqueurs out there.
What Does Midori Taste Like?
Midori is quite sweet thanks to its natural melon flavor component. Therefore, it can easily be mixed into crisp, sweet, and/or tart drinks.
And since it's so fruity, it pairs well with other citrus and orange liqueur.
Midori uses a combination of melons (Yubari King and Musk) to get its unique flavor profile.
One of the most expensive melons in the world, the Yubari King melon is an orange-colored, sweet melon. It's a cross between two cantaloupes and comes from the Yubari City region.
Musk melons are known for their sweetness and come from the Aichi and Shizuka provinces in Japan.
The green color from the musk melon is where the Midori creators got the inspiration for Midori's now classic green color.
Midori Recipes
1 — Midori Sour
What's the most famous Midori cocktail? That would be the classic Midori Sour.
It debuted in the 1980's drink and is probably so popular because it tastes just like a melon Jolly Rancher.
The Midori Sour is sweet yet tart (due to a sour mix). You can easily turn this recipe into a frozen cocktail by adding it to a blender with the ice.
But just hold off on adding the club soda until the end since bubbles and carbonation won't bode well in the blender.
2 — Japanese Slipper
Another popular Midori cocktail from the '80s is the Japanese Slipper.
It's as stunning as it is delicious with its melon and citrus notes. Plus, it's low in alcohol (Midori and Cointreau) and not too sweet.
3 — Green Demon
If you like all things sour (especially sour apple candies and lemon drop), pucker up because this Green Demon is just for you.
4 — Midori Colada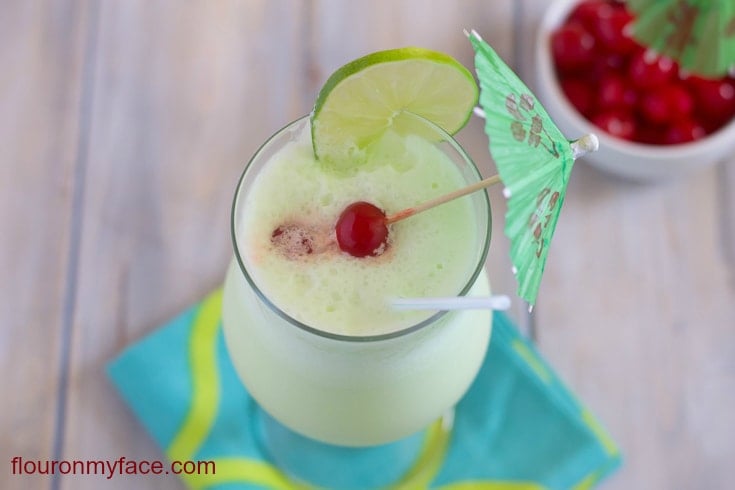 This creamy icy drink may look and be called a colada, it's not quite one.
True piña coladas are rum and pineapple based. This drink instead calls for vodka (instead of rum) and Midori (so melon liqueur instead of pineapple).
It still has the fruity flavor and creamy texture of a pina colada so it's perfect for anyone who doesn't like rum or pineapple.
5 — Shamrock Punch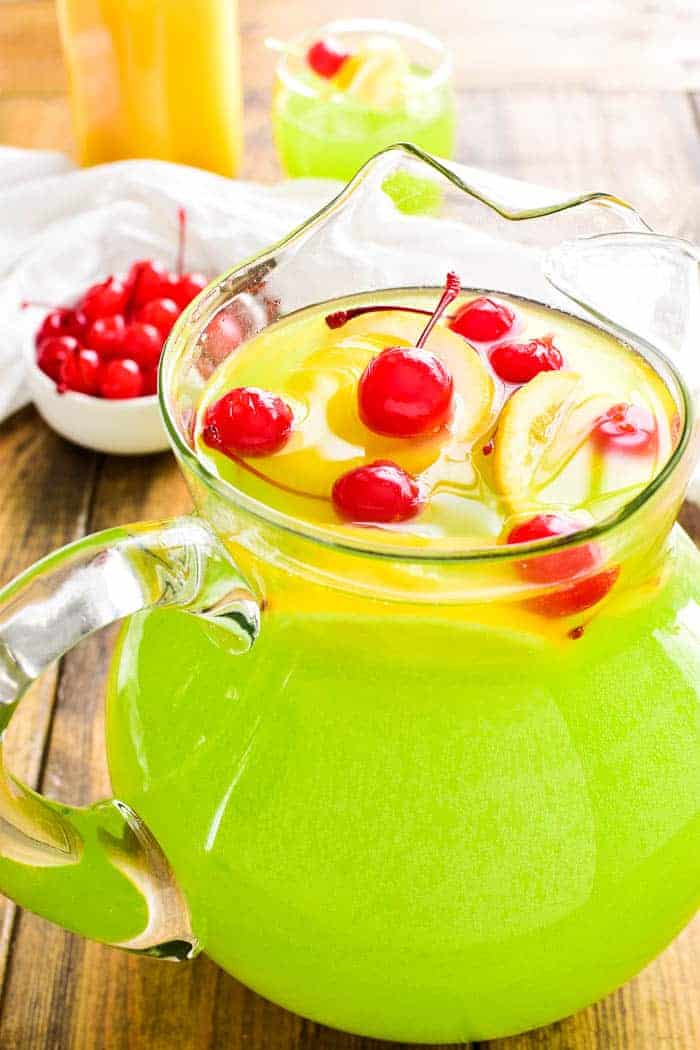 If sweet drinks are your thing, this Shamrock Punch is the first recipe on this list you should try.
It almost looks like Mountain Dew soda, but the recipe is actually quite sweeter.
Made of vodka, Midori, pineapple juice, seltzer, lemon, and maraschino cherries, it only takes about 5 minutes to whip up a batch.
This is a popular Saint Patrick's Day punch. So if you are throwing a themed party, pair it with white chocolate shamrock matcha cookies, Lucky Charm macarons, or no bake Lucky Charms bars.
6 — Tokyo Tea
The Tokyo Tea is the Midori/Japanese spin on a Long Island Iced Tea.
It's refreshing, zesty, and full of citrus flavors thanks to the melon, lemon, and orange notes you get from the Mirodi, fruit, and orange liquor (Cointreau).
And like a Long Island Tea, it'll get your head-buzz buzzing.
7 — Green Hawaiian
When you think of Hawaii, everything tropical and fruity probably comes to mind.
This drink is no exception. It's the perfect balance between sweet and sour flavors.
The Green Hawaiian boasts a pretty gradient shade. Dark yellows sit at the bottom to light green on the top, similar to that of an unripe pineapple (which is a prominent flavor in this recipe..
It pairs nicely with another Hawaiian staple, Huli Huli Chicken Kebabs.
8 — Midori Martini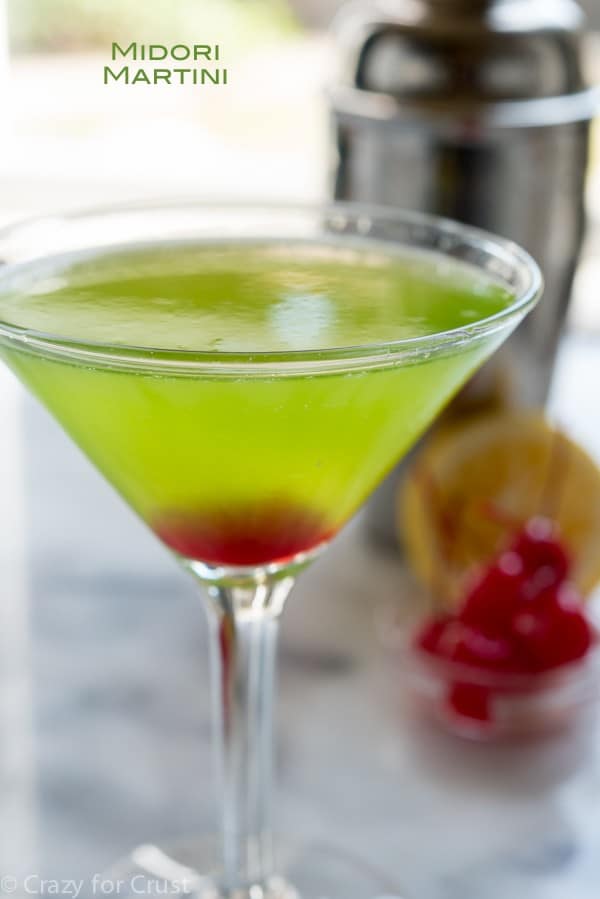 Most melon liqueur cocktails are bright green.
However, the Midori Martini is a bit more bright yellow thanks to the combination of Midori, vodka, lemonade/lemon juice, and simple syrup.
9 — Grinch Sangria
The Grinch Sangria has nothing to do with Christmas (although it works perfectly for a Christmas party).
But rather the sangria takes its name from the Grinch's green color and his red Santa hat.
It's a light and refreshing year round that features Pinot Grigio, Midori, Sprite, pineapple juice, and two pounds of strawberries.
The punch bowl (or each glass) rimmed with honey and dipped with red sugar sprinkles for additional sweetness.
10 — Blue Bahama
You'll feel like you're in a tropical paradise when you sip on a Blue Bahama.
This blue cocktail is a fun yet potent combination of everything alcohol: tequila, vodka, rum, gin, triple sec, Midori, and Blue Curacao.
11 — Melon Ball Cocktail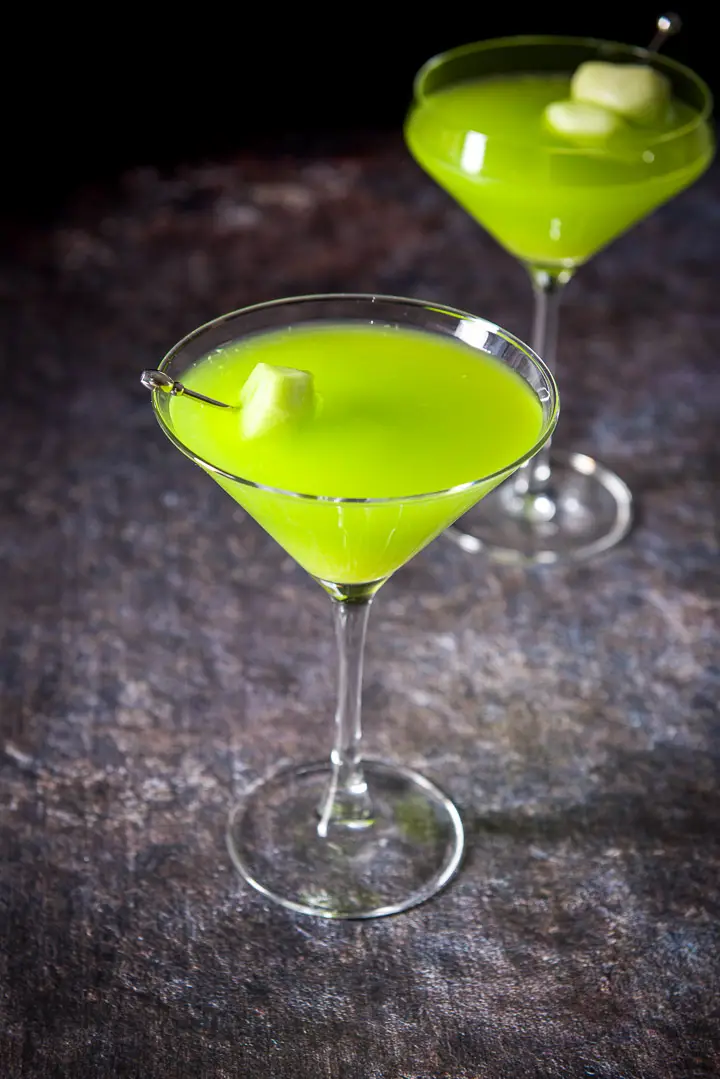 This drink is a must-have for anyone during the melon season.
Although using honeydew melon is the most popular ingredient for this recipe, cantaloupe and/or watermelon are just as tasty alternatives.
And considering that Midori is essentially melon alcohol, it's just as if you're drinking a melon.
Made from Midori, vodka, and orange juice, this Melon ball cocktail is topped with balls of melon for added texture and flavor.
More Green Drinks to Try
So whether you're throwing a Saint Patricks Day party, a Christmas get-together, or simply love melon, these Midori recipes will help you stay in theme, in flavor, and in style.
For more fun green mixed drinks, check out a few of our favorites below —
Bright and Vibrant Drink Recipes