We're saying goodbye to summer and hello to fall with this Peach & Blackberry Bramble Cocktail recipe that's fitting for both!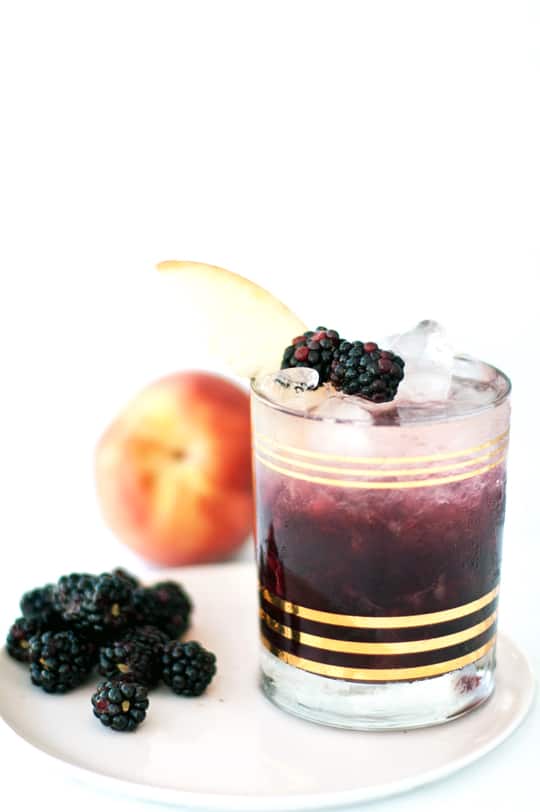 It may be taboo to wear white after Labor Day. But no one said anything about not drinking refreshing cocktails after the unofficial passing of summer!
A Peach and Blackberry Bramble cocktail is perfecting for sipping on the last of the warm days (or if you are in the Bay Area, during Indian Summer!)
I, Ashley, think this is the perfect transitional cocktail from the heat of the summer to the flavors of fall.
Fruits of summer are still lingering in the farmers market and in grocery stores while our thoughts have gone the way of changing leaves and cool weather drinks.
And this bramble recipe is the perfect mix of both…
I like to blend up lot of produce from summer to freeze for use in baking and cocktails well into fall.
It's a great way to preserve summers flavorful fruits even when they have long since disappeared.
Blackberries are one berry that thrive during fall. So use these generously in your Autumn libations!
Blackberries are chock full of health benefits so you can get a great dose of antioxidants and vitamin c during happy hour!
I could ramble on and on about blackberries. But instead, I'll leave you to making this delicious Peach & Blackberry Bramble cocktail!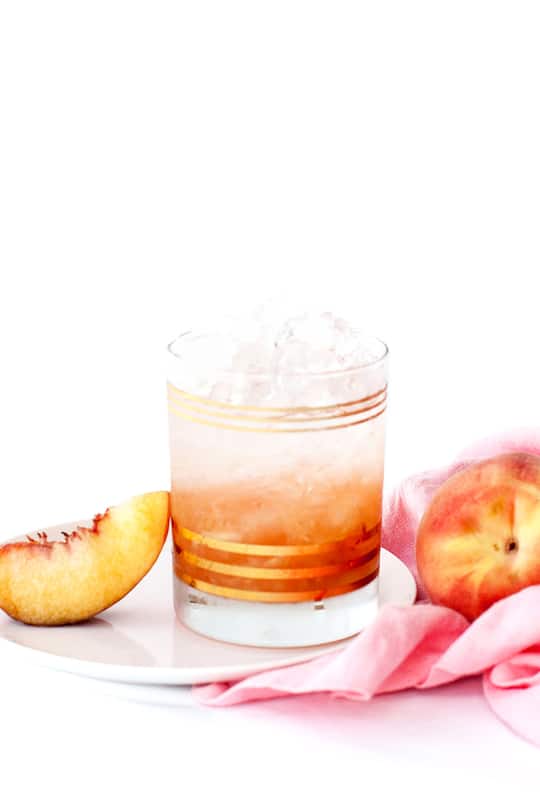 Ingredients Needed To Make A Peach & Blackberry Bramble Cocktail
1.5 oz dry gin
1 oz peach purée
.75 oz lemon juice
.5 oz simple syrup
.5 oz crème de mûre
1/4 cup fresh black berries
A few blackberries and peach slices for garnish
How To Make A Peach & Blackberry Bramble Cocktail
Add gin, lemon juice, simple syrup, and peach puree to a shaker with ice.
Shake for 10 seconds.
Add to double old fashioned glass (etched with gold if you have one!) with crushed ice.
Muddle blackberries and Crème de Mûre in a mixing glass, strain through a fine mesh strainer over the ice, and enjoy!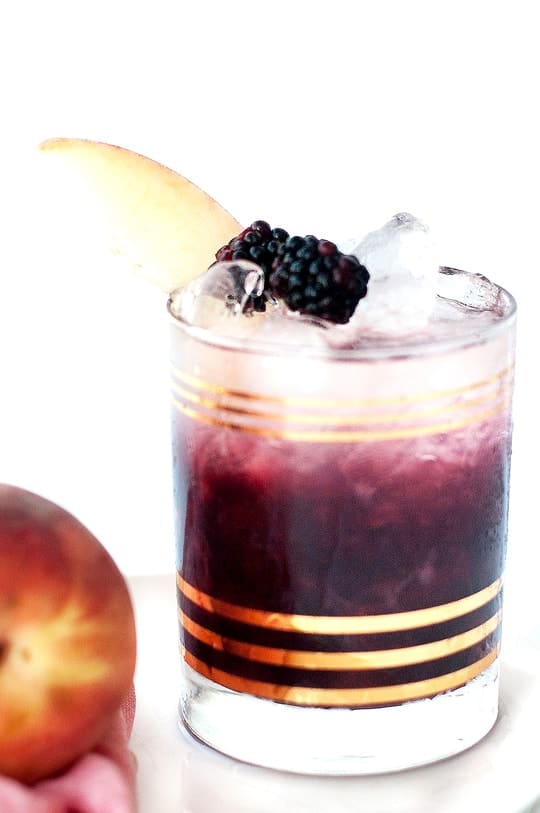 Recipe Notes
Be sure to use dry gin for the cocktail here.
There are a lot of sweet, fruity flavors and a London Dry with prevalent juniper and botanicals will help balance the drink.
Brambles traditionally are comprised of gin, lemon juice, simple syrup and Creme de Mûre, a blackberry liqueur.
Crème de Mûre can be hard to find so substituting Crème de Cassis will do the trick, but will lend a slightly different flavor profile from the currants.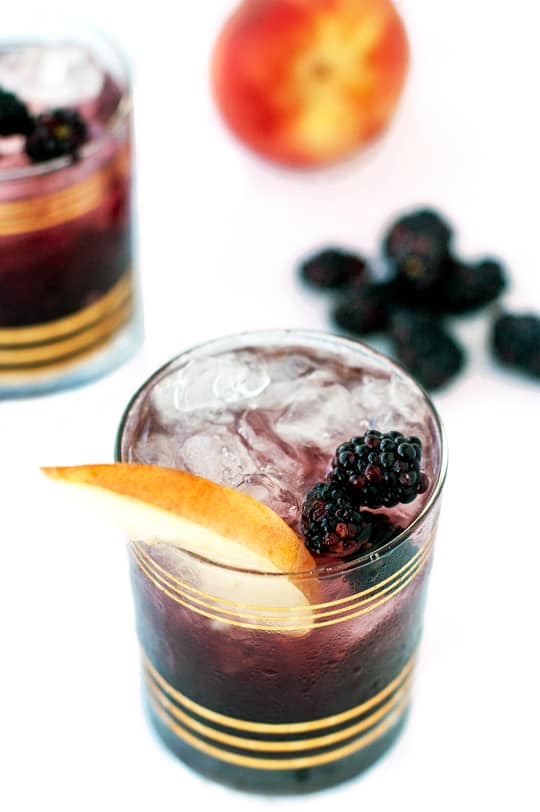 Now sit back, relax, and squeeze every last drop, just be sure to share the wealth!