Looking for some new seafood salad recipes to try this summer? Check out these delicious options, perfect for any occasion!
Seafood salad is a fantastic dish to bring to any party, to snack on, or to cool down with after a day in the sun.
It's cooling, fresh, and full of protein. It also works well as a snack, side dish, or a main meal.
The general seafood salad has a creamy base, shrimp, and crab in it.
However, not every seafood salad has to have shrimp, crab, or a cream base to be considered a seafood salad.
Ways to Serve Seafood Salads
Seafood salad is a great dish because it can be served up in a number of ways depending on your taste and theme. Of course, putting it in a bowl and keeping it simple is always an option.
But if you want to spice things up, try —
Crackers — Serve on the side of the salad and use the salad, kind of like a dipping sauce or thick creamy cheese spread.
Lettuce — Spoon the salad into the lettuce like you would a lettuce wrap.
Tomato/avocado — Hollow out the halved tomato/avocado and fill it above the brim with salad.
Cucumber — Spoon salad onto the cucumber or use the cucumber as a dipper for the salad (great for parties).
Pasta — Turn that salad into a pasta salad by adding 6-10 ounces of pasta and mixing it together.
Sandwich — Toast some bread, add some leafy lettuce and make that salad into a sandwich (like of a tuna salad or chicken salad sandwich).
Puff pastry — Spoon the seafood salad into the hollowed-out pastry (such as a croissant).
Seafood Salad Recipes
Crab-Based Seafood Salad Recipes
Unfortunately, a lot of seafood is more fattening and caloric than we might think.
However, crab is a great option because it's full of protein but doesn't have as many saturated fats as other seafood.
Many seafood recipes these days call for "imitation crab" because it's considerably cheaper and easier to get, store, and keep "fresh" than real crab and other more expensive seafood options.
Imitation crab is made from minced mild white fish, most often Alaskan Pollock.
When it comes to alcohol and crab, white wine is the way to go.
However, a white and sweeter rum also works well in bringing out the succulence of the crab meat – for example, a mojito or a classic rum punch.
1 — Easy Crab Seafood Salad
This crab salad recipe is the perfect seafood salad recipe for days when you don't feel like cooking, don't want to eat out, but want more than just a snack.
This quick and easy recipe requires ingredients you probably already have in the refrigerator: (imitation) crab, mayonnaise, sour cream, celery, lemon juice, (Dijon) mustard, chives, and dill.
If you like spicy, dice up some jalapeños, and add them to the mix.
2 — Crab Louie Salad
Crab Louie Salad, also known as King of Salads or Crab Louis Salad, is a salad that is high in protein, low in calories, and gluten-free.
Plus, it's rather simple to throw together and can be made up to four days ahead of time.
Imitation crab also works wonderfully with this recipe which means you can get that wonderful crabby taste without breaking the bank.
Shrimp-Based Seafood Salad Recipes
If you're looking to pair your shrimp salad with a drink, gin-based cocktails (like a gin martini or a citrusy gin punch) are a delicious combination, as gin pairs well with the briny sweetness of shrimp.
3 — Shrimp Salad with Green Curry Dressing
Take your normal shrimp salad dish up a notch by adding a dash of green curry paste. Plus, this recipe is very easy to make.
Once the shrimp is cooked, toss all of the ingredients together in a bowl and serve.
4 — Shrimp Avocado Salad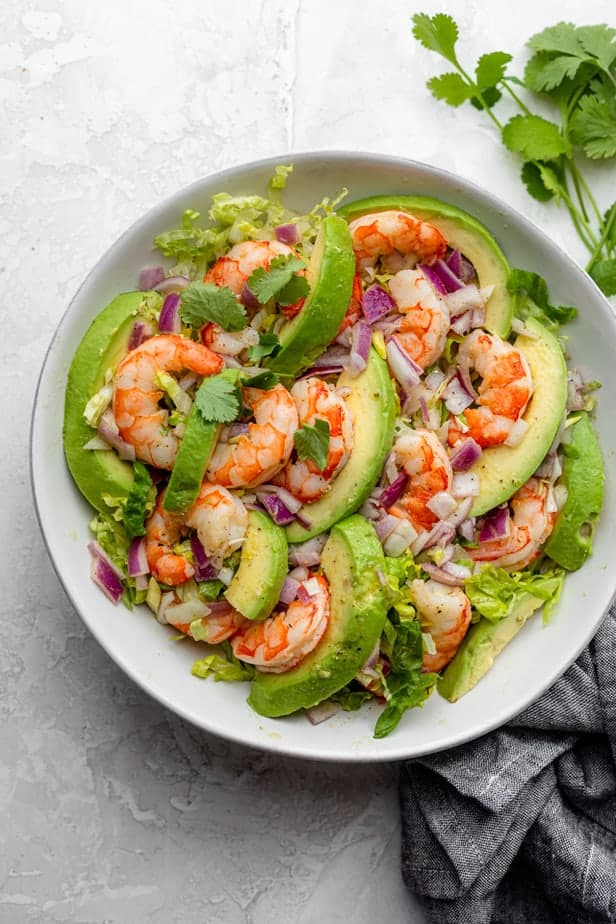 This is the perfect summer salad for Keto dieters. It's full of protein from the shrimp and healthy fats from the avocado.
It takes very few ingredients (shrimp, avocado, red onion, and dressing) and is easy to throw together spur of the moment.
Try your favorite dressing on it, a creamy citrus vinaigrette, or simply mix together (to taste) extra virgin olive oil, culim, salt and pepper, and fresh lemon or lime juice.
5 — Mediterranean Shrimp Salad
Mediterranean food is popular and not just because it's so healthy. The flavors and fresh food that are put into each recipe make it incredibly delicious.
And this Mediterranean salad is no exception.
The combination of shrimp, avocados, red onion, Roma tomatoes, olive oil, and lemon/lime juice makes it quick to make, simple to take place, and easy to enjoy.
Although the recipe doesn't call for it, add in some cilantro to give it an extra "pop" in flavor.
The combination of lemon juice and cilantro brightens up the flavor and brings out the best in all of the ingredients even more.
Smoked Fish-Based Seafood Salad Recipes
Smoked seafood goes very well with sparkling wine. The acidity in the wine brings out the creamy, buttery flavors of the smoked fish.
If you're going to a creamy smoked seafood salad, try champagne to balance the sweet and salty.
If you're cooking up a spicier smoked seafood salad, try it with Prosecco, which gives off fruitier notes of apple and pear.
6 — Spinach and Smoked Salmon Salad with Lemon-Dill Dressing
This fresh and crunchy Smoked Salmon and Spinach Salad are perfect for a light yet filling lunch, a salad for a dinner party, or a dairy-free late-night snack.
Plus, it only takes 15 minutes to put together. For a more substantial meal, pair it with lemon butter pasta or a Cacio e Pepe.
If you want to drink with this salad, try a refreshing mint mojito.
The citrusy flavors from the salad and the drink pair well together, with the mint and dill combining beautifully.
7 — Smoked Mackerel Salad with Crunchy Vegetables
Mackerel is a great fish that isn't too fishy. You get a subtle seafood taste but can easily play around with different flavor profiles.
This salad gets its crunch from Granny Smith apples, radishes, cucumber, and lettuce.
However, you can also play around and add in sweeter apples or green beans, too.
Although the recipe calls for smoked mackerel, it's easy to replace it with any smoked fish such as salmon or herring, as well.
8 — Smoked Salmon Avocado Salad with Dijon Honey Vinaigrette
Salmon and avocado are two of the best omega-3 fatty acid foods on the market. Combined, they make a perfect dish for any Keto dieter or healthy eater.
This Smoked Salmon Salad is super filling but also super light which makes it great for lunch, a side dish, or a quick nighttime snack.
It's chock full of vegetables, protein, and springy greens. Not to mention the delicious vinaigrette, which can be made up to six days in advance and taste just as great as on day one.
Since citrus goes so well with salmon, pair this salad with a cool homemade lemonade or booze it up for more fun.
9 — Smoked Trout Salad with Boiled Eggs
If you're landlocked but love fishing, try this smoked trout (or any river fish you catch) Smoked Trout Salad.
Like many midwestern states, potatoes replace green salad when it comes to meat, and this salad is no different.
The boiled potatoes act as the base (AKA "salad) with the smoked trout, pickled cucumbers, and red onions layered on top.
Drizzle with some creamy dill dressing, and this will be your next favorite summer salad!
Other Seafood Salad Recipes
10 — Italian Seafood Salad
This dairy-free Italian Seafood Salad is the perfect side dish for any dinner party. It has mussels, shrimp, squid, scallops, and conch.
Although it is time-consuming to make, considering each ingredient is prepared in a different way, it will be worth every minute once you taste it.
11 — Canned Mackerel Salad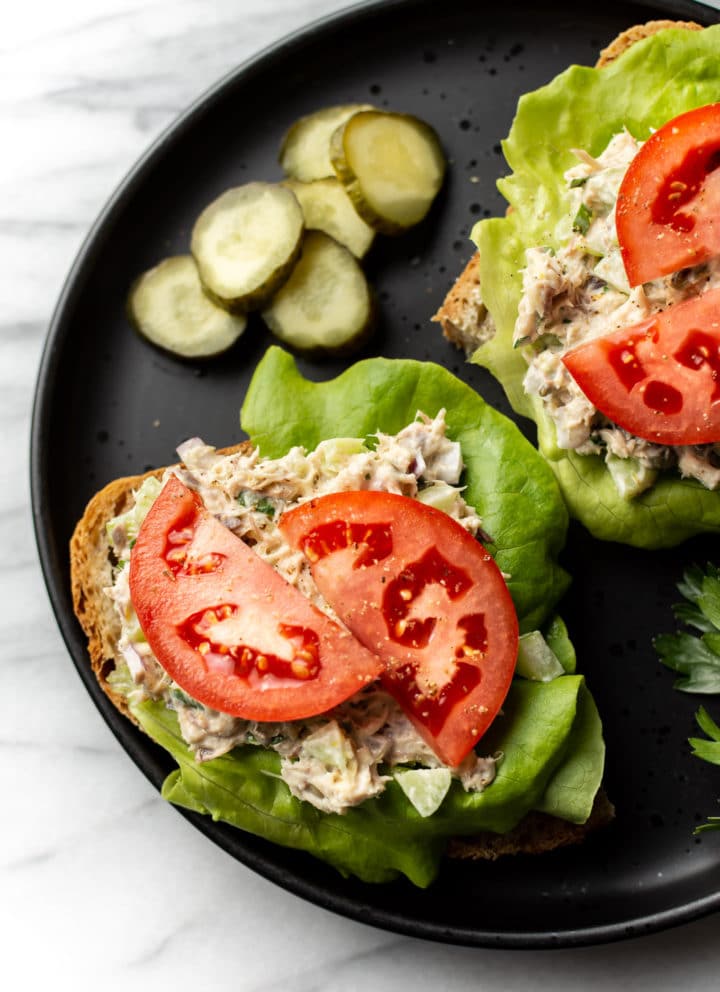 Holy Mackerel! This Canned Mackerel Salad is perfect for landlocked people who don't always get the freshest fish for seafood salads.
This recipe can replace your usual tuna salad and works well in sandwiches, wraps, or simply putting it over a bed of leafy greens.
Mackerel fish, in general, pairs well with a variety of fresh veggies such as cucumber, pickles, lettuce, onion, avocados, and tomatoes.
If you want to spice it up, add a few dashes of hot sauce to the mix, too.
12 — Barbecued Seafood Salad with Garlicky Greek Dressing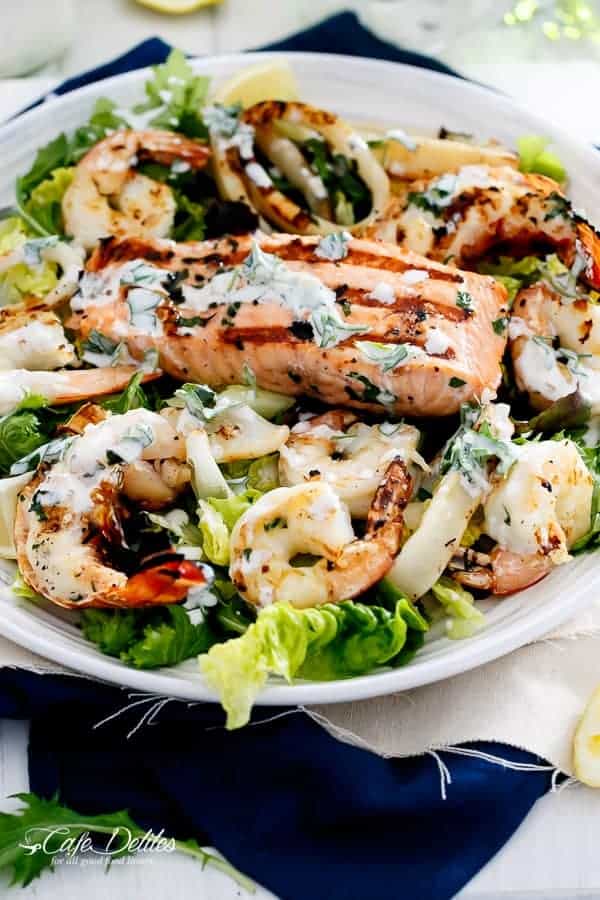 If you love blending flavors, this is the Barbecued Seafood Salad recipe for you. The smoky taste from the barbecue combined with the creamy garlic Greek dressing will make you come back for thirds.
This crisp salad combines calamari, shrimp, salmon, and lobster served over a green salad. Yum!
Pair with some delicious Huli Huli Chicken Kebabs, grilled veggies, and throw a perfect barbecue party.
More Easy Seafood Salad Recipes
Whether you're by the seaside, caught your own fish, or are in the middle of a mid-western prairie, these seafood salad recipes will impress your taste buds and all of your guests this summer.
So you won't have to fish for compliments.
For more easy salad recipe ideas, check out a few of our favorites from the archives below —