Pumpkin Pie Kettle Corn Recipe — There's only a few flavors that truly mark the beginning of fall and this Pumpkin Pie Kettle Corn recipe has them all covered!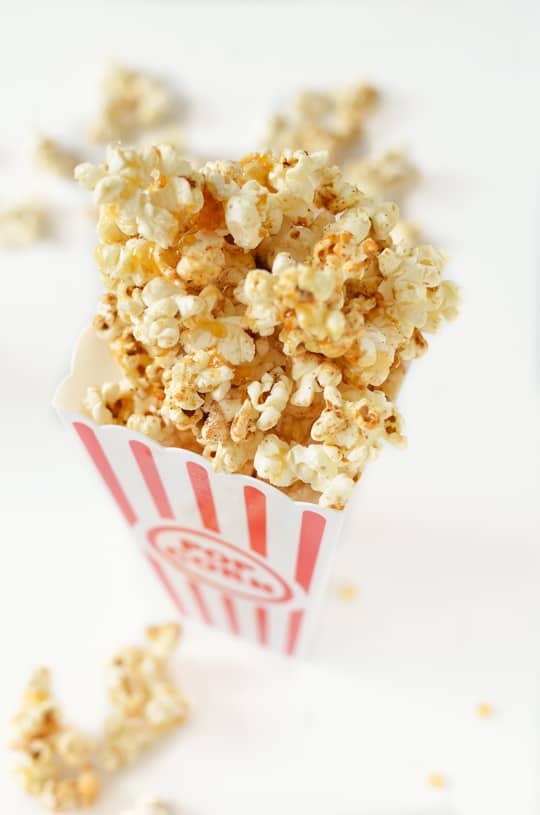 A large oversize blanket, giant mug of spiked hot chocolate, re-runs of the Sopranos and this Pumpkin Pie Kettle Corn are my key ingredients for a chilly autumn night.
While I, Alex will miss the dog days of summer, I love the gradual changing of the season. Golden leaves, a hint of crisp in the air, and pumpkin flavored everything. (Of course!)
So I created this Pumpkin Pie Kettle Corn with a girl's night in mind.
To me, nothing says bonding better than sharing a giant tub of popcorn, fun drinks, laughs and the occasional shriek.
To make my basic coconut oil popcorn seasonally appropriate, I went with everyone's favorite fall flavor- pumpkin spice…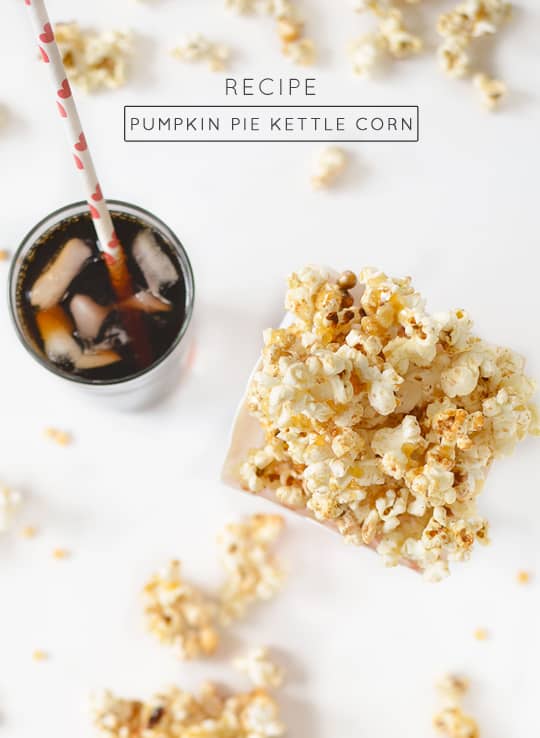 Ingredients Needed To Make Pumpkin Pie Kettle Corn
3 tablespoons oil, preferably coconut or vegetable oil
½ cup corn kernels
1/3 cup white sugar
1 teaspoon salt
2 teaspoons pumpkin pie spice
How To Make Pumpkin Pie Kettle Corn
Line a baking sheet with parchment paper and set it aside.
Place the oil into a large pot along with three corn kernels. Cover with lid and place over medium heat.
When the kernels start popping, this is your indicator that the oil is hot enough to add the rest of the ingredients.
Mix the corn kernels together with the sugar, salt and pumpkin pie spice. When you hear the kernels in the pot start to pop, add in the rest of the ingredients.
Quickly stir everything together and replace the lid.
When the popcorn starts to pop, shake the pan and then increase the shaking as the popcorn starts to pop, placing the pot back on the burner every few seconds to maintain the heat.
Keep shaking until you hear the popping being to slow, 1 to 2 seconds between pops.
If you wait for all the kernels to pop, you will end up burning the popcorn. It's better for some of the kernels to be unpopped then for the bottom to be burned.
Total popping time should take around 2 minutes.
Immediately pour the popcorn onto the baking sheet and use the back of a spoon to spread the popcorn into an even layer.
Let cool for five minutes so the popcorn can clump together and crisp as it cools.
Eat immediately or store in an airtight container to keep fresh for 1-2 days.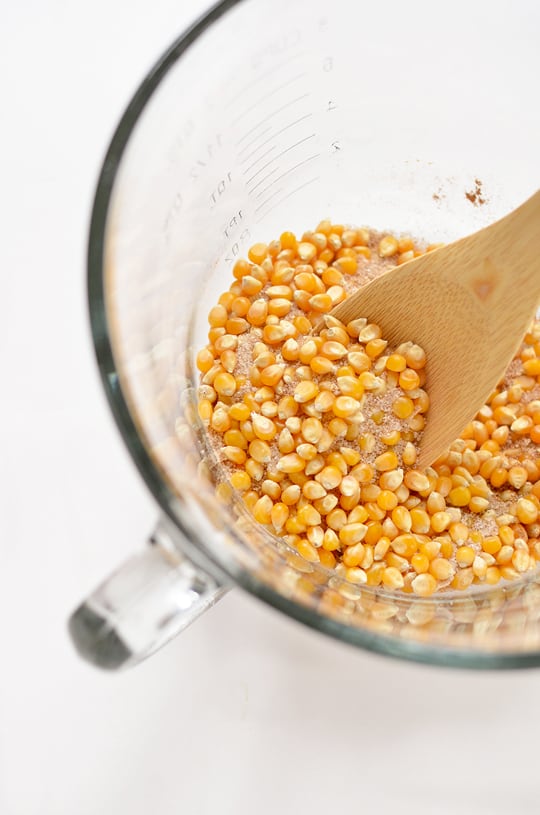 How To Adjust The Salty And Sweet Level In Kettle Corn
Prefer your kettle corn candy sweet? Then bump the sugar up to ½ cup.
You will have to do more stirring so it doesn't burn to the bottom but you'll be rewarded with a popcorn worthy of any state-fair snack.
For a more even balance of salty and sweet, stick with the 1/3 cup.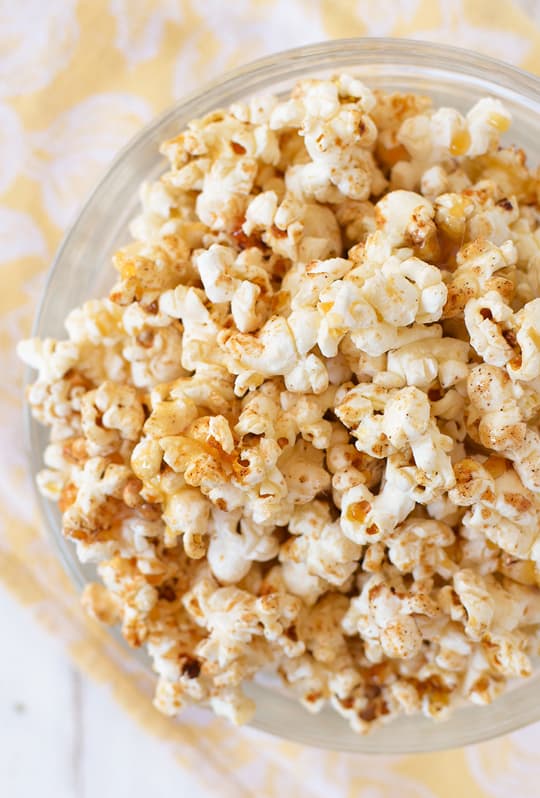 So who's up for a movie night in? Grab your friends, more than enough wine and settle into September with this pumpkin spice kettle corn!
Don't forget to share your kettle corn with us on Instagram using the hashtag #sugarandclothloves. We always love seeing all of your creations! Looking for more quick and delicious recipes? You can find them all right here with a few bites to go along with them!