Abstract DIY Modern Low Bench — This Abstract DIY Modern Low Bench is the perfect DIY before the holidays kick-off and you're looking for some extra seating!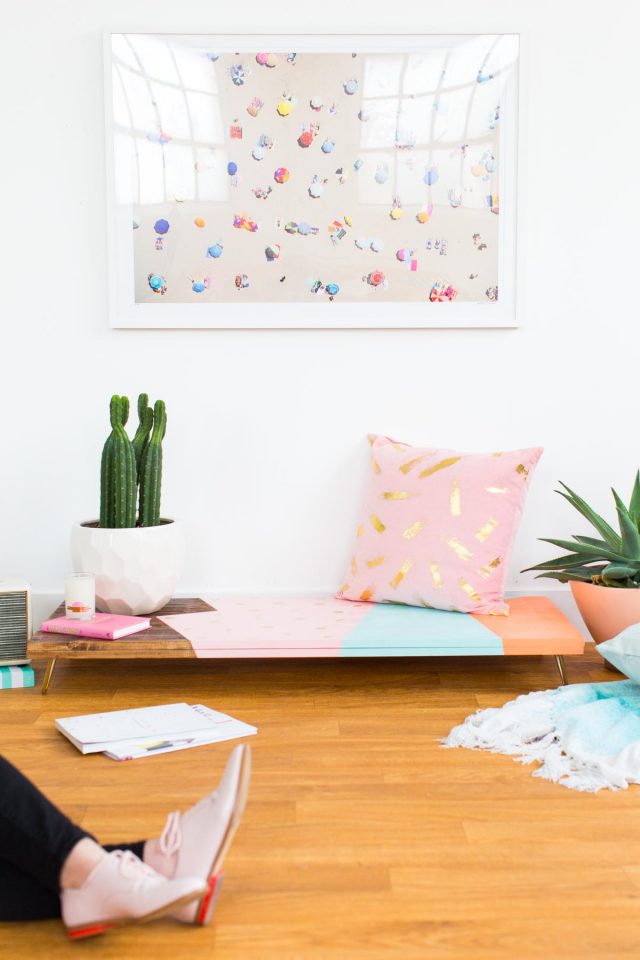 If you're anything like Jared or Kayla, then you maybe wondering what the heck a DIY Modern Low Bench is, and if I made it up.
At least, that's what I gathered when they looked at me like I was crazy after declaring this idea a few weeks ago, haha.
If so, let me state my case: a modern low bench can be the perfect temporary solution for extra entertaining seating without blocking windows (like this), as a reading nook bench, a colorful bench for the little ones, or even to go alone with a low floor table (like this DIY).
To make it even more appealing, you can even scoot it under the bed for easy storage until your next party or rainy afternoon reading session.
Basically the sky is the limit with this thing. You can leave it stained wood and simple or like mine with an abstract pattern on top and gold hairpin legs.
All you need to know to make your own is how to measure, use a drill, and paint. Super simple, right?!
Just in case some of these aren't familiar to you, I'm also sharing the new DIYZ app that's an awesome reference for around the house fixes and skills…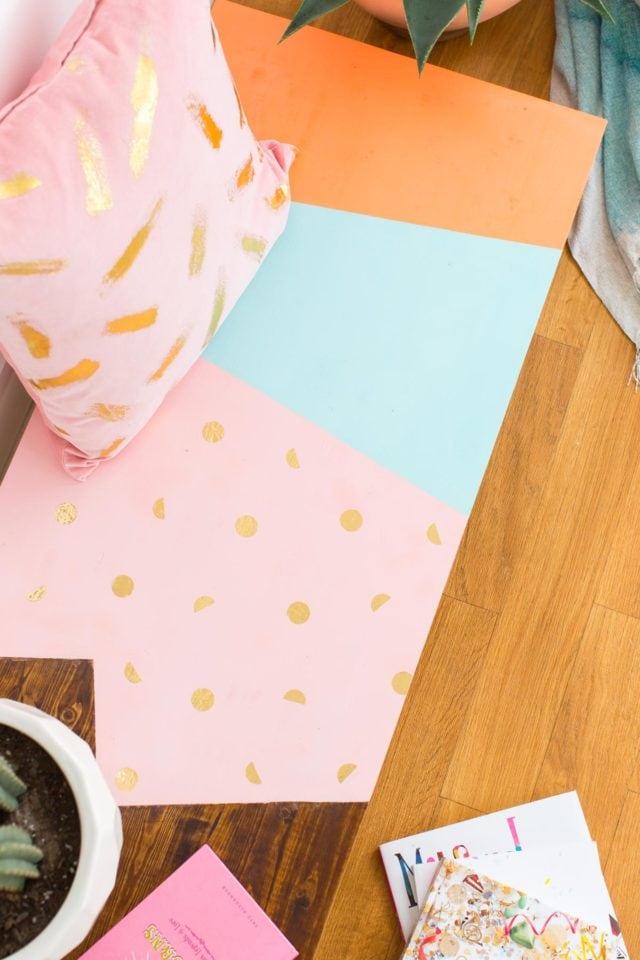 DIYZ App for Home Improvement
DIYZ gives you the info and general guidance you'll need to tackle just about any DIY home improvement project with confidence by using step-by-step instructions and how-to videos.
It also has DIY ideas you can recreate with complete tools and materials lists to choose what you need, order online, and have everything delivered to you.
We already have quite the closet full of materials and tools. So I like it best for general purpose tutorials, like how to install a light fixture or a ceiling fan.
For some reason, I feel better knowing that it's a tutorial by professionals versus someone on Youtube that may or may not be a pro.
In a worst case scenario situation, it can match you with one of the DIYZ Pro Advisors for a one on one video chat to walk you through it.
Good news is this bench project is easy peasy, and you definitely won't need a pro!…
Materials & Tools Needed To Make A Abstract DIY Modern Low Bench
Pre-finished boards — We got these already cut to size at the home improvement store.
Wood stain and paints in the color of your choice
Hairpin legs — I also loved these.
Painters tape — Optional only for making painted designs/lines.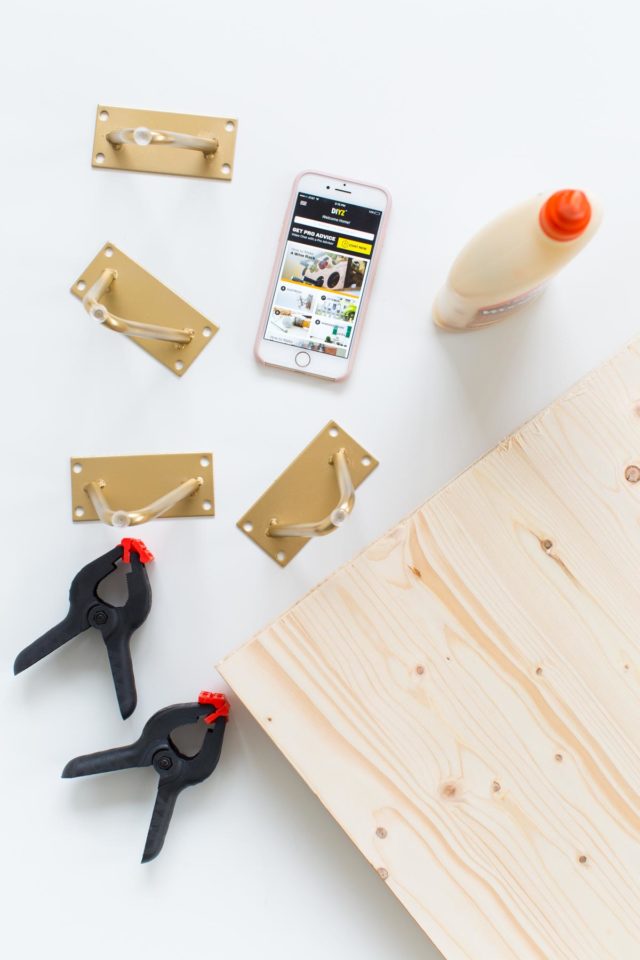 How To Make An Abstract DIY Modern Low Bench
Since the wood is pre-cut and pre-finished, it makes this project easy peasy!
We wanted it to be a little more substantial than just one board thick. So we used wood glue to glue the two pieces together and let them dry while clamped.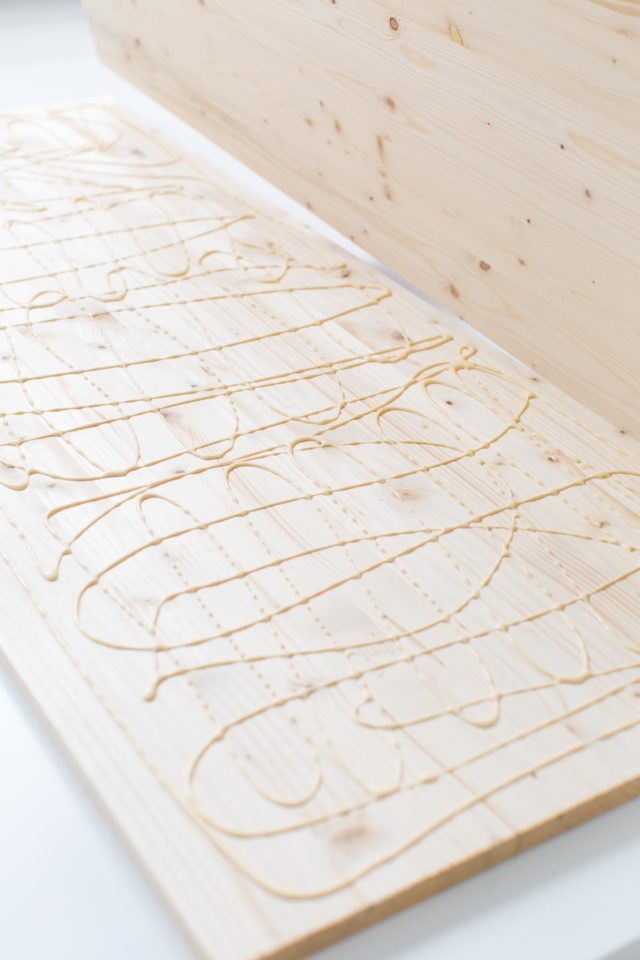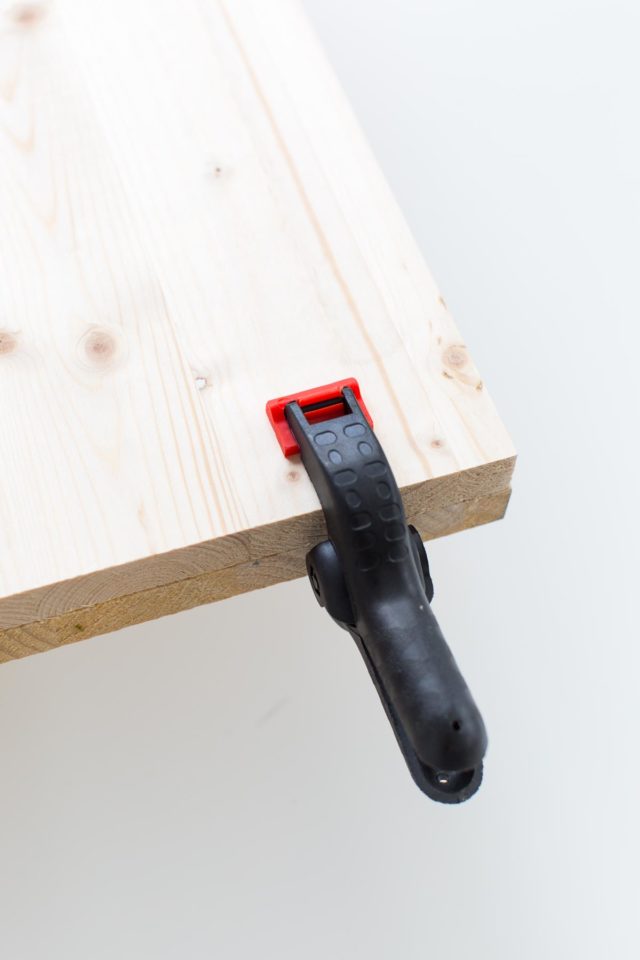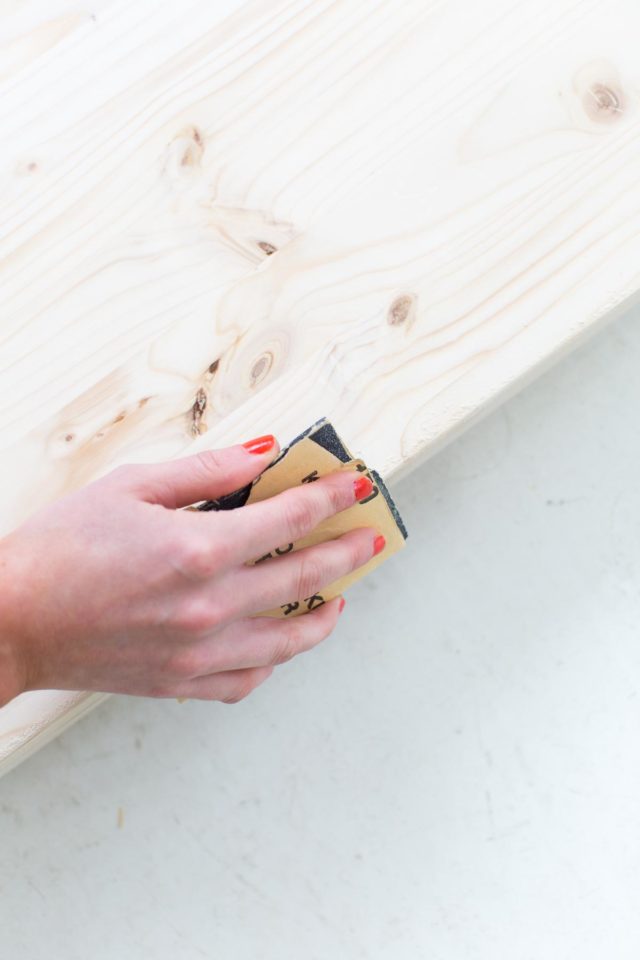 Once the wood pieces were glued together, I sanded the edges and rough spots for a smooth finish.
Measure and mark where you'd like to place your pin legs in each of the four corners. I measured mine to be 1.5 inches from each edge.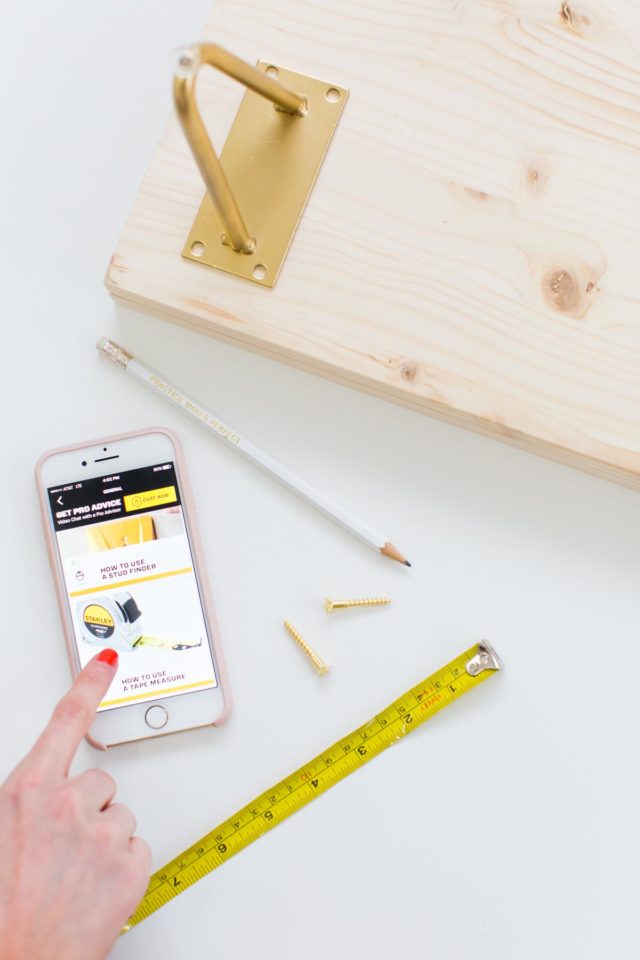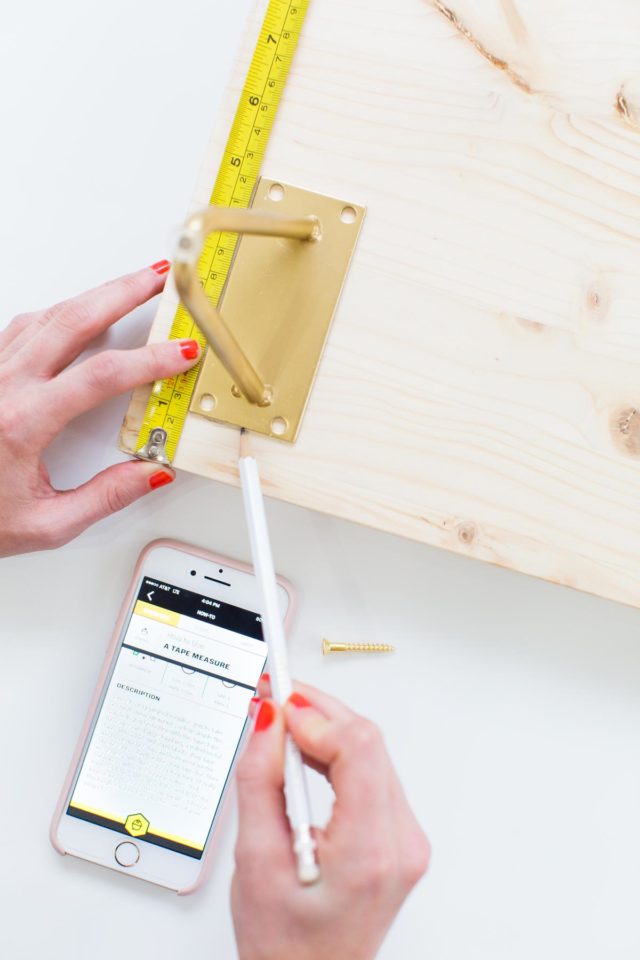 Using a drill and the wood screws, drill each plate in place.
The DIYZ app also has a section that explains how to use a drill if you're new to power tools!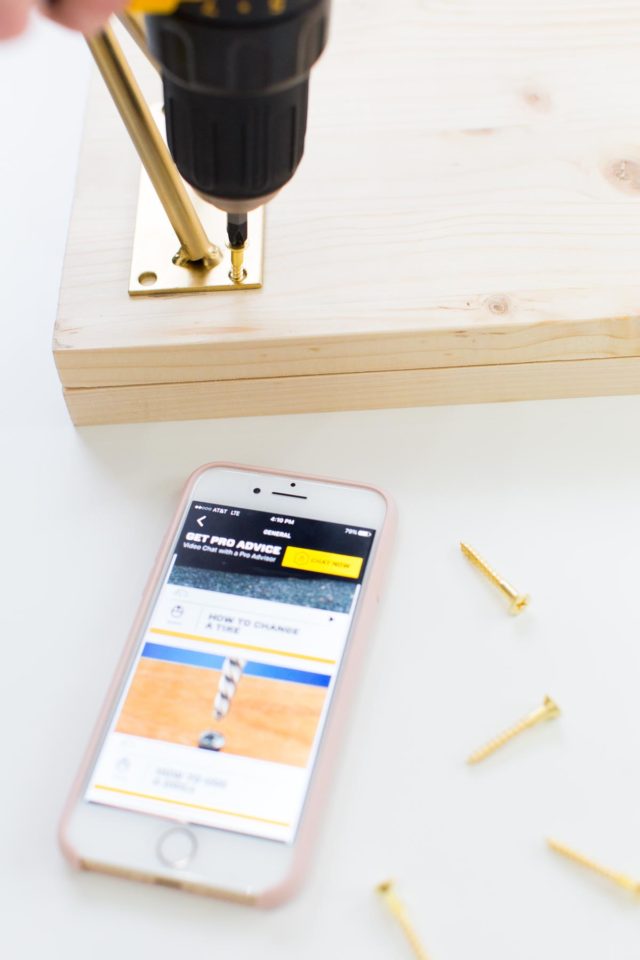 Now for the decorating! Use painter's tape to define which areas to paint or stain. I decided on a fun abstract pattern for the painted portions, and left one edge to be stained.
Once the paint and stain was dry, I used permanent metallic gold adhesive paper to apply shapes to the pink portion of the bench for added interest.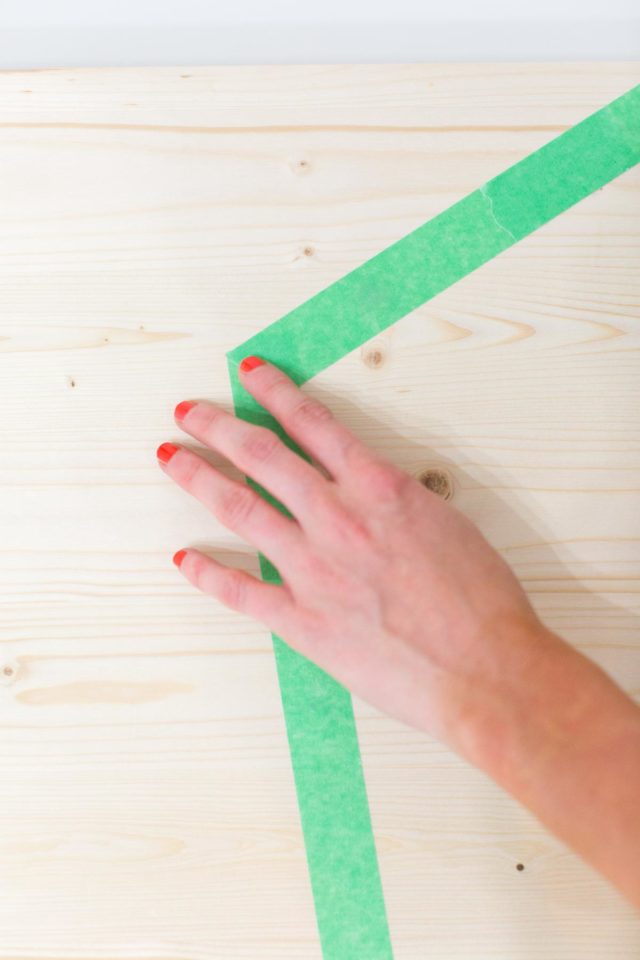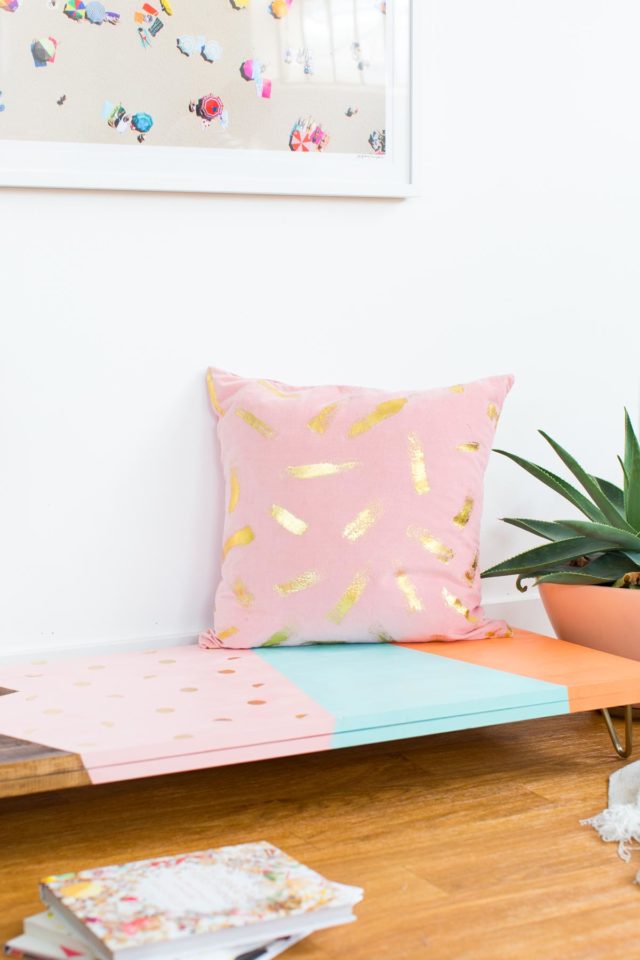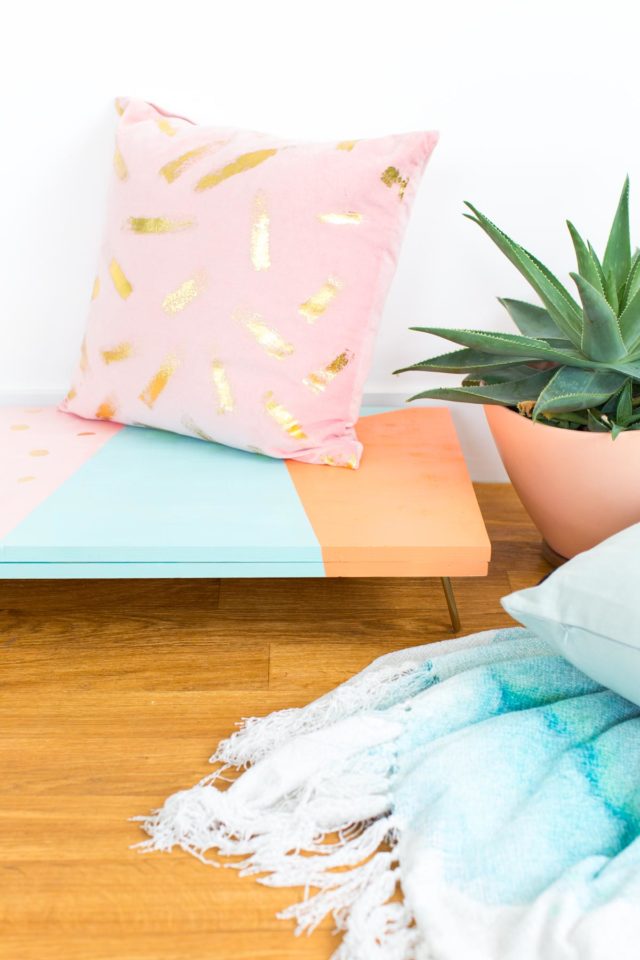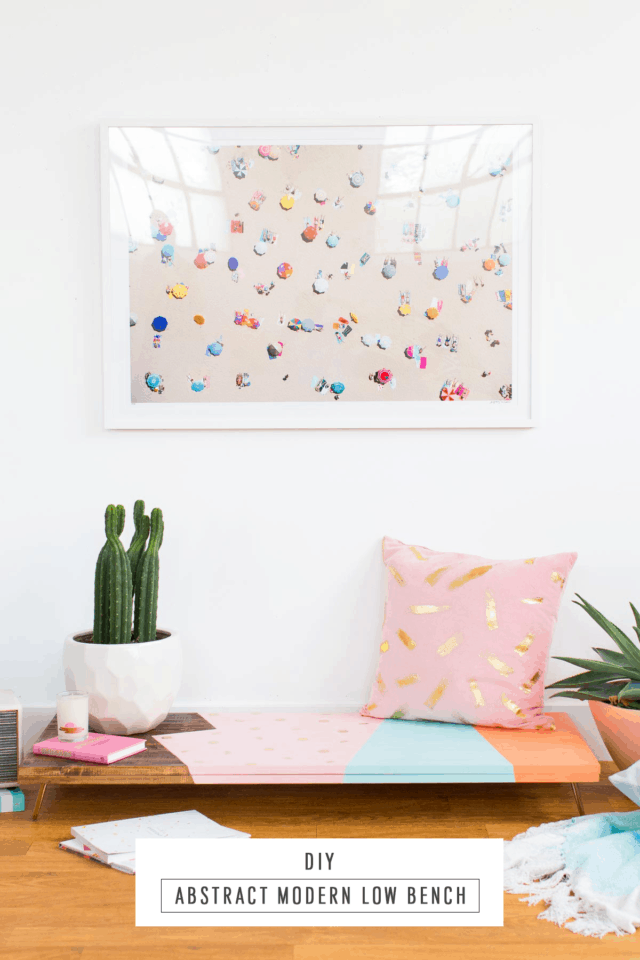 Have I sold you on the low bench concept yet?! Not only is it cute, but it's also easy enough to make while still being an equally impressive DIY, so you really can't lose.
Thanks to DIYZ for sponsoring this post! I would definitely encourage you all to check it out if you're looking for tried and true pro advice and tips that are the real deal. You can find it on iTunes here, and for Android on Google Play here.