A fun and festive holiday dessert, DIY Bunny Ear Macarons are perfect for your Easter baskets!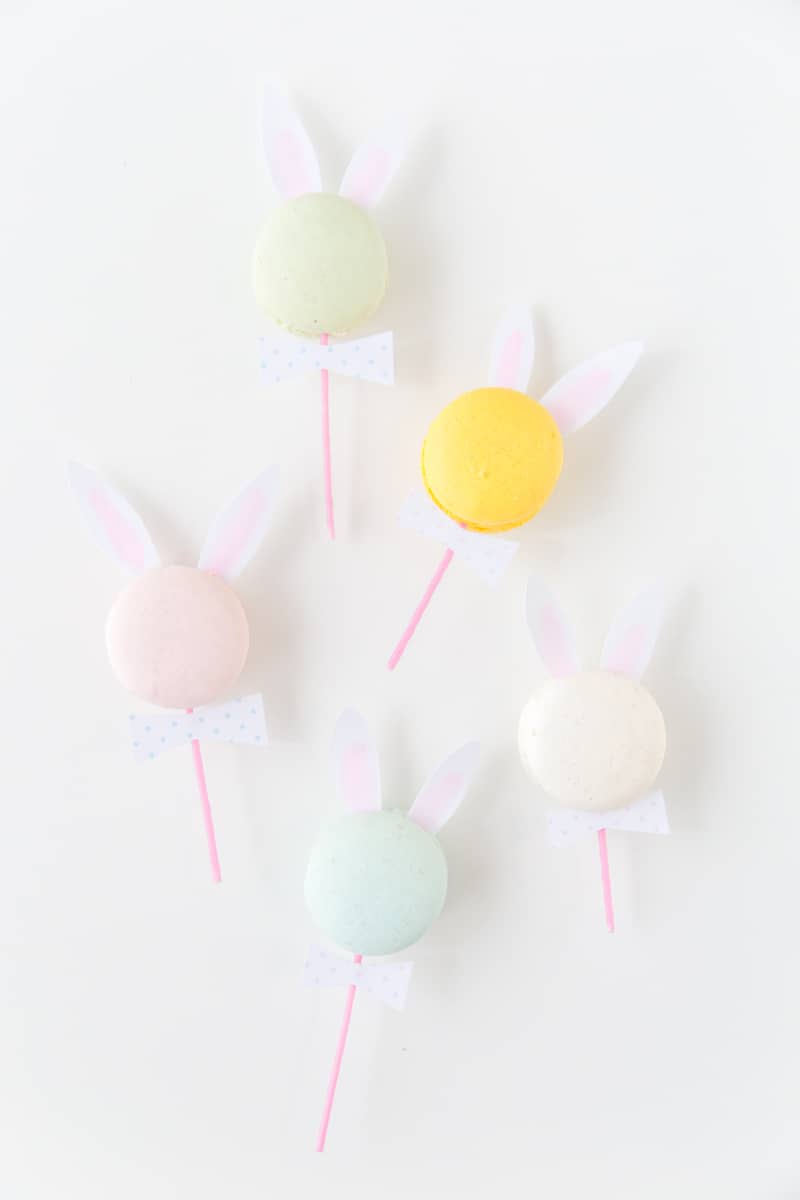 I know I've been a quite the Easter kick lately. But let's be honest, it's totally my color scheme.
There also aren't a lot of other times in the year where it's socially acceptable to serve macaron bunnies to people when they come to your house for a quick visit.
Which means we need to heed the opportunity while we can, am I right?
Thus, I present to you DIY Bunny Ear Macarons that are perfectly okay (in my book) to serve all of this month if you'd like!
And for those of you that aren't as bunny friendly, bare with me for just a tinyyyy bit longer!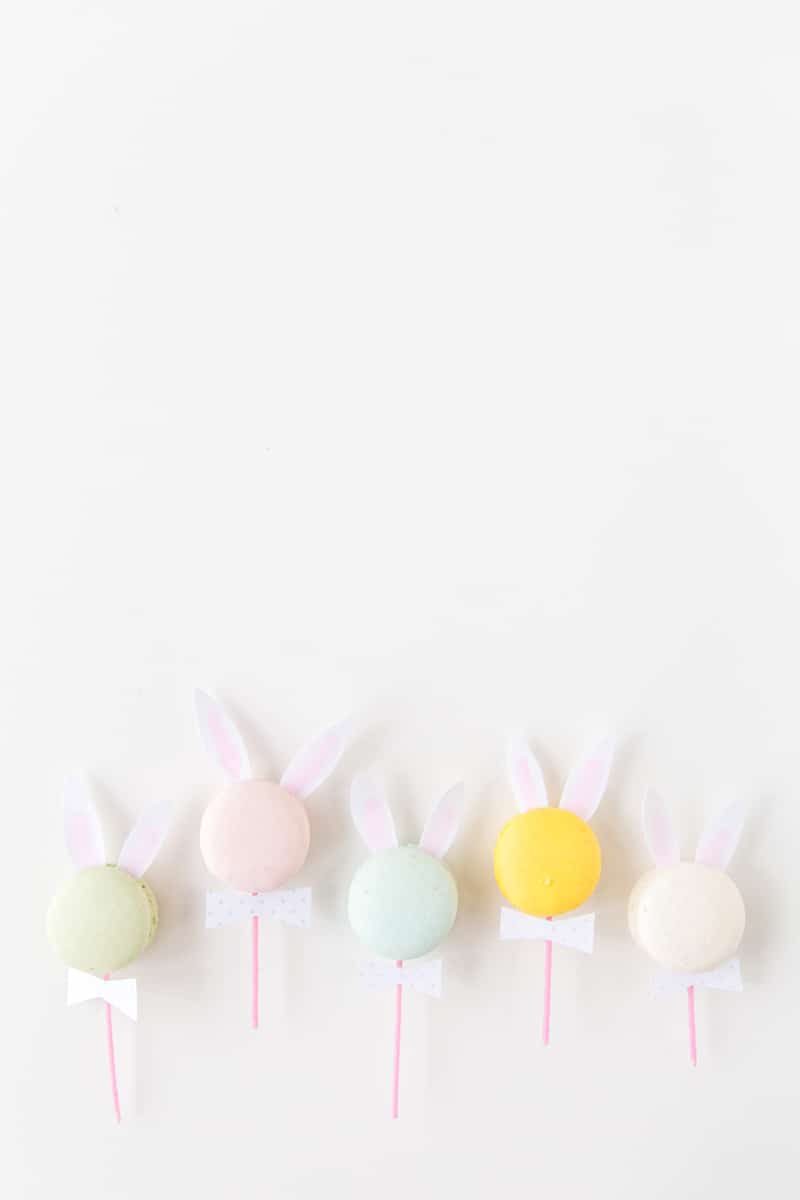 Materials & Tools Needed To Make DIY Bunny Ear Macarons
Macarons — Store bought or use our easy macaron recipe.
Scissors
Craft paper
Ultra thin taper candles or thin lollipop sticks
Glue stick
Pink watercolor paint and brush — Optional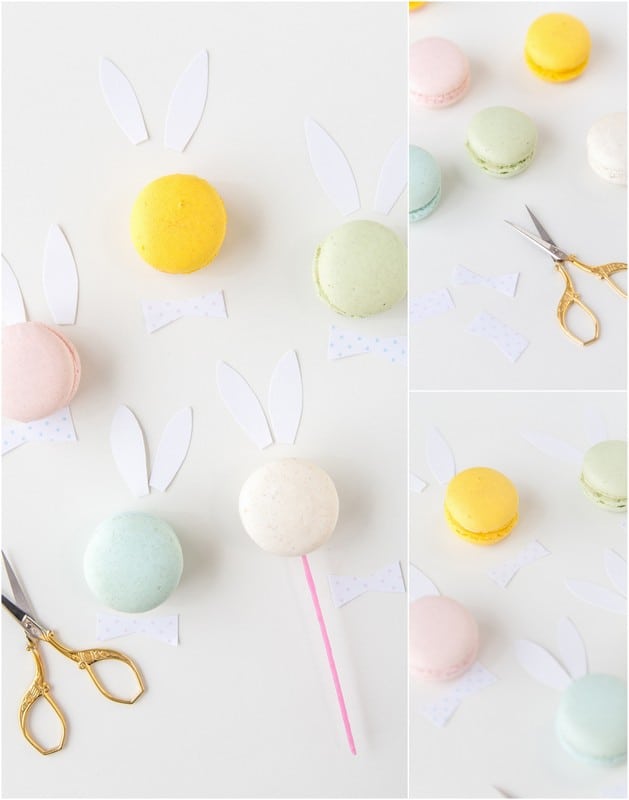 How To Make DIY Bunny Ear Macarons
Cut a quick two bows and pair of bunny ears for each cookie you have.
To cut the bows, make a small rectangle shape and then cut two wide V shapes from each long side.
Make this craft even quicker by cutting multiple pieces of paper at a time to create multiple pairs at once.
Being very careful to not crush the macaron, gently place a lollipop stick or thin taper candle through the bottom of the cookie.
I like using the candles because of the color variety, but either one works as long as they're thin enough to not break the cookie apart.
Next, use a glue stick to adhere two bows to each other around the stick or candle to keep the double-sided bow in place.
Lastly, you can brush a quick touch of pink for the bunny ears onto the cut out card stock with watercolor and a paint brush.
Or leave them white as is by sticking the ears in the top crease of the cookie making sure they touch icing to keep them in place.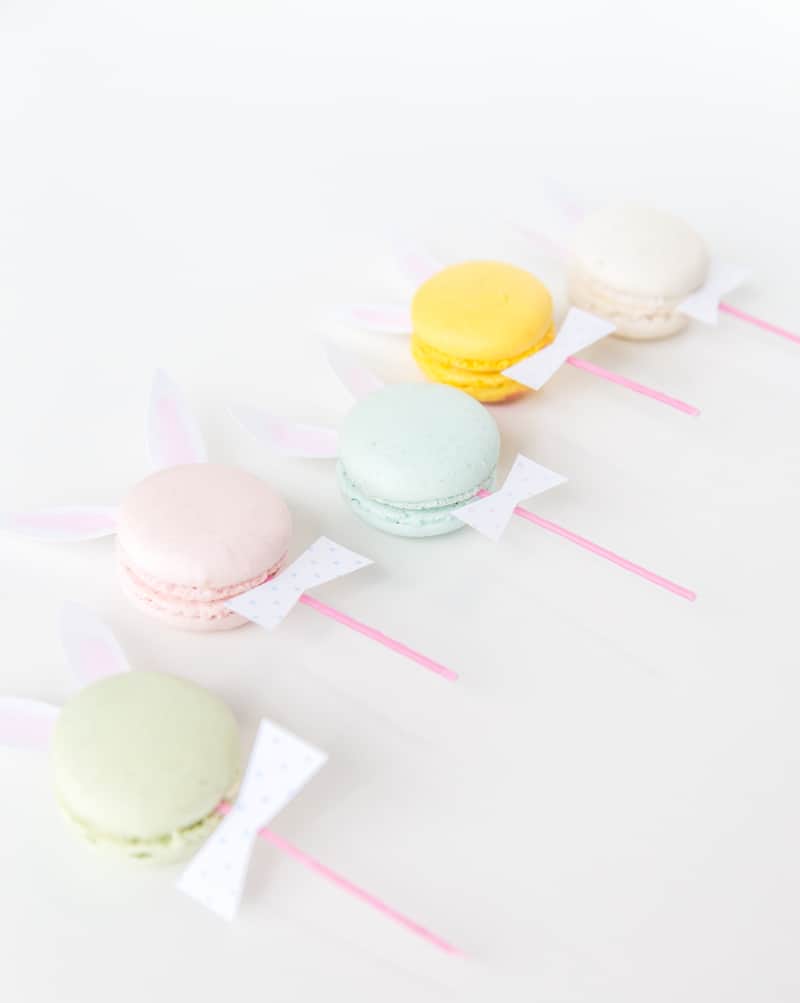 Now all you have to do is serve and enjoy!
I think they look cute laying flat (you can even use them as placecards!) or you can fix them into white floral foam to make them stand up in little baskets.