DIY Metallic Gold Stool Bases — We're fulfilling those mid-century and gold decor dreams with these DIY Metallic Gold Stool Bases for transforming any ottoman!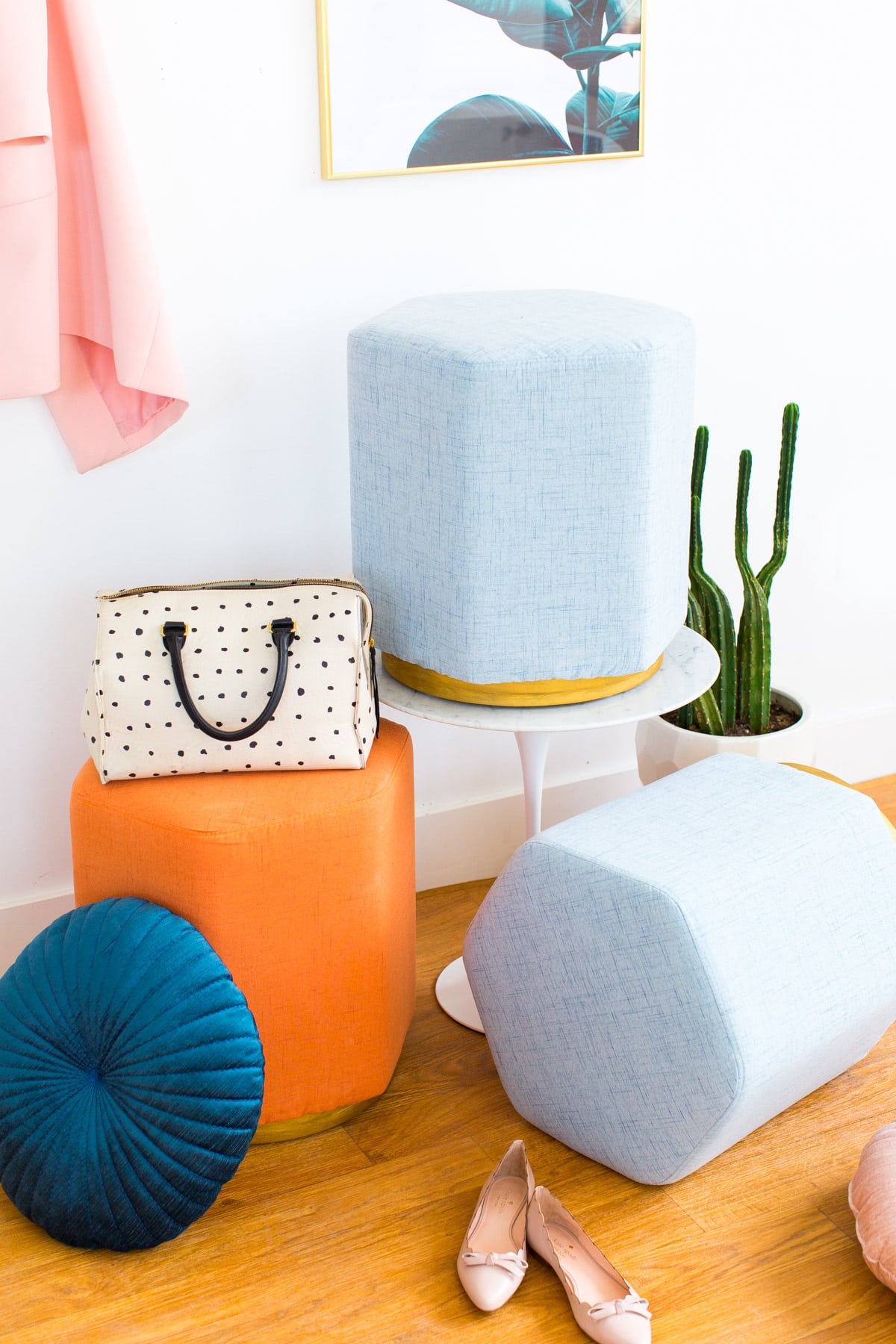 I finally have a solution for those gold bottomed stools that we've been hunting for hours online. (Or is that just me searching?!)
On account of my not being able to find any that aren't $300 plus dollars minimum (if I could find them at all), I finally came up with these DIY Metallic Gold Stool Bases that you can attach to just about any ottoman.
As long as you have a stool or ottoman with a structured based, then these will work for you. (Sadly, no to the floor poufs!)
I love the way these DIY Metallic Gold Stool Bases turned out! I'm going to use the two blue ones in our new living room design.
The double bonus is that I made these cuties for $85 a piece, including the price of the hexagon stools themselves!
Are we not totally going to be best friends now, or what?!
Materials And Tools Need To Make DIY Metallic Gold Stool Bases
Hexagon stools — Or use your own!
2 per stool of these 3/4 inch thick MDF rounds that are just smaller than your stool base — I used 14″ for the hexagon stools.
Wood filler — Optional for a more seamless look
Drill and 3-inch all-purpose screws
Adhesive foam rounds for extra cushion on the bottom (optional)
How To Make DIY Metallic Gold Stool Bases
The hexagon stools come with these feet pre-installed. So you'll have to pull all of the feet out to create a flat surface for the new DIY bases.
All you have to do is use your hands and pull up with a twist.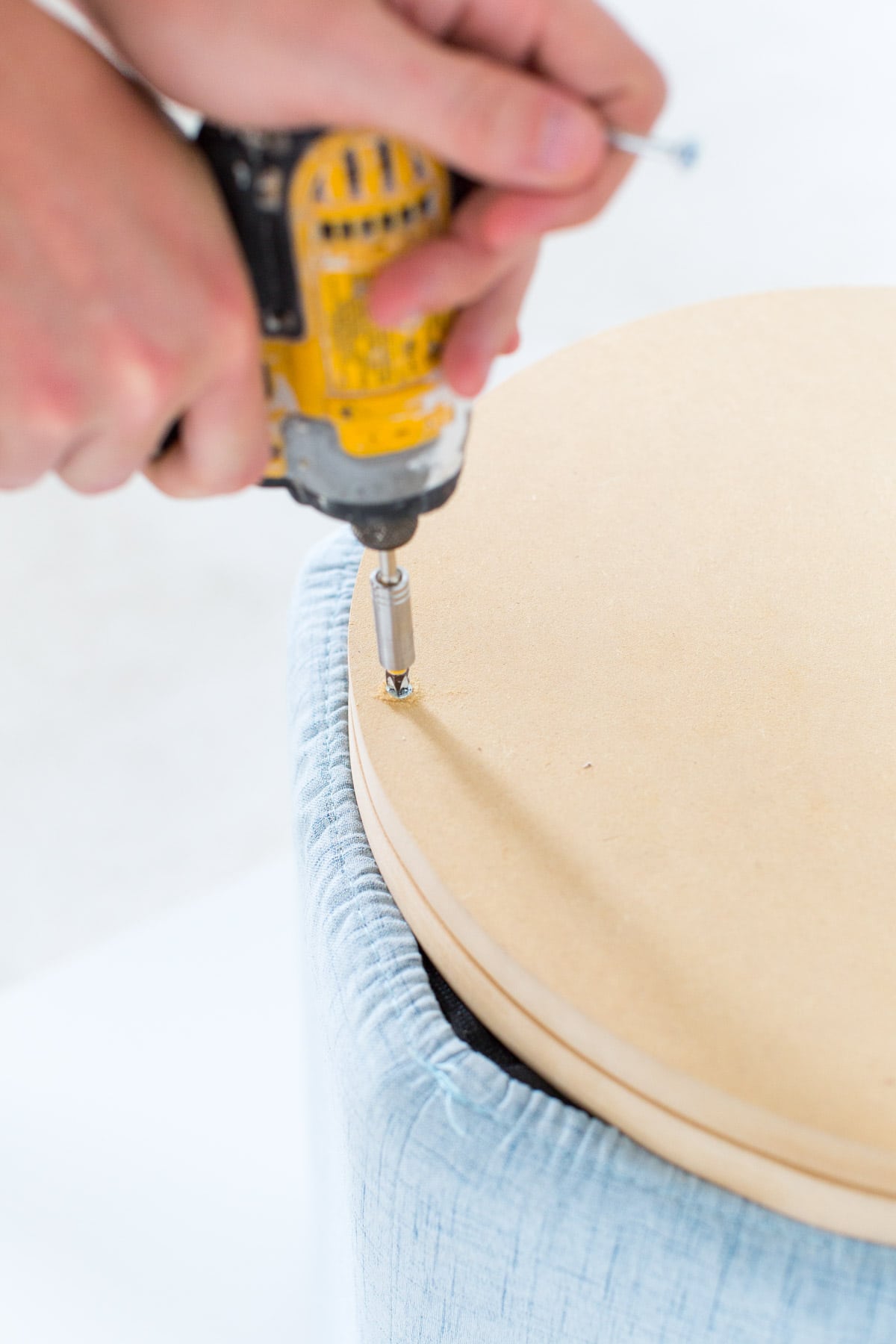 To make the DIY Metallic Gold Stool Bases tall enough to see them from the side, I stacked two of the 3/4 inch MDF rounds on top of each other for added gold effect.
While you don't have to do two, I definitely recommend it if you actually want to see the gold well!
Now that said, we screwed the MDF rounds into the stool bases first because I thought that was easiest to see the final look as we were figuring everything out.
In hindsight, it might be easiest (aka less messy) to apply the gold rub n' buff and wood filler before screwing them onto the stool. So you could screw them in loosely just to make sure you like the final look.
To do that, you'll have to glue the two MDF round pieces together. Let dry before using the wood filler and rub n' buff. Then, screw them onto the stool last.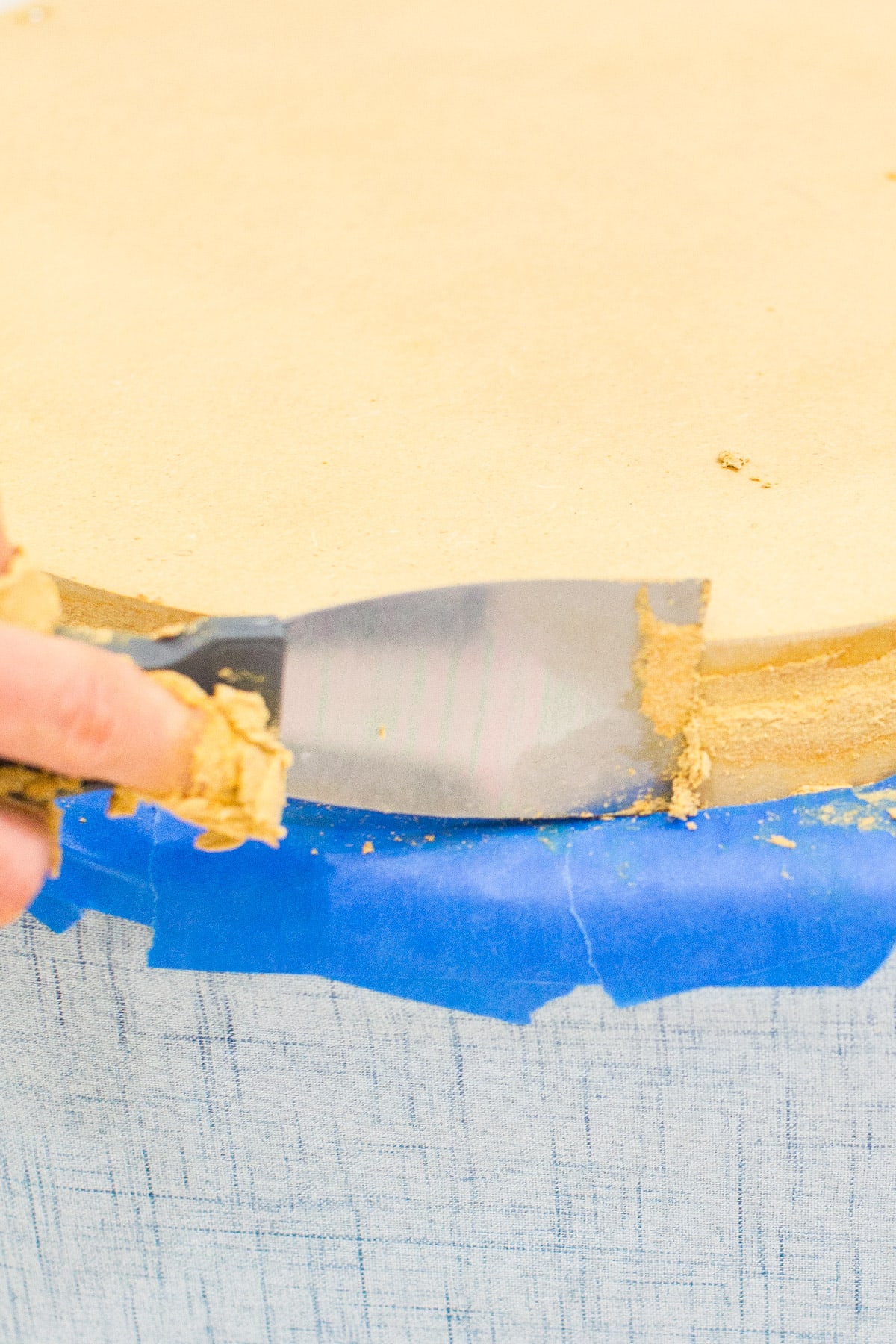 For using the wood filler, you can apply it with a putty knife or your fingers.
I found it was easiest to apply with fingers and then smooth it out with the putty knife.
Once applied, let it dry completely then smooth with fine sandpaper.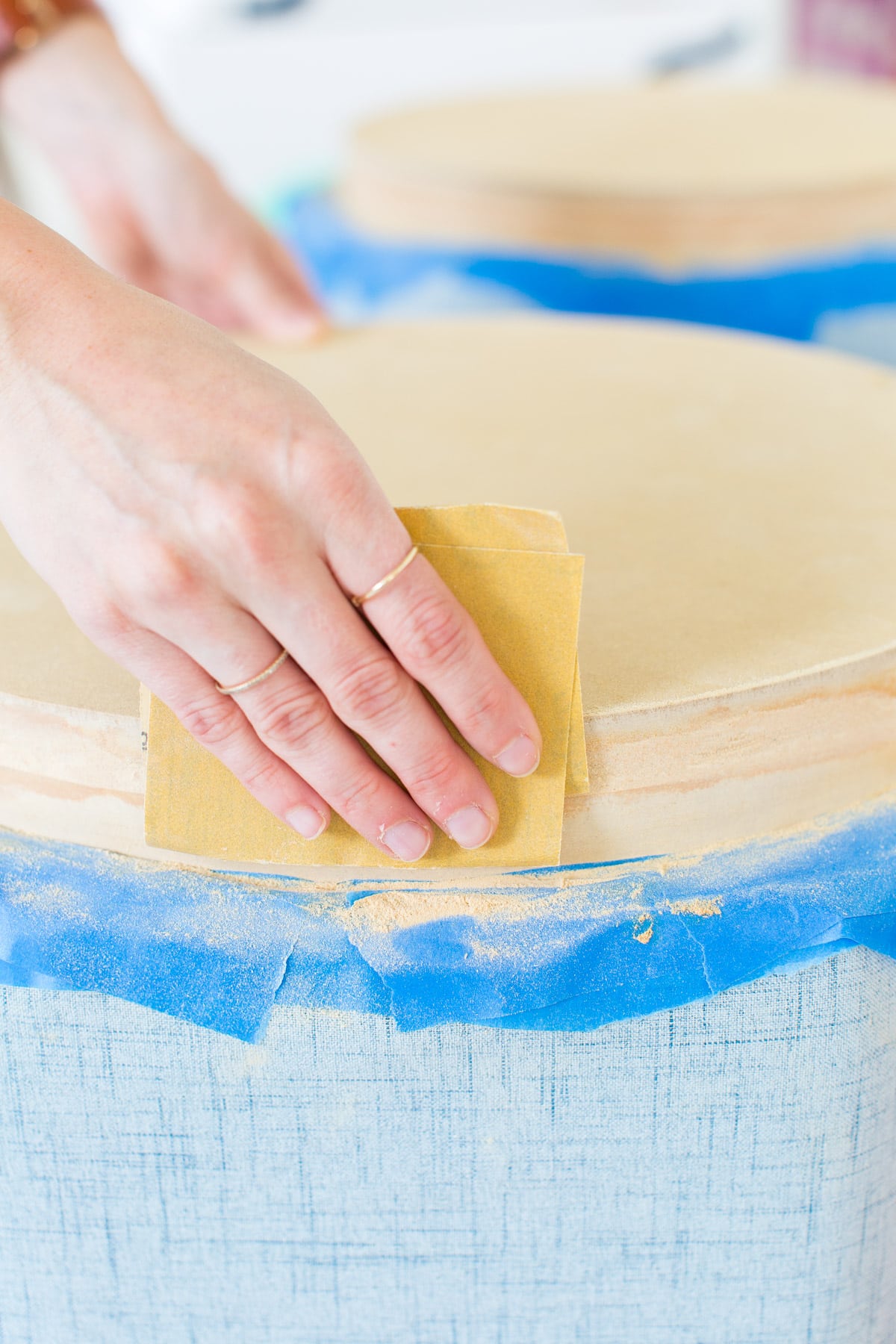 Now it's time for applying the Rub n' Buff, which is basically my favorite thing ever. It goes on like a wax, and dry permanently.
It gives a much more texturized gold look than simple spray paint, don't you think?!
To apply it, I just squeeze some onto my fingers and rub it on thoroughly in small sections. (I always wear gloves because it stains easily.)
Once the surface is fully covered in each small section, I run my finger across it in the same direction to essentially polish it. Because whatever the texture looks like while it's wet, is how it will stay when it's dried.
From there, I let the gold dry completely and then adhered the foam feet to the bottom and that was it!
I'm a big advocate for foam pads so that things can be easily scooted around with damaging the floors.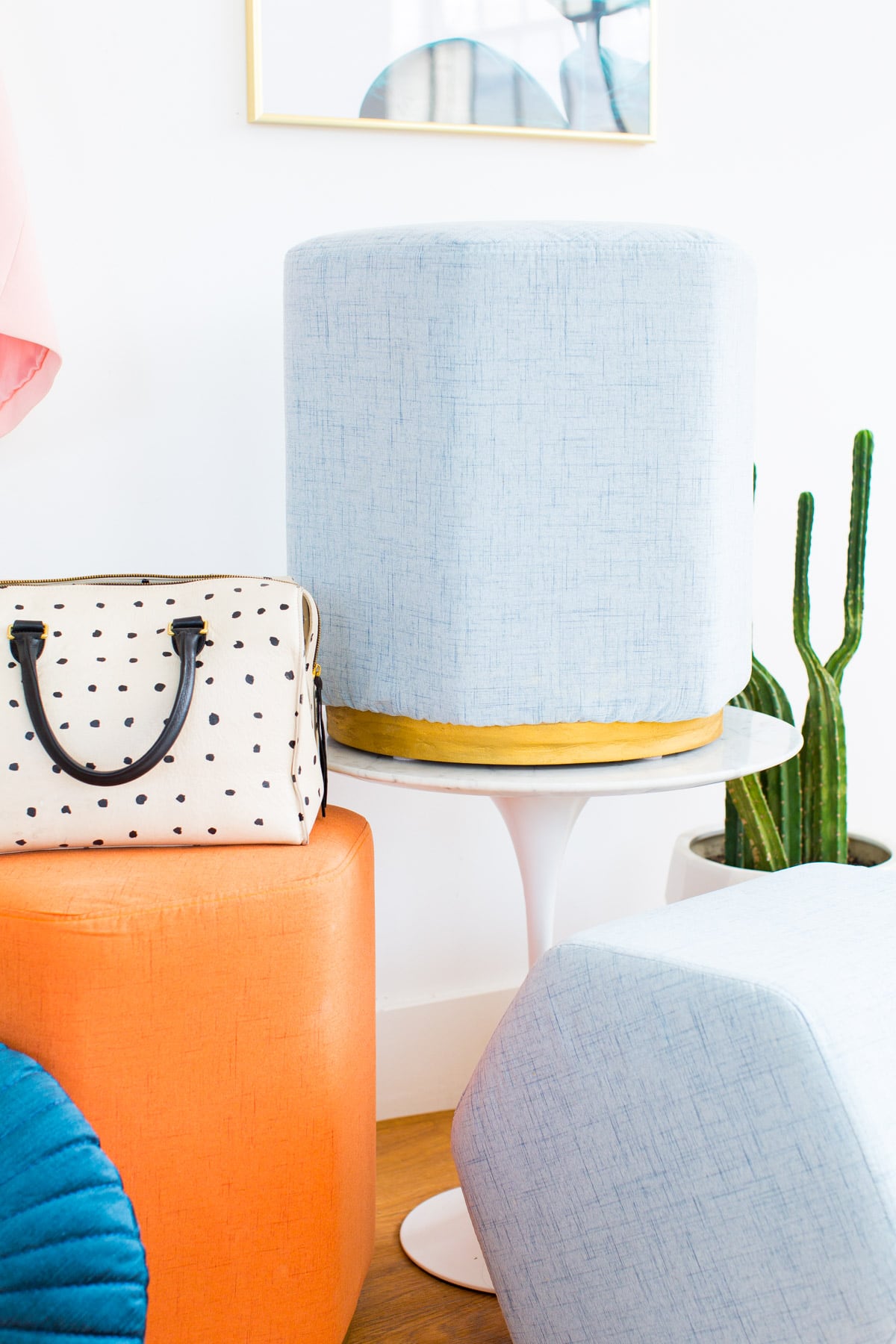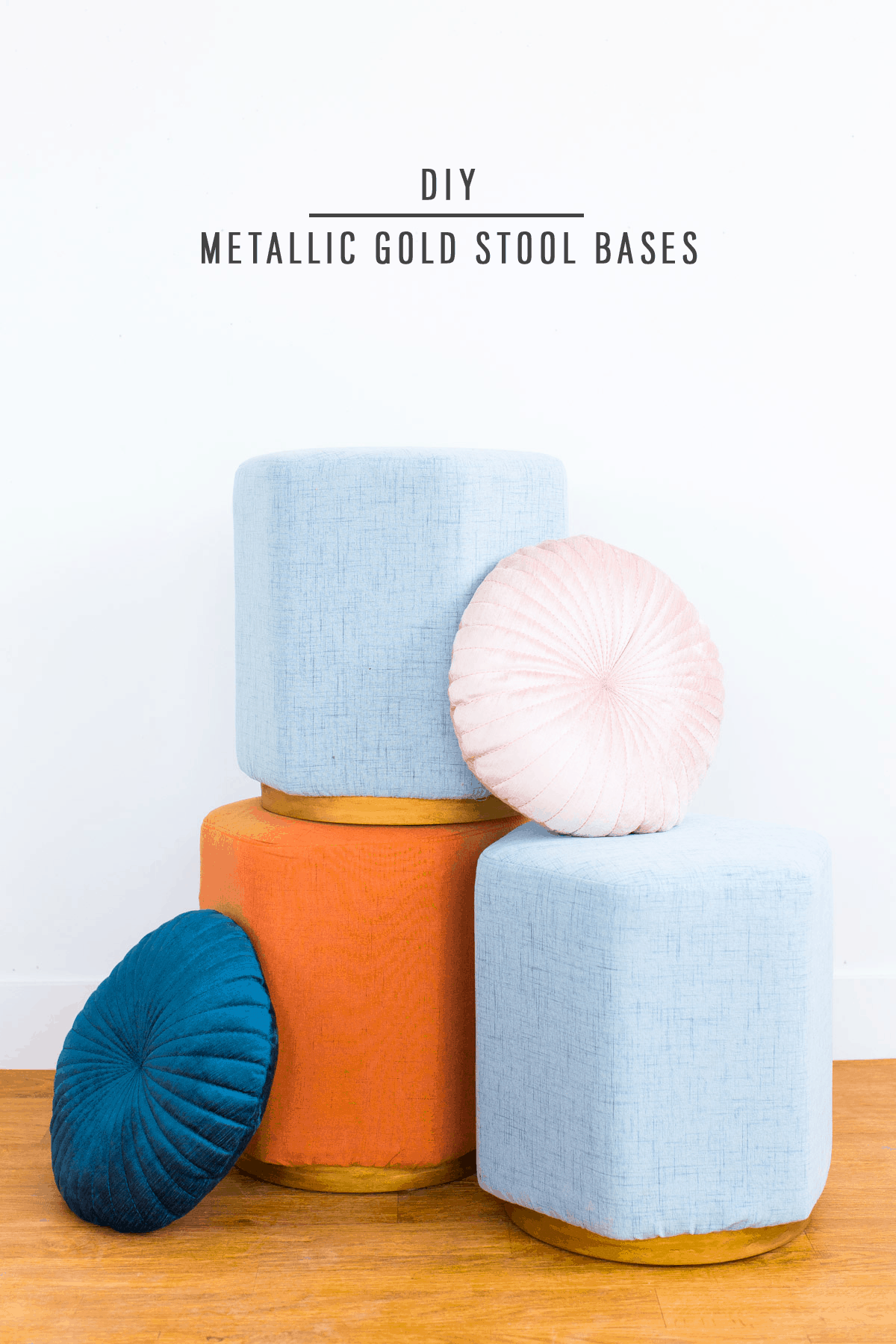 What do you guys think about the way the DIY Metallic Gold Stool Bases turned out?!
Do you see what I mean about making the height tall enough for the bases to make a visual statement? The two 3/4 rounds make for the perfect height!