I decided that I'd continue letting my love-of-gift-wrap-flag fly high after this DIY post by teaming up with Oh No Rachio to bring you this DIY printable accordion gift tag. Isn't it seriously the cutest?!
I've been dreaming up this accordion idea for the holidays for a while and Rachel totally nailed it. It's double-sided and reads Dear, please be merry and bright with a dear and from section on the back! They fit perfectly in standard mini envelopes or you can hole punch them to tie onto your gifts. Am I rambling like a car salesman? Sorry, I'm just super giddy over these.
Materials:
Printer for printable gift tags (each print makes two double sided gift tags)
Cardstock
Scissors
Paper scoring board or just a flat edge for folding creases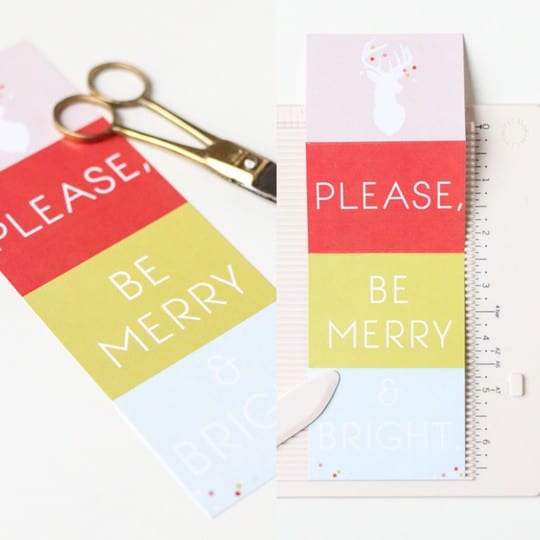 To make the gift tags, print out each page of the PDF making the printout double sided. If you have the auto two-side feature on your printer, all you have to do is print the PDF and select that option and it will automatically print to form making two double sided gift tags.
If you don't have the automatic two sided printer feature, you can just print out the first page of the PDF download and then flip the paper over to print out the second page for the backside of the tags.
Cut out each tag, and then use scoring board to make creases at each division line on the color blocked printable.
Now you can fold the paper accordion style then fill out the "dear and from" section and you're all set. You can either put it in a mini envelope or hole punch to tie onto your gift!
design by Rachel of Oh No Rachio! for Sugar & Cloth