I may have just found my new favorite spot of tropical paradise, and, believe it or not, it's not even an island or in the Caribbean!
Nope, the paradise I'm talking about can only be found at the bottom of a cookie jar, filled with these mango and pineapple white chocolate macaroons, to be exact.
The idea for this recipe was born out of a mission to find something decadent and delicious to crunch on while also keeping in mind that swimsuit season is fast approaching.
Of course, a cookie that is both gluten-free and butter-free made sense. Don't worry though, just because it's gluten and butter-free doesn't mean it's fun-free.
I, Alyssa, loaded these macaroons to the brim with pineapple, mango and macadamia nuts. In other words, allllllll the tropical things, perfect for Summer. And if these coconut cookies weren't fun enough already, they went for a little dip in a white chocolate bath
—Ok, ok, I know, not totally summer body friendly on that front, but I mean, a dessert lover can't be expected to give up everything! The result is a cookie that is just a bit chewy, a little fluffy, slightly crunchy, and 100% packed with flavor and indulgence.
The result is a cookie that is just a bit chewy, a little fluffy, slightly crunchy, and 100% packed with flavor and indulgence.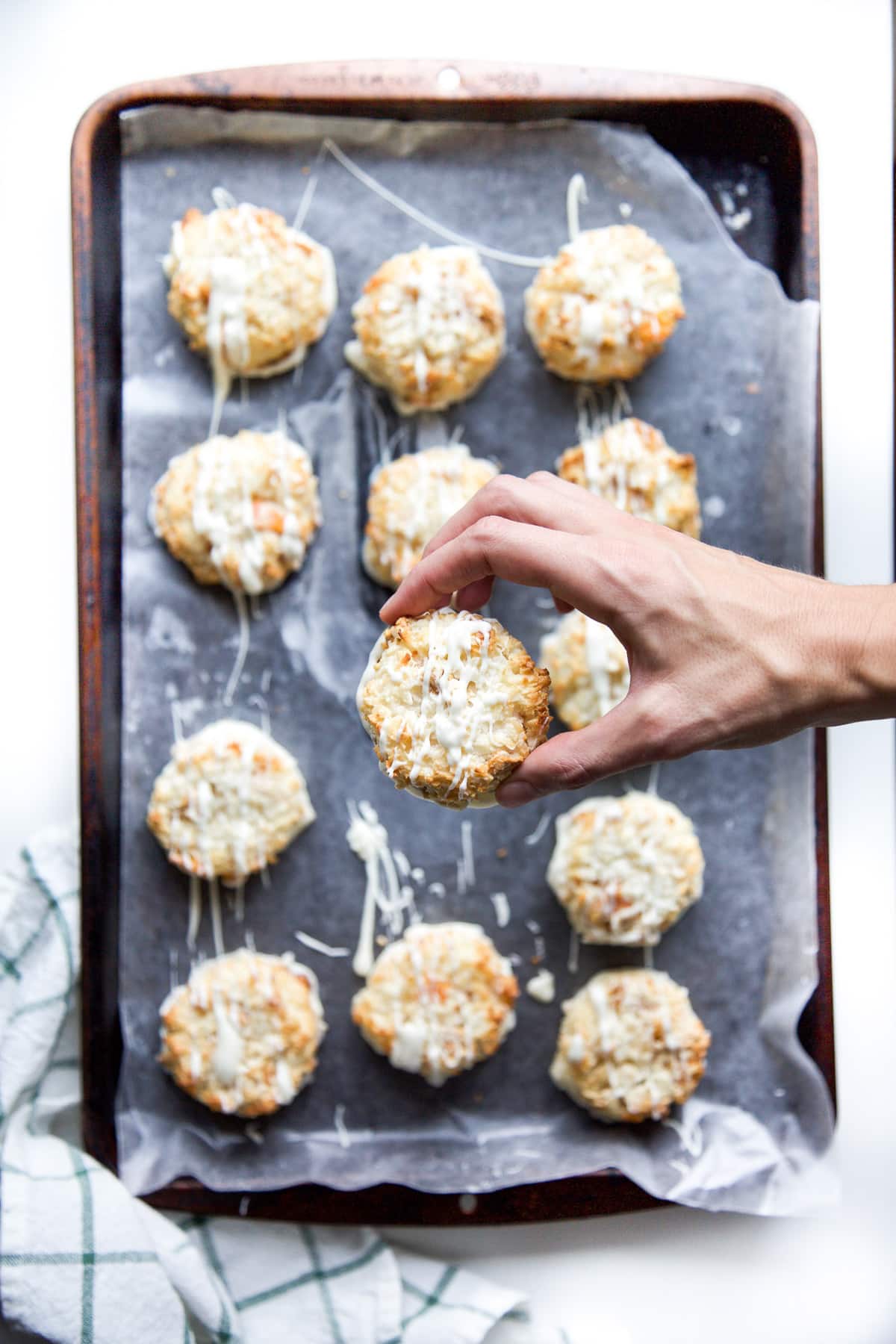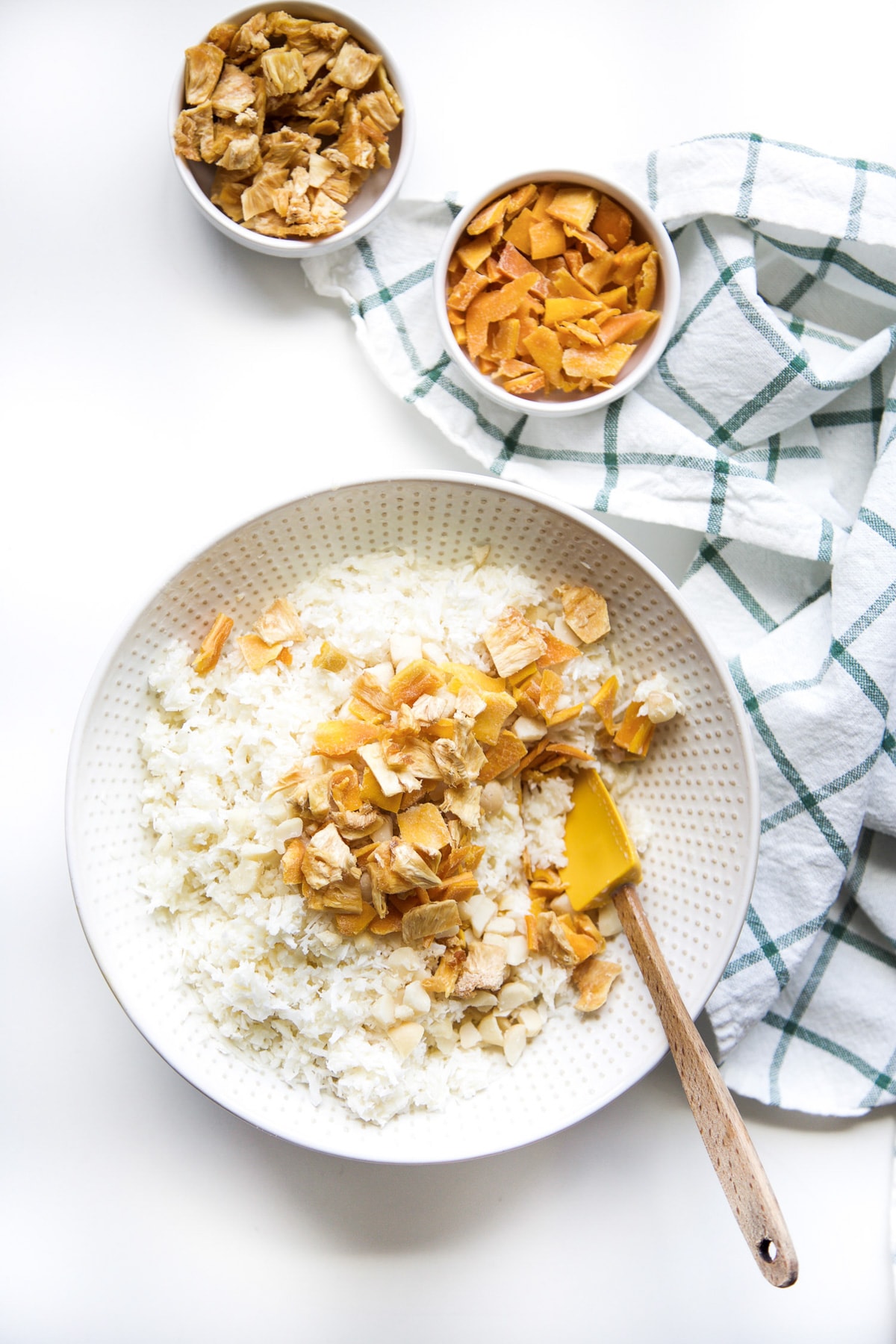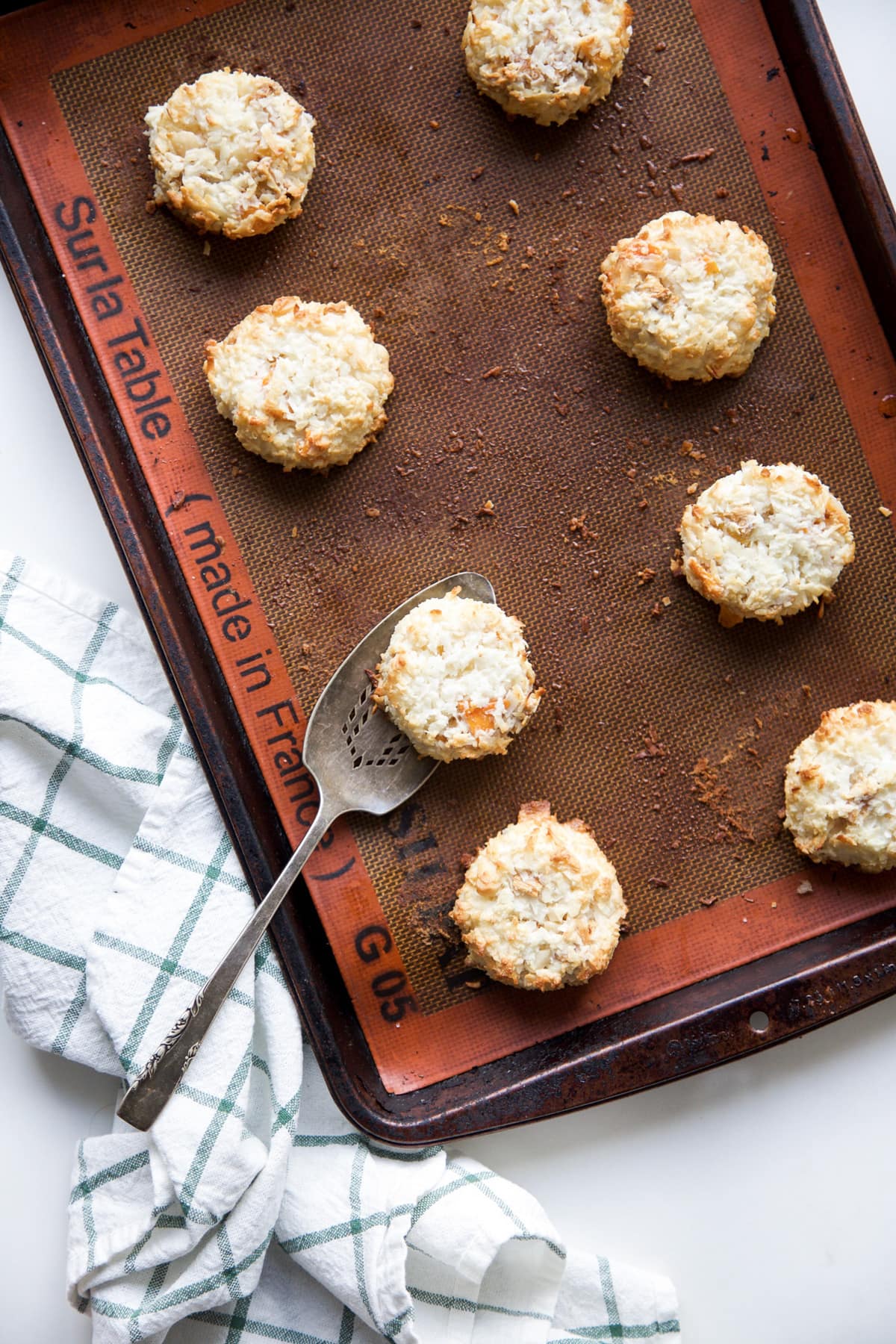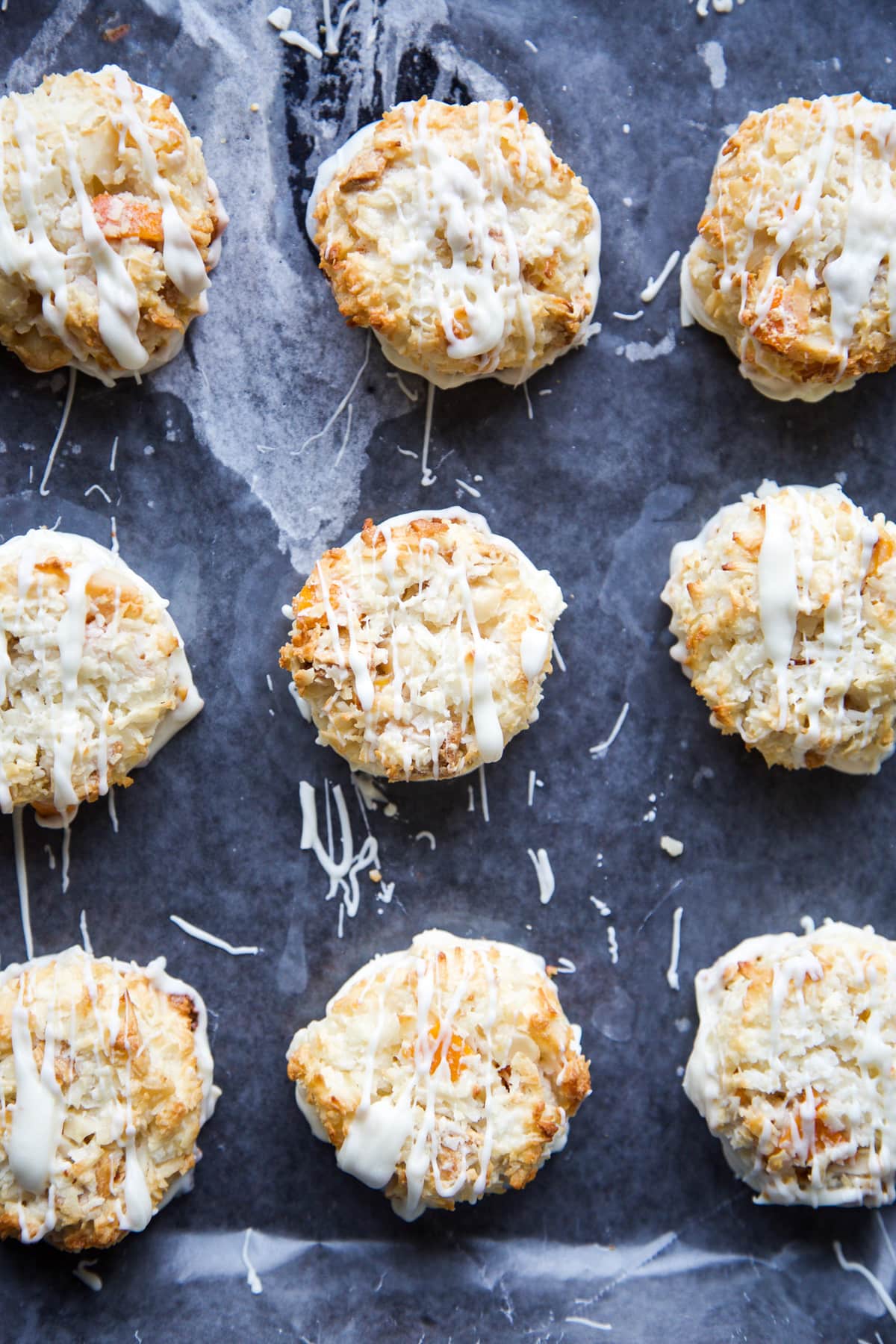 The cookies that I add to my favorites list are few and far between, but one bite in and there was no doubt in my mind that these mango and pineapple white chocolate macaroons were immediately getting pushed to the top of my cookie list.
If you, too, are looking for a tropical treat (that won't break your swimsuit diet plans), then trust me when I say, these macaroons deserve a place at the top of your sweets list, too!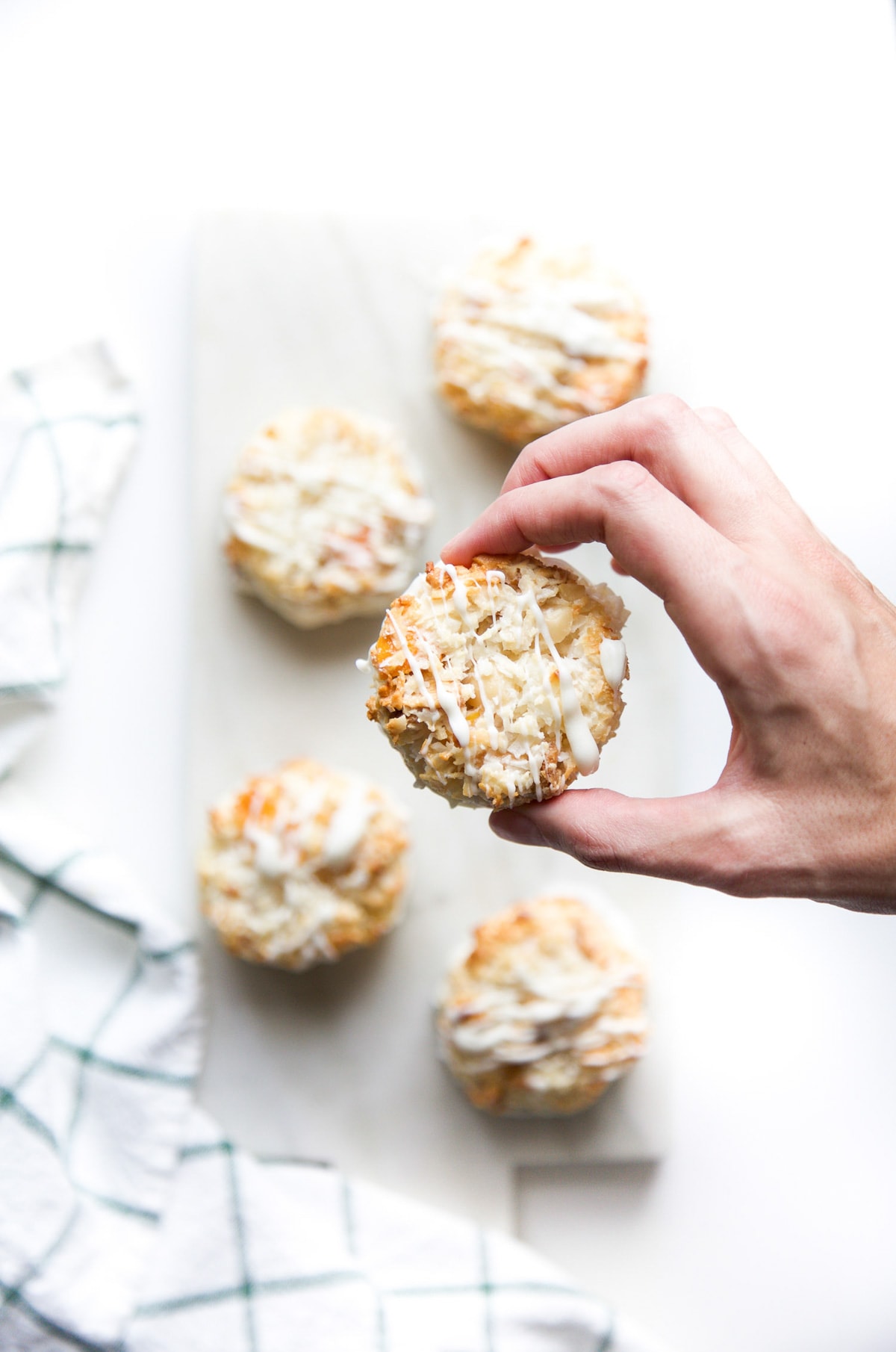 Since we're on the topic of all things tropical, what's your favorite tropical escape, either treat or destination? PS – if you aren't one for white chocolate, these dark chocolate macaroons will totally be up your alley!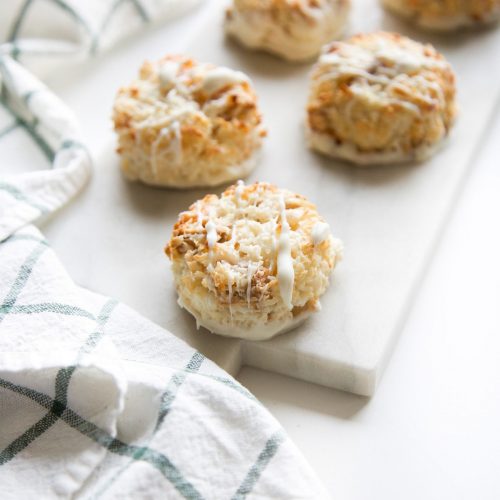 Mango & Pineapple White Chocolate Macaroons
These mango and pineapple white chocolate macarons will have you feeling tropical.
Ingredients
14

oz

can condensed milk

14

oz

unsweetened shredded coconut

0.5

cup

chopped dried mango

0.5

cup

chopped dried pineapple

0.5

cup

chopped macadamia nuts

0.5

tsp

salt

1

tsp

vanilla

3

egg whites

1

package

white chocolate chips
Nutrition
Serving:
1
g
|
Calories:
384
kcal
|
Carbohydrates:
38
g
|
Protein:
6
g
|
Fat:
25
g
|
Saturated Fat:
18
g
|
Cholesterol:
11
mg
|
Sodium:
126
mg
|
Potassium:
277
mg
|
Fiber:
4
g
|
Sugar:
32
g
|
Vitamin A:
756
IU
|
Vitamin C:
3
mg
|
Calcium:
115
mg
|
Iron:
1
mg
Instructions
Preheat oven to 325 degrees. Line a baking sheet with parchment paper or a silpat baking mat and set aside.

In a large mixing bowl, stir together the condensed milk, coconut, dried fruit, nuts, salt and vanilla. Set aside.

Next, in the bowl of a stand mixer with the whisk attachment on, beat the egg whites in the until stiff peaks form. Gently fold the egg whites into the coconut mixture, just until combined.

Drop the mixture onto a prepared baking sheet, using a ¼ cup to measure it out (make sure to firmly pack the mixture into the measuring cup so that it forms a compact shape when placed on the baking sheet). You should be able to fit 6-8 macaroons on the baking sheet. Bake for 20-25 minutes, or until golden brown. Remove and set aside to cool.

Once the macaroons are cool, melt the white chocolate. Dip the macaroons, one by one, in the chocolate (or, you can use a spatula to gently spread some chocolate on the bottom of each cookie). Place back on the lined baking sheet. Drizzle with extra white chocolate and set aside to let the chocolate harden (you can pop the baking sheet in the freezer for a few minutes to speed this process up). Enjoy, and store any leftovers in an airtight container.
KEYWORD:
baked, chocolate, dessert, desserts, easy, macaroon, mango, pineapple, snack, sugar and cloth, tropical, white