DIY Marble Dipped Vessels — Make an inexpensive vase look way more elegant with this tutorial for DIY Marble Dipped Vessels! And can you believe we achieved this look with nail polish?!?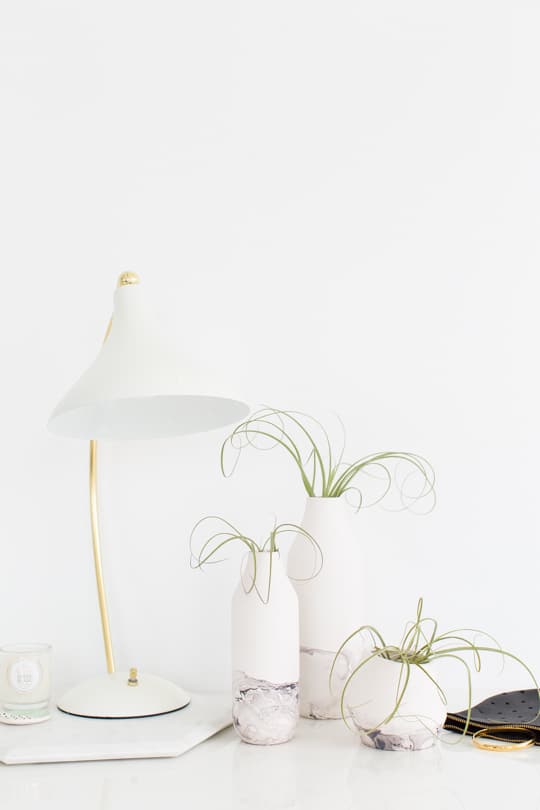 Marble runs a really close second (to all things gold) in my list of home decor obsessions. The sad part about it is that it's about as expensive to come by as gold is.
Plus, I can't exactly carve it myself, though that would make me one killer DIY'er if I could. Instead, I stick with the nail polish budget version (literally), and make my own DIY marble dipped vessels.
I thought about using marbled shelf liner paper for this project. But I wanted to be able to get a sleek, seamless look so I created my own color recipe to make a real faux marble pattern with polishes!
A lot of people have done similar projects with the bright, neon colors. But I feel like you can't go wrong with mixing a bit of traditional marble in with your decor, no?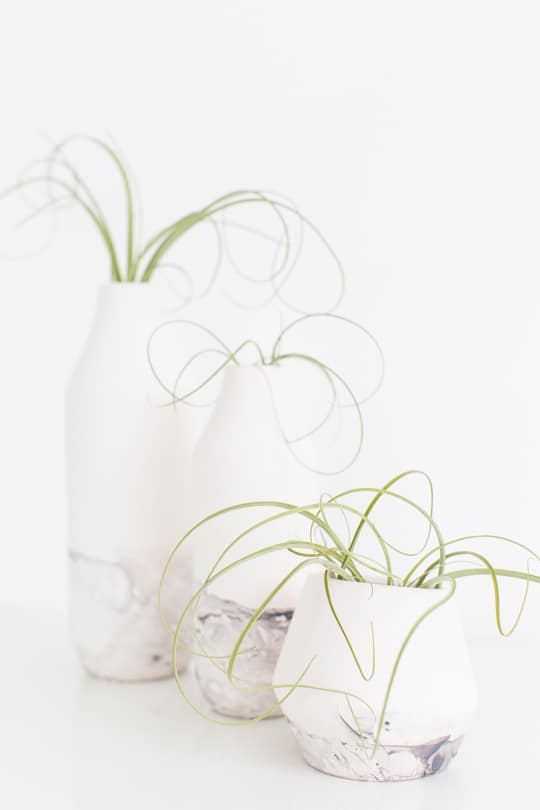 Materials And Tools Needed To Make DIY Marble Dipped Vessels
Gray and black nail polish — You can just buy the cheap regular kind!
White ceramic vessels — I used ceramic vases from Target (that are currently sold out) but you can this is a similar one. I am also loving this ceramic vase set.
Plastic bowl
Warm water
Plastic fork or utensil — For stirring
Plastic cups — For practice first!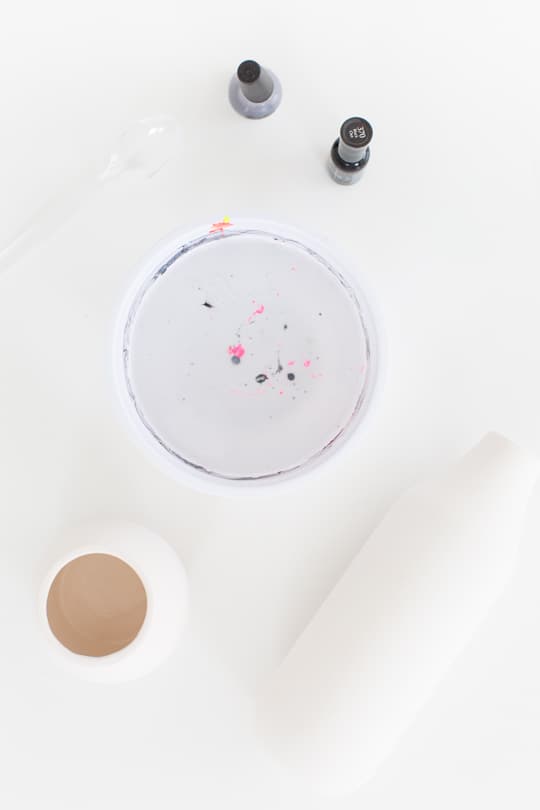 How To Make DIY Marble Dipped Vessels
(Don't mind the pink in here, this is my all purpose painting bowl!)
This entire process is super simple. You just have to keep in mind to move quickly or the nail polish will start to dry in the water. And if it does, it won't stick to your vessel evenly like you're looking for with marble.
Essentially, it will leave weird bubbles and funky overlap where you don't want it. So you can practice on cheap plastic cups first to get a feel for it!
To get the right color consistency, I used three parts grey nail polish (about three drops of polish) to one part black polish (one drop).
Then, I quickly gave it a stir with the end of a plastic utensil, and dipped the vessel in at about a 45 degree angle, making a twisting motion with my hand so that it swirled all the around the vase.
Let it set by flipping the vessel upside down until it's dry to the touch.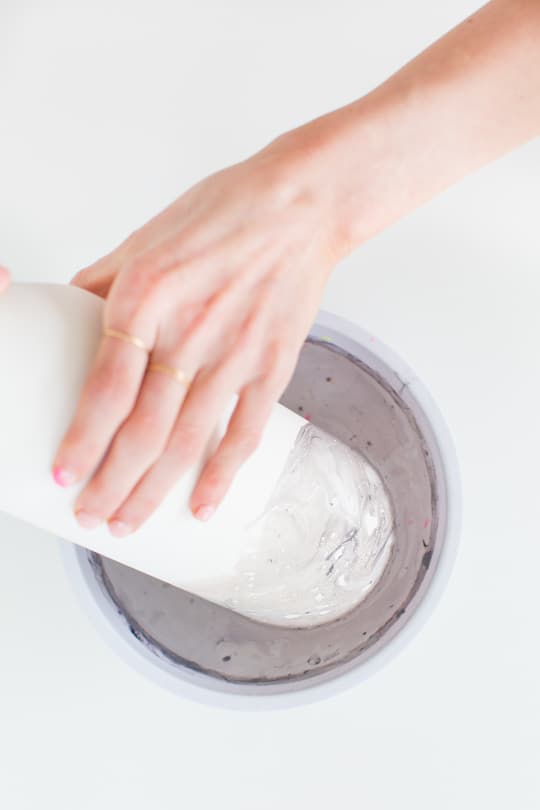 You'll have to repeat this process one by one for each vessel, and you can remove any excess dried nail polish in between coats by swirling the plastic utensil around the bowl to scoop the bad part out.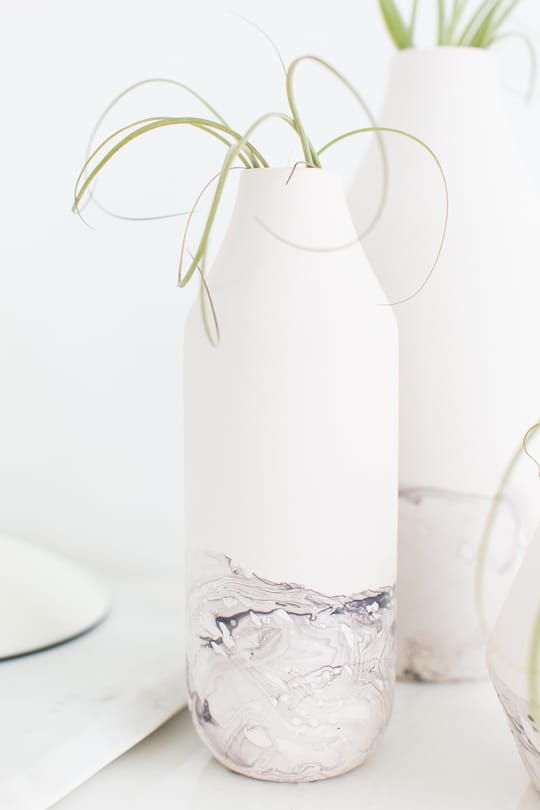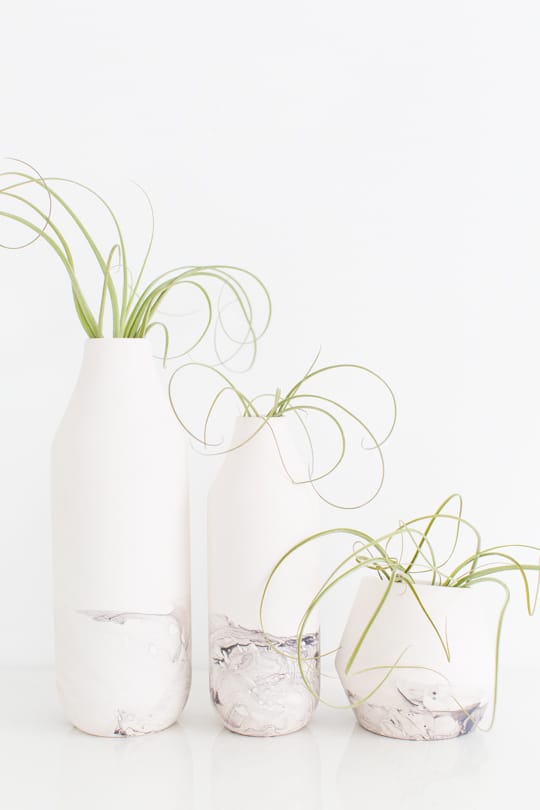 I kind of want to do this to everything now, but I'm refraining!
It's kind of a running theme of mine every time I try something new that I love. I should just go ahead and get a shirt made that says "#idontknowwhentostop".
But that could probably get easily misconstrued now that I think about it…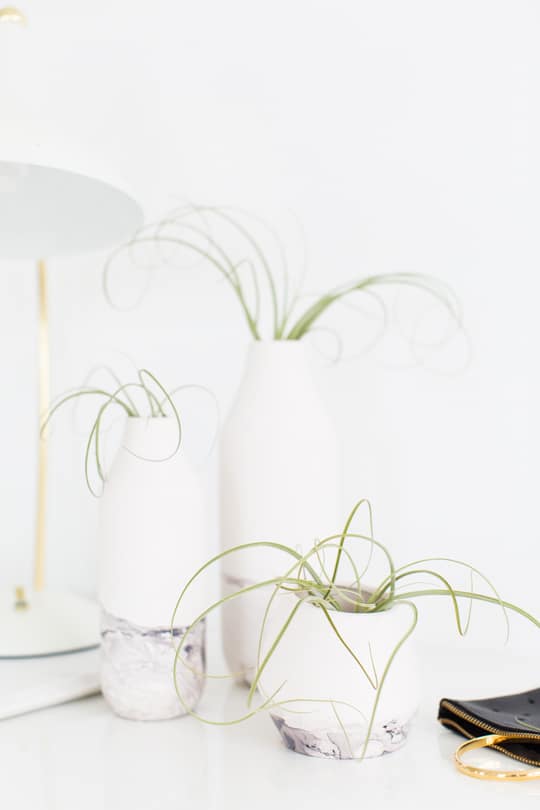 Styling Sources