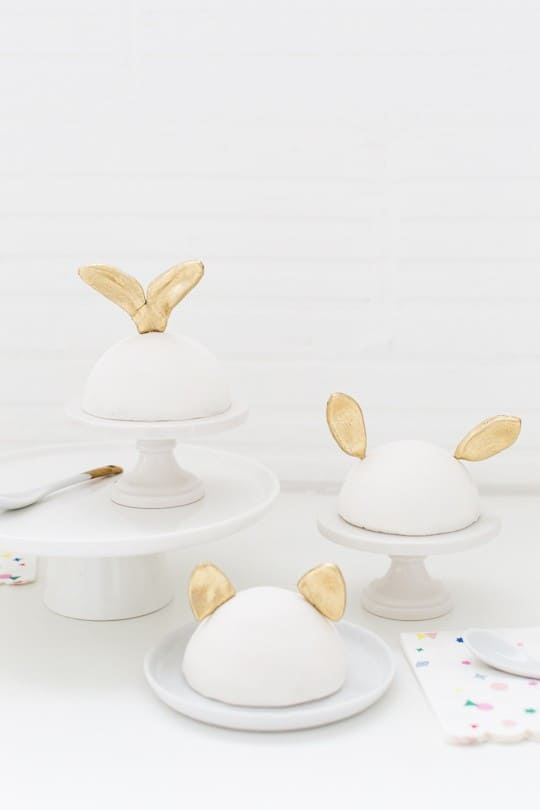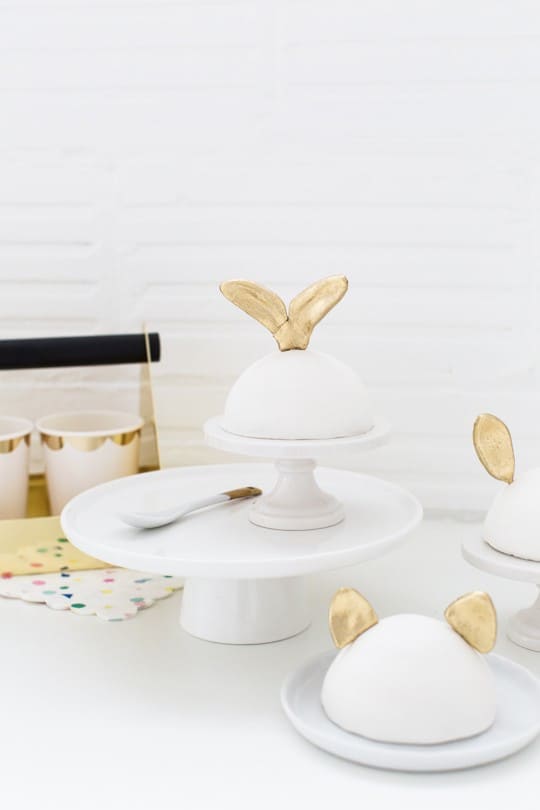 Since I'm not quite at the stage of having kids just yet, I stick with my fur kids. Thomas and I go way back to my college days when I rescued him from the middle of a four lane road and he was just big enough to fit in the palm of my hand. I bottled fed him,made my dad extremely angry for having a pet in our college rental house, got super attached, and now here we are almost seven years later, with another birthday just around the corner.
He's spoiled as all get out and refuses to eat any other wet food besides Fancy Feast gravy lover's and broths (I stopped trying to even trick him into a different kind at least three years ago), so when Fancy Feast approached me about partnering to promote their Ways To Wow campaign featuring the new chicken flavors, I did what any cat parent would do… I tried to see if I could snag a free lifetime supply, of course! Just kidding. I actually just tried to stick a birthday candle in a bowl of Fancy Feast Broths with chicken for a photo-op.
Sadly that didn't work out, so I went with the next best thing you can put a candle with: DIY animal ear cake toppers. They're like a step up from a DIY party hat, my friends, except this time everyone at the party will want one…
Materials:
Toothpicks or mini wooden dowels
Clear lemon or almond extract
Food dedicated paint brush
Rolling pin
For the bunny ears: Roll out white fondant and use a leaf cookie cutter to create the base ear shape and rounded ball of fondant to attach both ears to. Massage the seam with your fingers to create one strong piece and insert a toothpick in the bottom.
To make the cat ears: Roll out white fondant and use the edge of a cat silhouette cookie cutter (or leaf shape if you don't have one and just mold with your hands), and then use a toothpick in each one.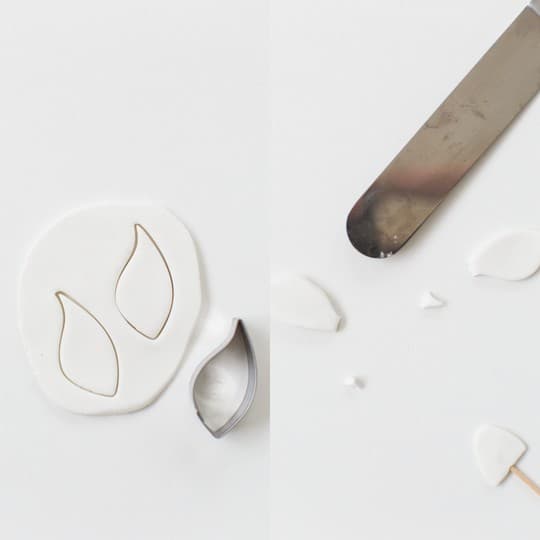 To make the deer ears: roll out white fondant and use the leaf cutter to create the base shape. Next, round out the edges with your fingers and make a straight across cut at the bottom, and attach a tooth pick in each one.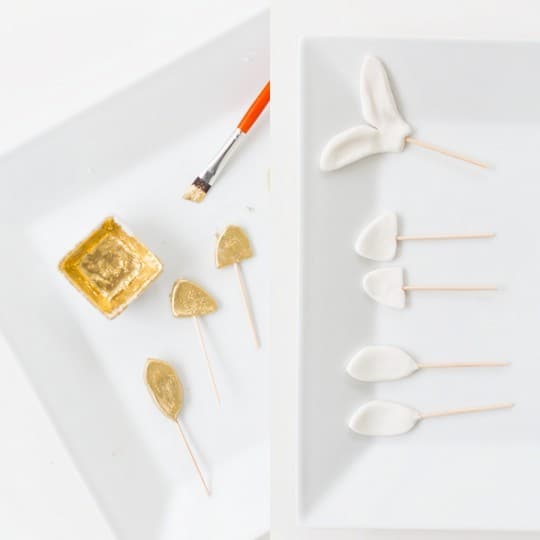 Your going to let the fondant or gumpaste dry for at least 24 hours to harden in shape, and you can even use a curved plate to make the shapes dry with a bit more dimension.
Once they've hardened, use a dash of clear extract in edible gold dust to paint onto each ear and let dry.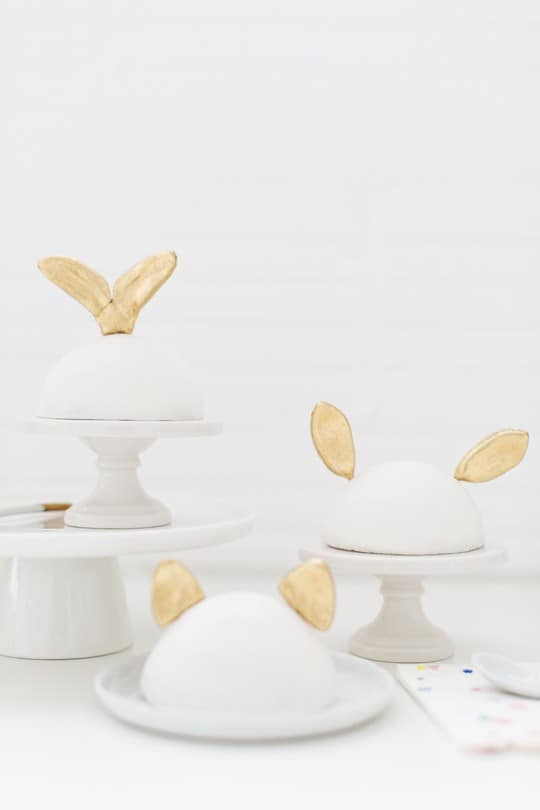 Insert the ears into mini fondant covered cakes and you're ready to party!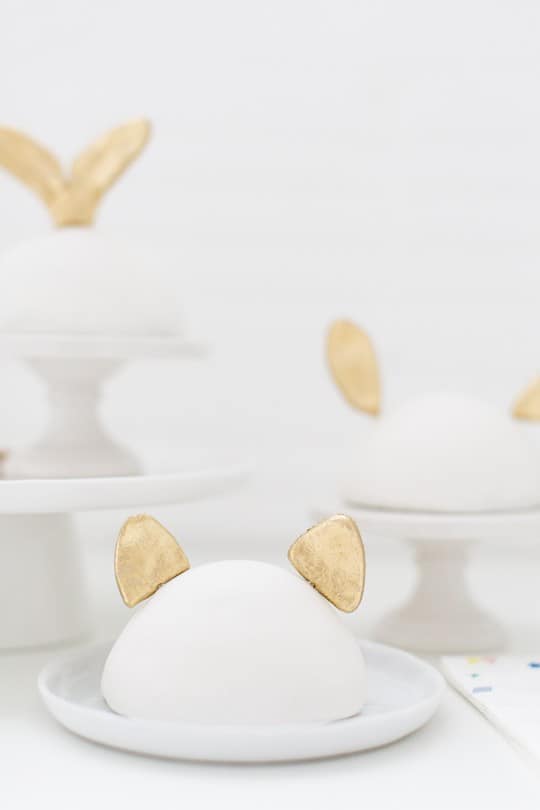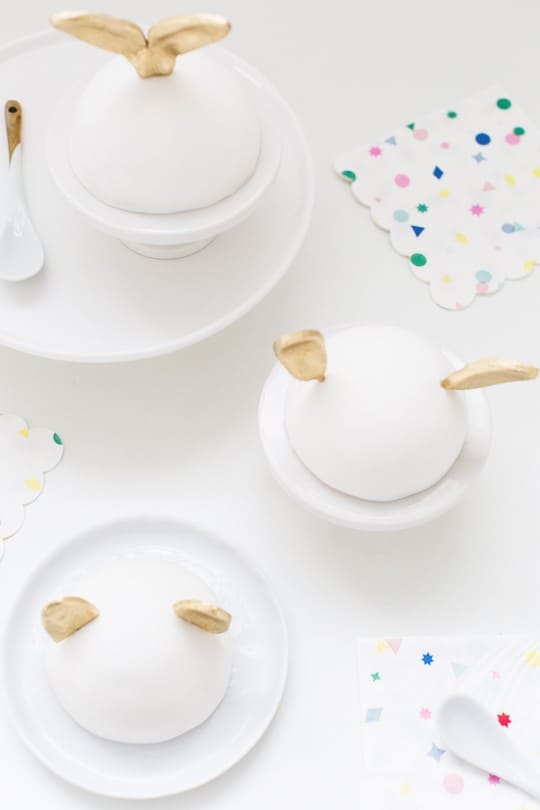 I think these would be so cute for themed animal or disney parties, cupcakes, or even bunny ears for Easter. Plus, you can make just about any shape in case I left out an animal or twelve.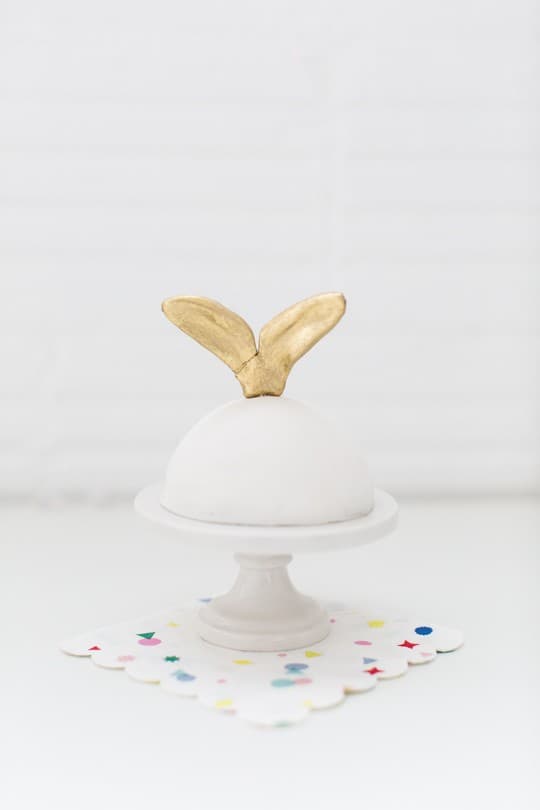 Do you all have any clever ways you'd use mini ear cake toppers? Also, someone please tell me I'm not the only overly attached fur Mom out there!
This post is sponsored by the makers of Fancy Feast (aka Thomas' one and only food source provider) as part of their #waystowow campaign to showcase their real, recognizable ingredients for the new Fancy Feast Broths with Chicken. Thank you for supporting the brands we know and love, and that keep bigger and better content coming straight to your inboxes!
For more product information or to try a free pouch of Broths (while supplies last), owners can visit www.wowserveddaily.com.