These cutest DIY Animal Ear Cake Toppers for a birthday gathering, Easter celebration or animal themed party.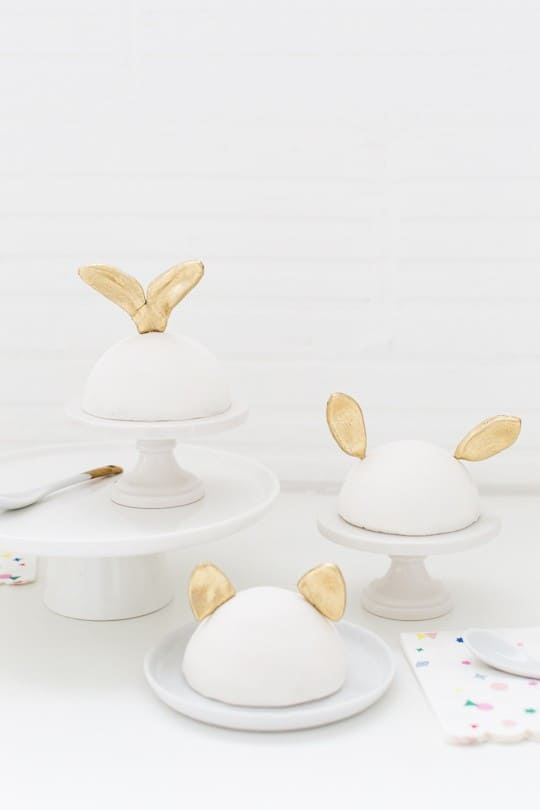 Since I'm not quite at the stage of having kids just yet, I stick with my fur kids.
Thomas and I go way back to my college days when I rescued him from the middle of a four lane road.
And he was just big enough to fit in the palm of my hand.
I bottled fed him, made my dad extremely angry for having a pet in our college rental house, got super attached…
And now here we are almost seven years later, with another birthday just around the corner.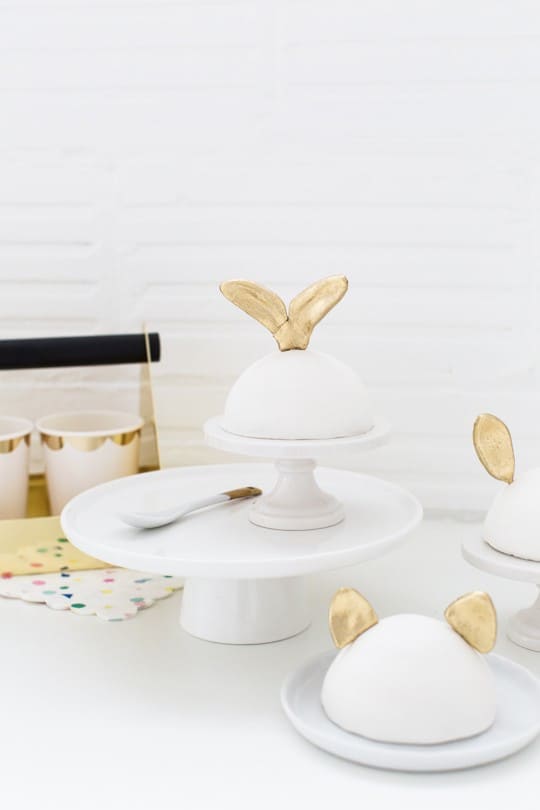 He's spoiled as all gets and refuses to eat any other wet food besides Fancy Feast's Gravy Lover's and Broths.
(I stopped trying to even trick him into a different kind at least three years ago.)
He even has his own fancy DIY Litter Box Cover.
Being that I'm obsessed with Thomas, I threw him a party for his birthday and created these DIY Animal Ear Cake Toppers.
Materials and Tools Needed to Make DIY Animal Ear Cake Toppers
Fondant or gum paste to use for molding the shapes
Toothpicks or mini wooden dowels
Clear lemon or almond extract
Food dedicated paint brush
Rolling pin
How to Make DIY Animal Ear Cake Toppers
For the bunny ears:
1 — Roll out white fondant and use a leaf cookie cutter to create the base ear shape and rounded ball of fondant to attach both ears to.
2 — Massage the seam with your fingers to create one strong piece and insert a toothpick in the bottom.
To make the cat ears:
1 — Roll out white fondant and use the edge of a cat silhouette cookie cutter (or leaf shape if you don't have one and just mold with your hands).
2 — Then, use a toothpick in each one.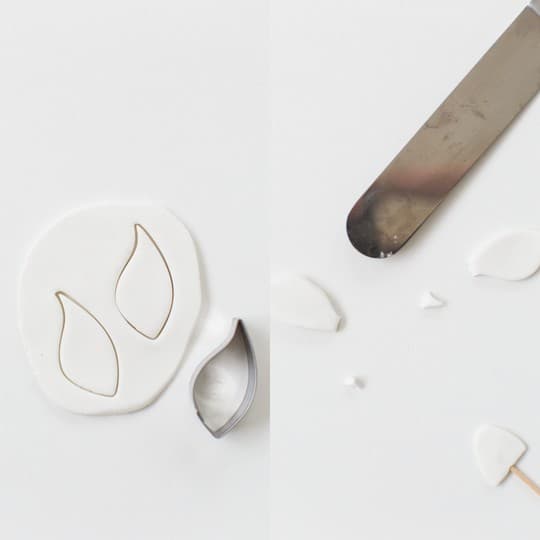 To make the deer ears:
1 — Roll out white fondant and use the leaf cutter to create the base shape.
2 — Next, round out the edges with your fingers and make a straight across cut at the bottom.
3 — Attach a tooth pick in each one.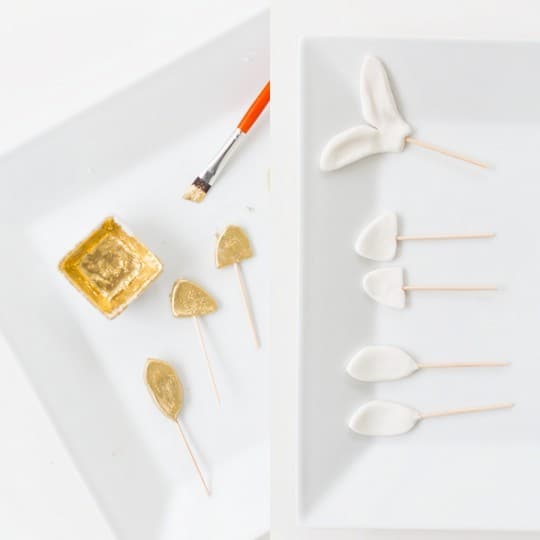 Let the fondant or gum paste dry for at least 24 hours to harden in shape.
You can even use a curved plate to make the shapes dry with a bit more dimension.
Once they've hardened, use a dash of clear extract in edible gold dust to paint onto each ear and allow it to dry.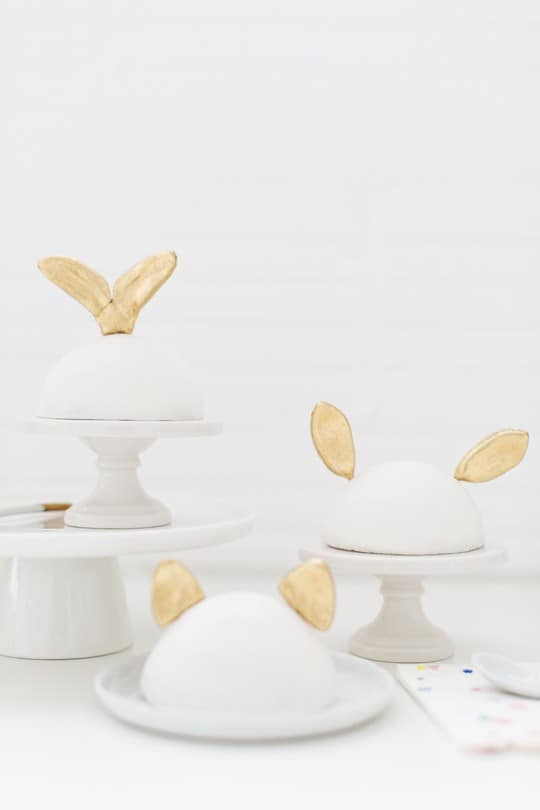 Insert the ears into mini fondant covered cakes and you're ready to party!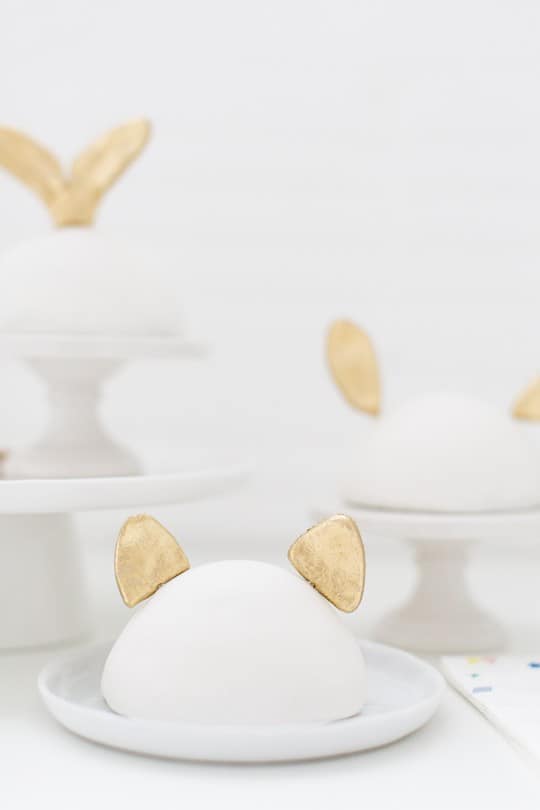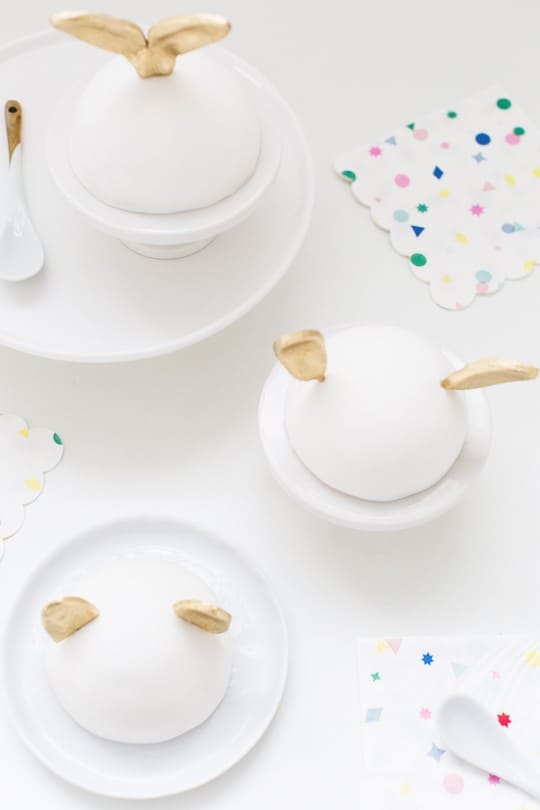 I think these would be so cute for themed animal or disney parties, cupcakes, or even bunny ears for Easter.
Plus, you can make just about any shape in case I left out an animal or twelve.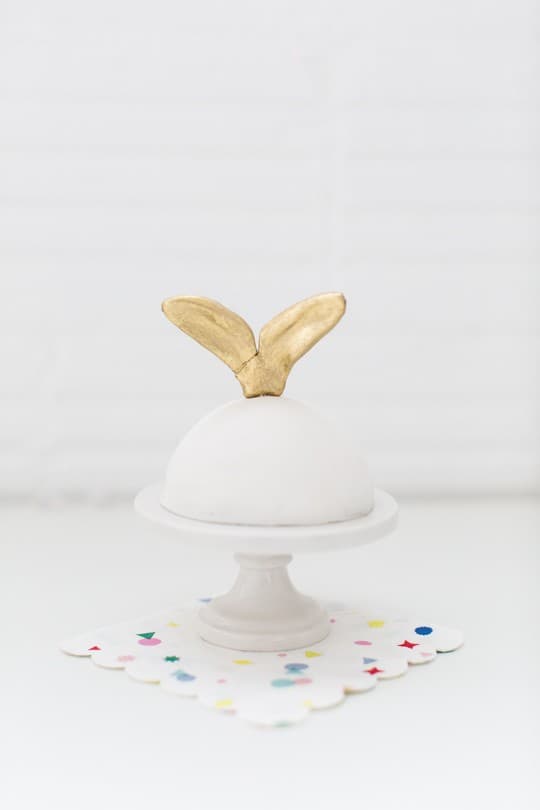 Do you all have any clever ways you'd use mini ear cake toppers? Also, someone please tell me I'm not the only overly attached fur Mom out there!