Looking for the best mason jar gifts for Christmas? Find out how to decorate mason jars and some simple DIY gift ideas below!
Give a great present this year with these mason jar gifts for Christmas! They're easy to customize, and the possibilities are endless so there's a mason jar gift idea for everyone.
You can even double the gift by using mason jars with handles so that they can be repurposed into a mug later. Just don't forget to add a Christmas tag to your mason jars too!
Mason Jar Gifts for Christmas
1 — Ginger Gin Cocktail in Mason Jars
This make-ahead cocktail gift couldn't be easier! Simply throw gin (although you could also use vodka), ginger, and cardamon pods into a mason jar a week ahead of time, and voila!
That's all it takes to infuse the alcohol with the flavors of cardamom and ginger. Thanks to its flavor, it's great alone or in a citrusy cocktail like this immunity-boosting citrus gin punch cocktail.
2 — Angel Christmas Mason Jar Gift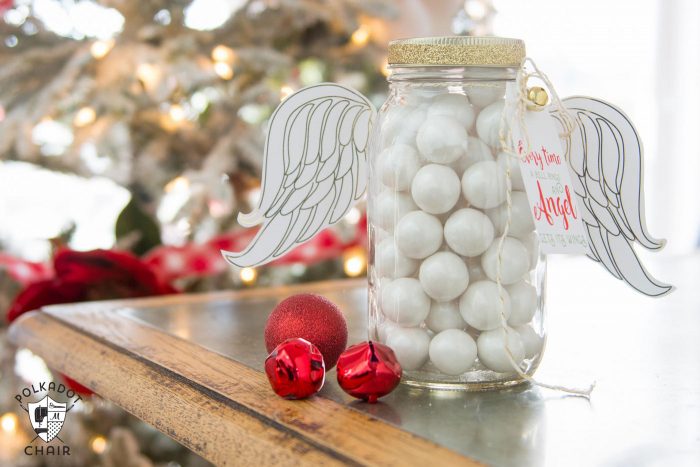 Love It's a Wonderful Life? Make some Angel Christmas Mason jar gifts that are themed around the film! This mason jar is filled with white candy such as pearlized gumballs and has DIY wings attached to the back. It makes for the perfect Christmas gift idea for any angel fans.
3 — Mason Jar Christmas Treats
Anything can be put inside these mason jar Christmas treats since it's the outside that really makes them stand out. The lid is covered in a "merry & bright" printable, along with a red and white twine that holds a candy cane and fresh pine (or greenery of your choice).
4 — Homemade Sugar Scrub
Gifting sugar scrub is a great way to upcycle any glass items you have around the house, especially mason jars. Sugar scrub is easy to make and beautiful to give thanks to the layers of different colors that you can create. Made from sugar, oil (such as olive or coconut), and aromatic essential oils, this sugar scrub will soon be your new go-to gift for friends and family members.
5 — Mason Jar Snowman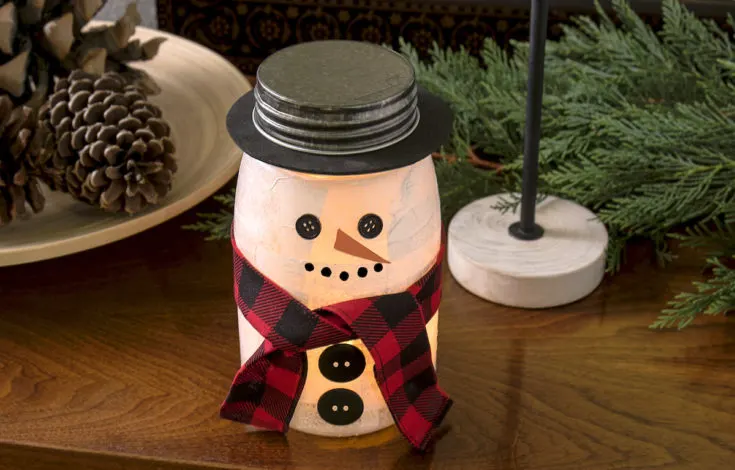 Looking to make your mason jar gift extra festive this year? This mason jar snowman will do the trick! In 5 easy steps, you'll have this snowman ready for any recipient. Simply cut the tissue paper, Mod Podge it to the jar, add the scarf, add the buttons/face, and then, top it off with a hat. Simple for beginners and advanced crafters alike.
6 — Candy Cane Vodka
These candy cane vodka mason jars are not only delicious inside (you don't taste the vodka) but adorable on the outside. The vodka infusion part is easy, but it's the outside decor that needs some craftier energy.
Simply hot glue red glitter candy canes to the jar and get some red glitter cardstock to match and cover the lid of the jar. Finally wrap red ribbons around the jar, and voila! Drink up and enjoy! And if you have leftover candy canes, make some Candy Cane Affogato or a White Chocolate Candy Cane Cocktail.
7 — Cranberry Orange Stove Top Potpourri Gift Jar
Looking for something easy that smells amazing? Cranberry orange stove top potpourri gift jars are the way to go.
Made from fresh cranberries, fresh rosemary, oranges, cinnamon sticks, and nutmeg, everyone will love how fresh and festive their houses smell after keeping this on the stovetop.
8 — Chocolate Peppermint Cookies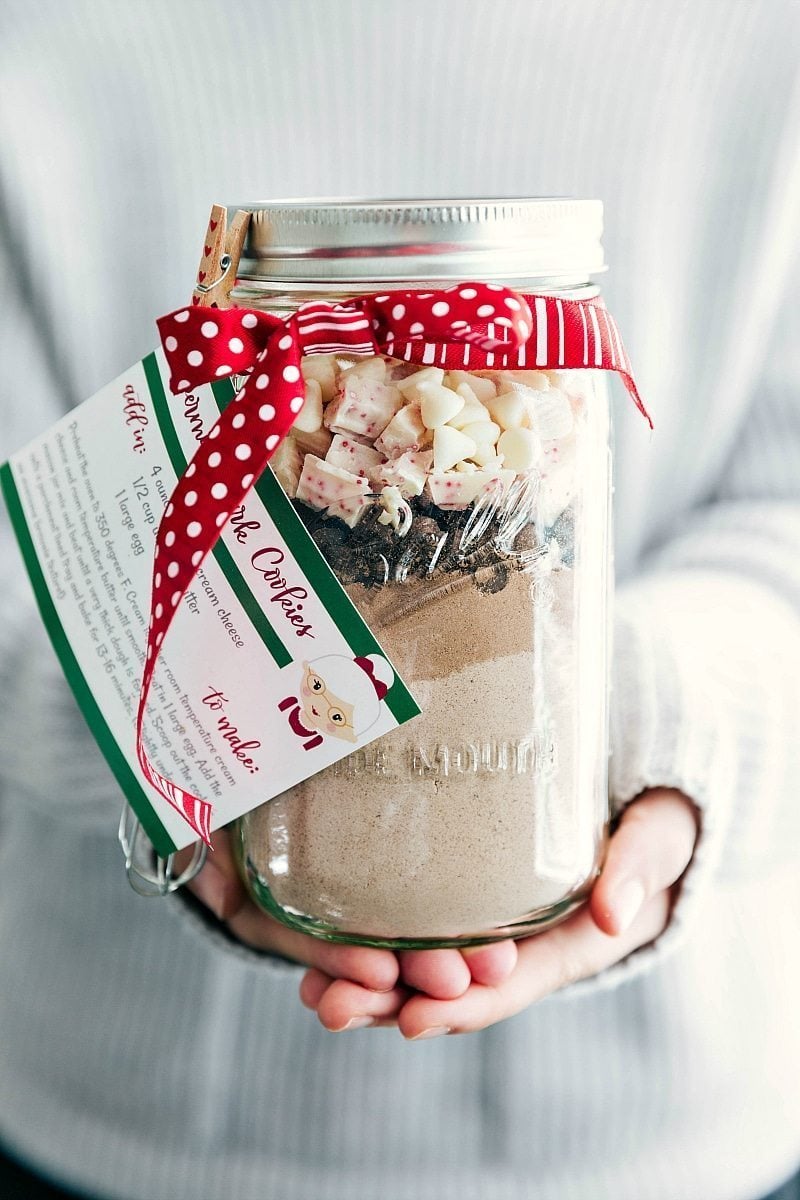 Want to catch your friends with their hands in the cookie (mason) jar? Give them the gift of chocolate peppermint cookies. The fun in this gift is that they only need to bake and eat. The hard work is already done, thanks to you!
9 — Pecan Cheesecake In Jars
The dessert lovers in your life will swoon over these decadent pecan cheesecake in a jar. They're made (with minimal effort and time), baked (for 30 minutes) and served right in the jar.
10 — S'mores Mason Jar Gifts
For these s'mores mason jar gifts, start with Golden Grahams, holiday M&Ms, and mini marshmallows for a sweet snack mix. Next, mix them up and fill them up in the mason jars! Easy as 1, 2, and 3, but as delicious as 4, 5, and 6! Add some twine and tags when everything is packed up, and you're ready to go!
11 — Gluten-Free Monster Cookies in a Jar
Not sure what to give your gluten-free friends?
These gluten-free monster cookies in a jar are the perfect gift!
The layers in this recipe make the jar look great, and the printable recipe makes for a great gift tag too!
12 — Mason Jar Gift for the DIY Lover
For friends or guy friends who have everything and love to DIY, gift them a DIY mason jar "survival kit" that's essential useful tools for DIY projects.
Get creative with what goes inside.
Some fun ideas could be wood finishing cloths, safety glasses, super glue, a sanding block, or a keychain measuring tape.
The bigger the mason jar, the better for the project.
.
13 — Mason Jar Gift for Movie Lover
Instead of hosting a fantastic movie night for your movie-fanatic friends, make them these mason jar gifts for movie lovers that are sure to please.
You'll need a big jar to stuff popcorn bags, boxes of movie theater candies, popcorn seasonings, and a gift card to your local movie theater in there!
14 — Spa Pedicure Gift in a Jar
This spa pedicure gift in a jar is a holiday gift for those whose friends get pedicures all too often.
Full of pedicure staples such as cotton balls, a mesh bath sponge, nail polish (in Christmas and holiday colors) and some matching ribbon, this major jar gift is a great one.
15 — Peppermint Pampering Gift
It's hard not to love peppermint, and this peppermint pampering gift is a great way to spread the holiday peppermint cheer!
Whether you make your recipes at home or buy them from the store, the body butter, foot scrubs, and sugar scrubs are sure to be a hit!
16 — Elsa Frozen Gift Idea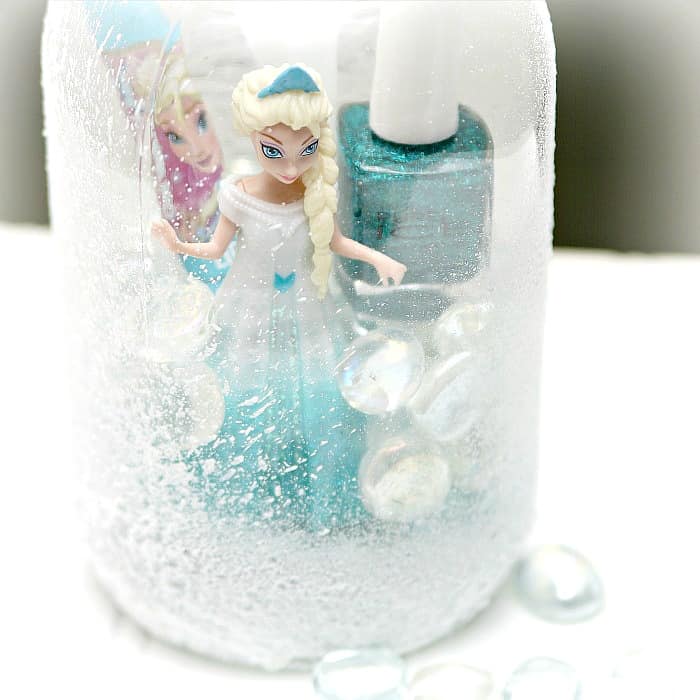 This Frozen-themed mason jar can easily be transferable to any Disney princess. Simply, get some small Frozen-related gifts at the store (like a figurine or nail polish). Whatever you find, make sure to match the color-themed. For example, turquoise and/or white fits with the Frozen them.
You're sure to be a favorite with any little girl this Christmas with this Elsa Frozen gift idea. Plus, it makes for a fun party favor if you're throwing a Frozen birthday party.
17 — Mason Jar Christmas Clay Dough
Are you always searching for stocking stuffers but can never find the right ones?
Check out this mason jar Christmas clay dough idea.
Create your own colored clay dough this year for fun for the whole family!
Still need more stuffers? Check out this list of beauty stocking stuffers.
18 — Christmas Jar Mulling Spice Gift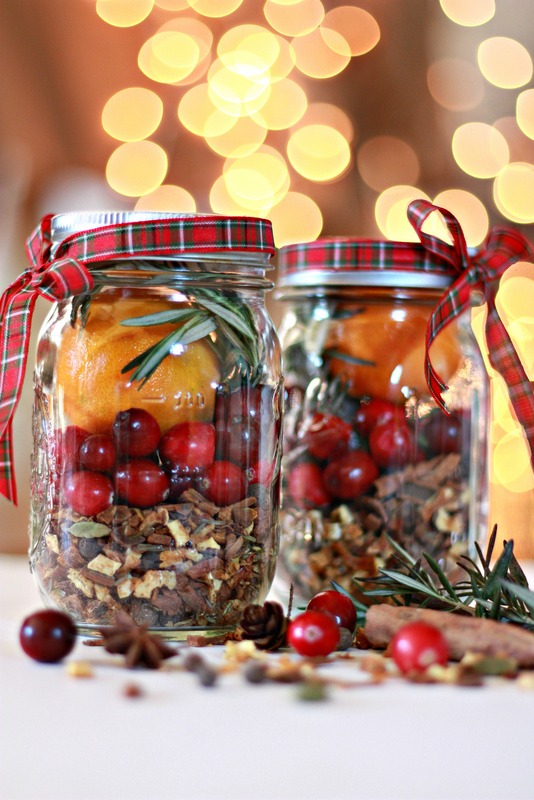 If you're a fan of mulled wine, make some for everyone with this Christmas jar mulling spice gift.
All they need to do is add the ingredients from the jar and add wine to a pot and heat up!
19 — Christmas Reindeer Jars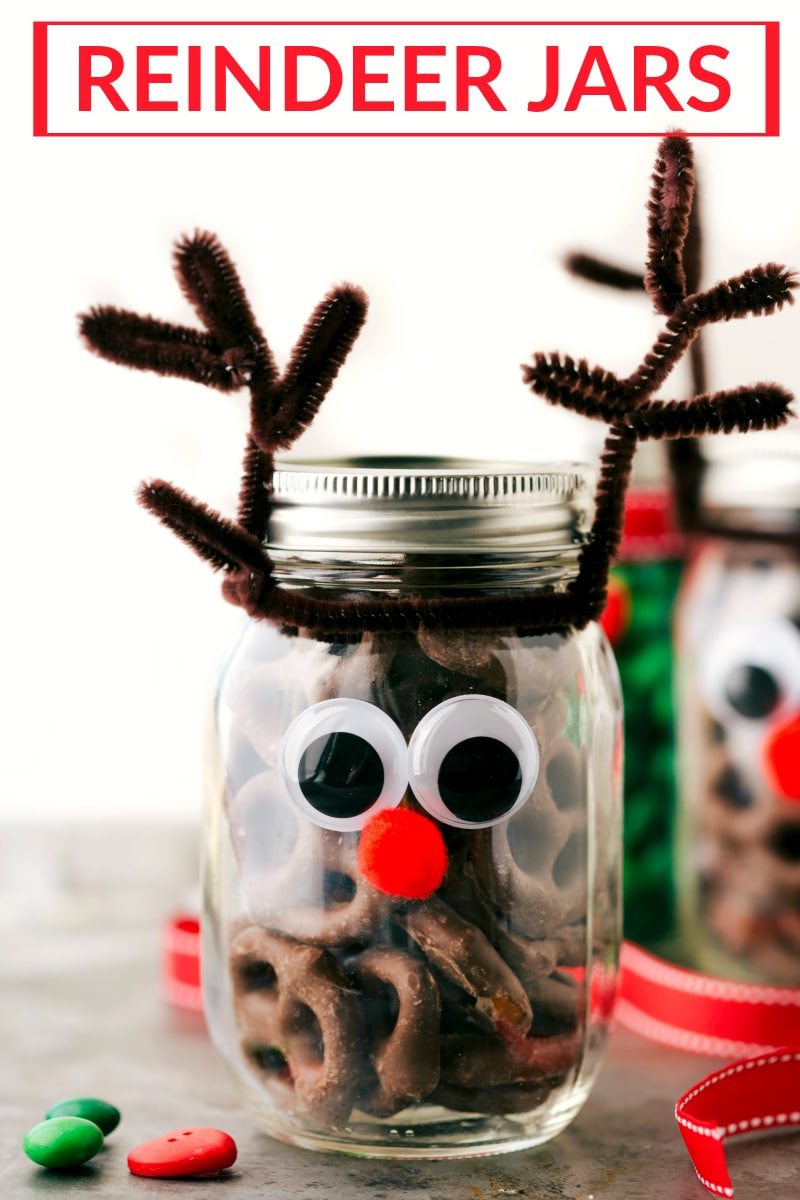 Whatever brown treat you love (pretzels, chocolate chunks, or chocolate-covered pretzels) fill them up in jars!
To decorate the jar, add some brown pipe cleaner, googly eyes, and red pom poms to finish off these festive reindeers.
Pair these jars with some Christmas Funfetti Reindeer Cookies.
20 — Santa Belt Jar
This Santa jar is easily customizable with what's inside.
Just stick to anything red.
On the outside, make your Santa belt with black ribbon, silver foam, and a hot glue gun.
21 — Snow Scene in a Jar
Want to set your gift apart this year? Light it up!
You just need a battery-operated tea light, faux snow, and whatever you want to place in the jar (such as a small snowman or tree).
22 — Reindeer Noses Mason Jar
This reindeer noses mason jar is more edible than the previous one listed and just as cute.
It still involves brown pipe cleaners and googly eyes.
BUT the nose is from red gumballs, and it's filled with Whoppers candy.
If you're able to glue on the red noses (gumballs) with edible glue and use pretzels instead of pipe cleaners for antlers, you have a fully edible reindeer!
23 — Christmas Sweater Mason Jars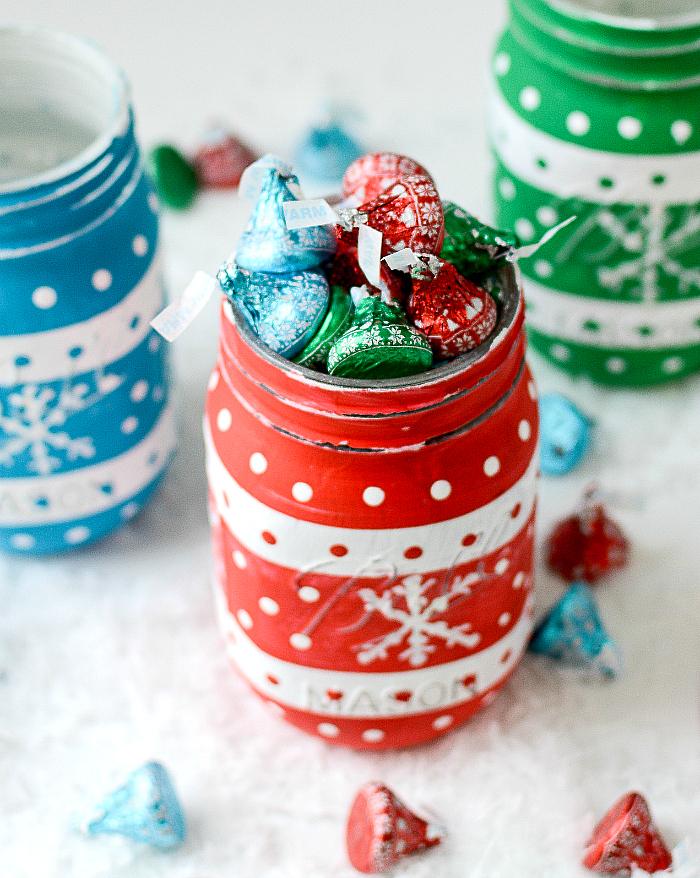 Christmas sweaters and jammies are always fun to match around the holiday season, and these Christmas sweater mason jars keep that fun going.
Bring out your paintbrush, your favorite winter colors, and your creativity cap because these jars are worth it!
Lastly, stuff them with your favorite Christmas candy.
24 — Stacked Snowman Hot Chocolate Jars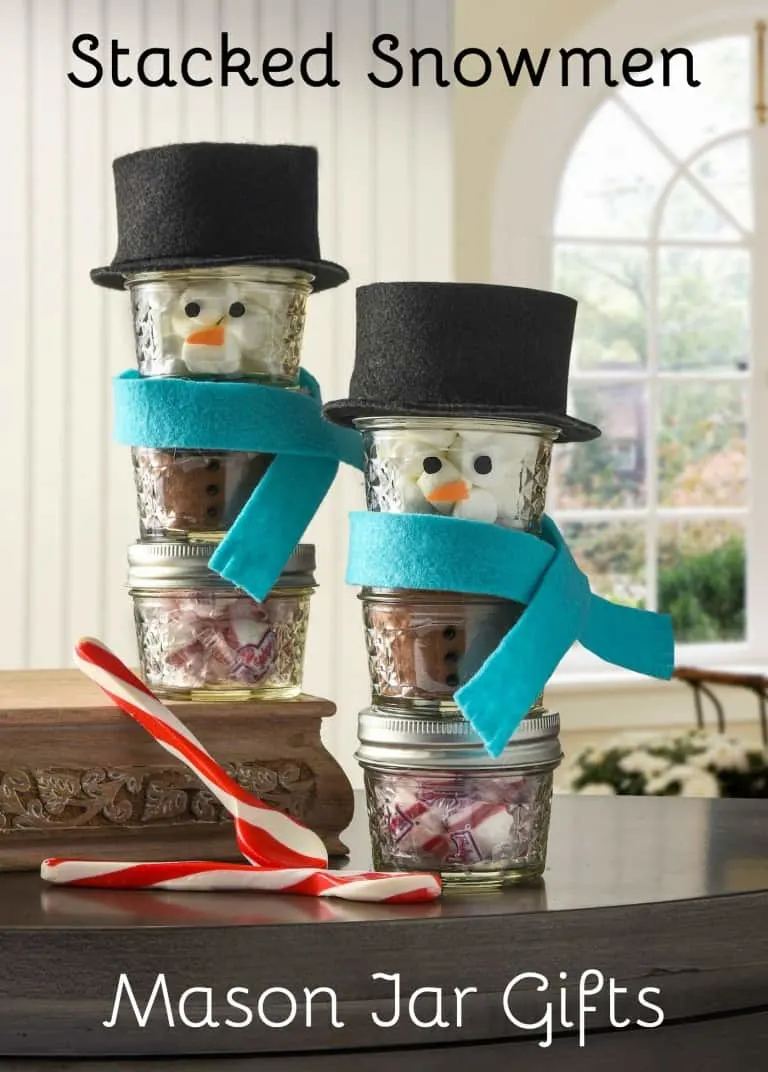 Rather than use just one jar, use a few and make a snowman!
This stacked snowman hot chocolate jar idea is great for people who have lots of small jars lying around.
You just need some paint, felt, and time.
Love hot chocolate? Try jarring these Candy Cane Affogato and Peppermint White Hot Chocolate instead.
25 — Rock Painting Kit in a Jar
Ready to hear "you rock" this year?
This rock painting kit in a jar is a great gift for that artsy friend.
Grab up some rocks and paint them white, fill the jar with colored Sharpies or other acrylic pens and watch your friend enjoy!
It's a DIY Christmas gift with a DIY to make inside.
26 — Christmas Elf Mason Jar Gift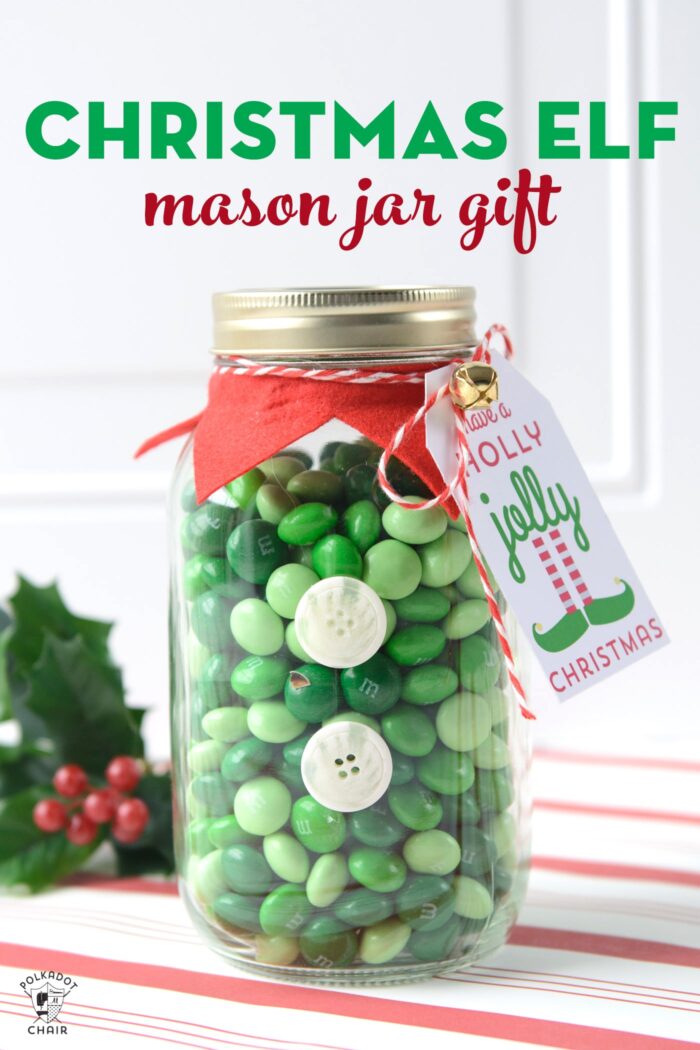 Make your elf on a shelf edible this year with this Christmas elf Mason jar gift.
It's cute, decorative, and delicious!
27 — Christmas Muddy Buddies
Muddy buddies are delicious, and these jars of Christmas muddy buddies are no different!
You can make the muddy buddies in bulk and decorate each jar the same or differently.
The possibilities are endless!
28 — Hot Cocoa In a Jar Gift
A classic mason jar gift would be one that holds hot cocoa.
It's easy to do, easily customizable, and a fun gift for all!
Love hot cocoa but want to switch things up?
Make hot chocolate bread in a jar instead.
29 — Dog Treat Mason Jar Gift
Gifts shouldn't be just about humans.
Give your favorite dog (or cat) some treats this year with this dog treat mason jar gift!
They'll be barking for another!
30 — Mason Jar Snow Globe Ornament
This DIY snow globe ornament lends some stylish, classical farmhouse style to any tree.
Even better, they only cost a few dollars to make!
31 — Snowy Surprise Gift
There are lots of creative wrapping ideas, but this snowy surprise jar is perfect for the holidays.
It's a festive and unique way to hide your presents inside a mason jar.
Other Gift Ideas
Are you still searching for a gift? If so, check out a few of our favorite gift guides below —