DIY Modern Dreamcatcher — A DIY modern dreamcatcher just in time for handmade holiday gift ideas!
Not that dreamcatchers aren't always a good idea. But when they're metal and gold like this DIY modern dreamcatcher, I'm totally down!
I may be bias since I've been dreaming (no pun intended) this bad boy up for a while now. But I think they'd make pretty great handmade holiday gifts too.
I just wish you could've seen the trial and error that it took before we got to this version. And by we, I actually mean my assistant Tiffany pretty much manned the fort.
It may seem easy, but it takes a bit of time to get it just right.
Lucky for me I'm looking for something to distract you from my radio silence while trying to survive this new studio construction so this works out perfectly!
Materials Needed To Make A DIY Modern Dreamcatcher
3 feet of tan leather lace cord
Scissors
Pen and ruler
Craft paint and brushes (optional for colorblocking)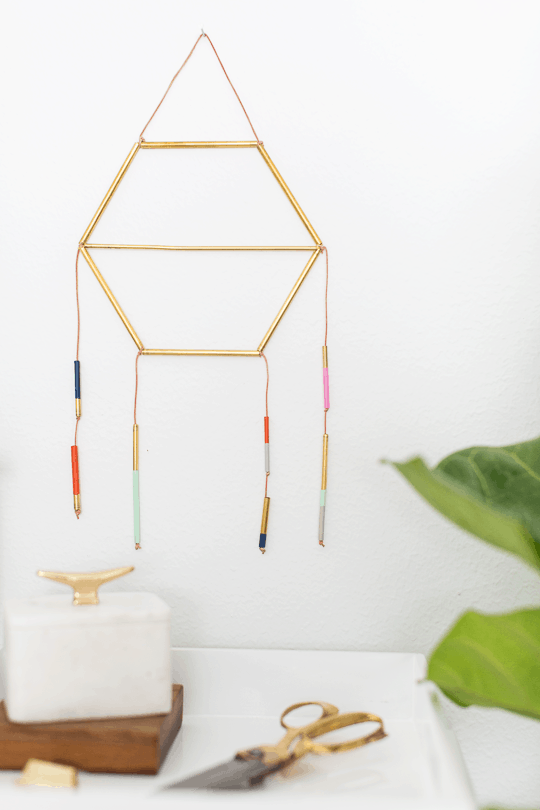 How To Make A DIY Modern Dreamcatcher
To make the core of the dreamcatcher, you can follow the image below as a general guideline for the base structure. You can scale it to be as big or as small as you'd like it to be.
For the hexagon, you'll need 6 pieces of tubing that are identical sizes. We used 4-inch pieces.
You'll string them all together using the leather cording, laying it flat on a working surface.
Cut another piece of brass tubing just long enough to go across the middle of the hexagon to make the shape more defined. In our case, it was 8.5 inches.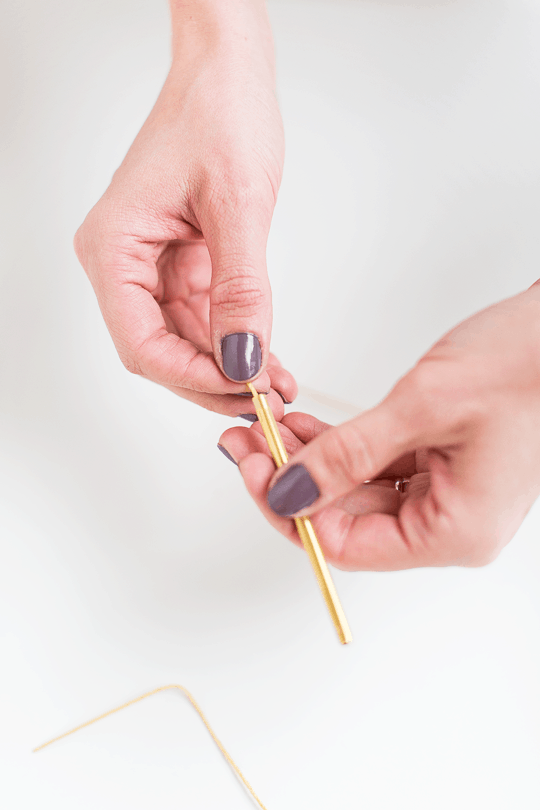 Once you have the tubing laid out how you'd like for it to be, string a piece of leather cord through the 8.5 inch piece of pipe, and knot it in place on either side of the middle.
Next, pull the cord that's going through the hexagon shape tight, and knot in the corner. You should now have a tightly held hexagon base.
For the bottom strings, you use whatever configuration or combination of metal pieces as you'd like just as long as each strand holds the same amount of weight (or metal tubing) so that it doesn't hang lopsided. You can see below that we use small knots to space mini tubes, and then another knot at the bottom of each strand to hold them in place.
To add a pop of color, paint small bands of tubing different colors of your choice and let them dry, To make this process easier, you can use a bowl of sugar or fine salt to stick each tube in to dry consistently without spots from laying them down wet.
When all of the strands are assembled and knotted at the bottom, use another short piece of leather cording to knot on either side of the top bar to create a way for the dreamcatcher to hang. If for some reason it doesn't hang evenly, adjust the mini piece of tubing on each strand until the weight balances out.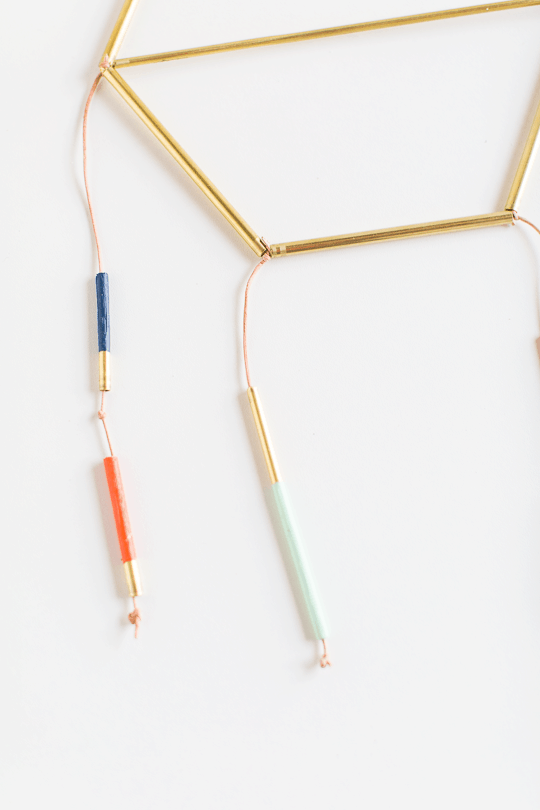 If you're friends didn't love your handmade gifts before, they didn't will after this labor of love, trust me! Or you can just skip the gift giving and get together to make them over hot chocolate and cookies all at once.
I also really love the idea of making these for a nursery. It would be so fun to have ann overside one as a statement wall piece!