Saying the name aloud is half the fun of ordering a naughty named cocktail. Here are some of the crazy and funny drink names you can dare to order.
Out and about around town for a bachelorette party or girls' night out? This list of funny drink names is cheeky, clever, and NSFW. And they're so fun to order (if you can say it with a straight face).
Crazy and Funny Drink Names
1 — Adios Motherfucker Cocktail
Its PG name is the Blue Motorcycle. But this cocktail is widely referred to as the Adios Motherfucker (AMF) as a way to say "goodbye" (in Spanish). Because once you have one, you'll surely be headed for a blackout.
2 — Pink Panty Dropper Punch
Featuring beer, vodka, tequila, and pink lemonade, the Pink Panty Dropper is easy to whip up and great for large gatherings. It may look sweet, but it's potent. As its name is a reference to the crazy things, you may wanna do after consuming one too many.
3 — Liquid Marijuana Drink Shot
Contrary to its name, the Liquid Marijuana Drink Shot doesn't actually contain marijuana.
It's a fruity cocktail with four different types of tropical liquors.
4 — Duck Fart Shot
Who would've thought that such an immaturely named shot would turn out looking so elegant?
The Duck Fart Shot is a pretty layered shot with tiers of coffee liqueur, Irish cream liqueur, and whiskey.
5 — Blow Job Shot
A classic, the Blow Job Shot is a saucy named cocktail that's sweet and creamy and not too alcohol heavy.
It literally tastes like you're drinking a coffee bonbon thanks to the Amaretto, Kahlua, Baileys, and whipped cream.
6 — Red Headed Slut Shot
Be warned.
The Red Headed Slut is quite strong due to the presence of Jägermeister.
7 — Brain Hemorrhage Shot
The Brain Hemorrhage Shot is made with a base of peach schnapps and a layer of Bailey's that quickly curdles and forms the "floating brain."
A dash of grenadine then makes it look like the brain is hemorrhaging.
8 — Liquid Cocaine Shot
With a combination of Jagermeister, 151 overproof rum, and Fireball, it's no doubt going to be strong.
Liquid Marijuana is also known as the Liquid Crack Shot or Stone Cold Stinger Shot because it's designed to wake you up and punch you in the face with its flavor profile.
9 — Chuck Norris Shot
Named after the infamous action hero, this unexpected Chuck Norris Shot is sweet, spicy, and packs a punch.
It sounds like the oddest combination (raspberry vodka, whiskey, grenadine, energy drink, and hot sauce).
But it's delightfully delicious.
10 — Buttery Nipple Cocktail
The Buttery Nipple is a sweet, creamy drink composed of two main ingredients, Butterscotch schnapps liqueur, and Baileys Irish cream.
11 — Pornstar Shooter
The Pornstar Shooter only calls for two ingredients: Blue Curacao and raspberry liqueur.
It's just as easy to drink as it is to make.
12 — Slippery Nipple Cocktail
Another visually appealing drink, the Slippery Nipple, layers Irish cream on top of Sambuca with grenadine sinking below.
13 — Slap Your Mama Cocktail
The Slap Your Mama is equal parts Mountain Dew, orange juice, and spiced rum.
No one really knows its name origins. Either way, you'll surely get some LOLs while ordering it at the bar.
14 — Big O Cocktail
The PG-rated version of the Big O Cocktail name meaning is that it is an orange-flavored mixed drink due to the orange vodka, orange juice, and orange bitters.
The R-rated version is because it is known to be a highly satisfying alcoholic drink.
15 — G-Spot Cocktail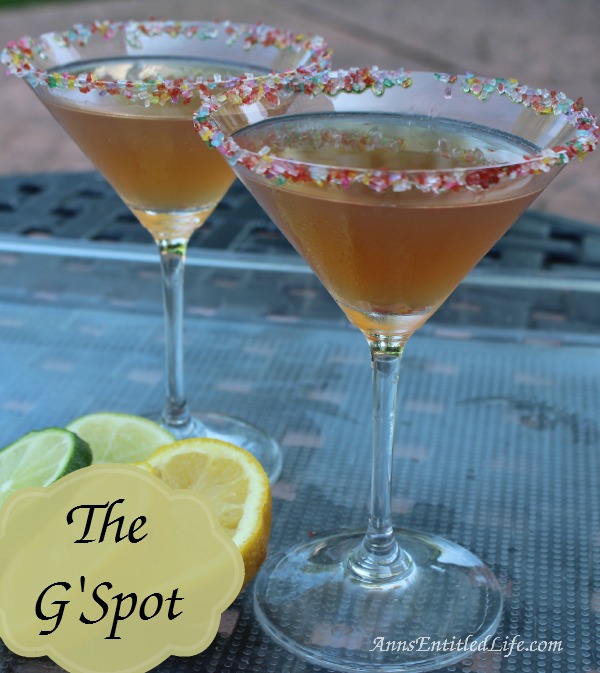 The G-Spot Cocktail hits the spot with its sweet and tart combination of Chambord, G'Vine Floraison Gin, simple syrup, lime, and lemon juice.
17 — Shit on the Grass Shot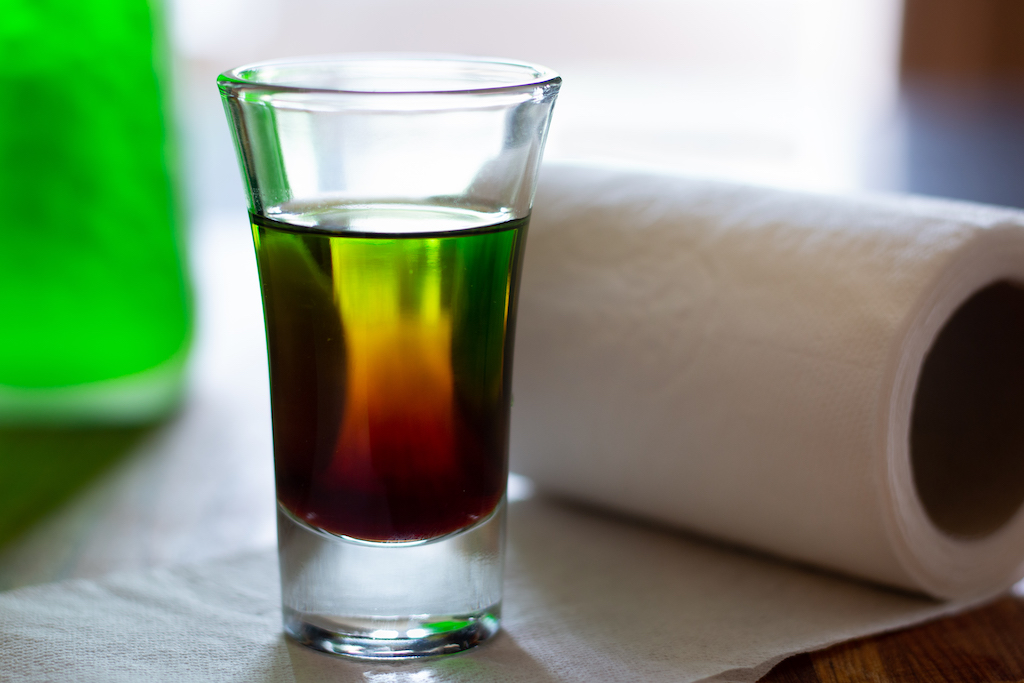 There are so many things the Shit on the Grass resembles.
And yet the creator came up with the most unattractive one.
Made of Kahlua and Midori, we swear it tastes better than it sounds.
18 — Blood Clot Shot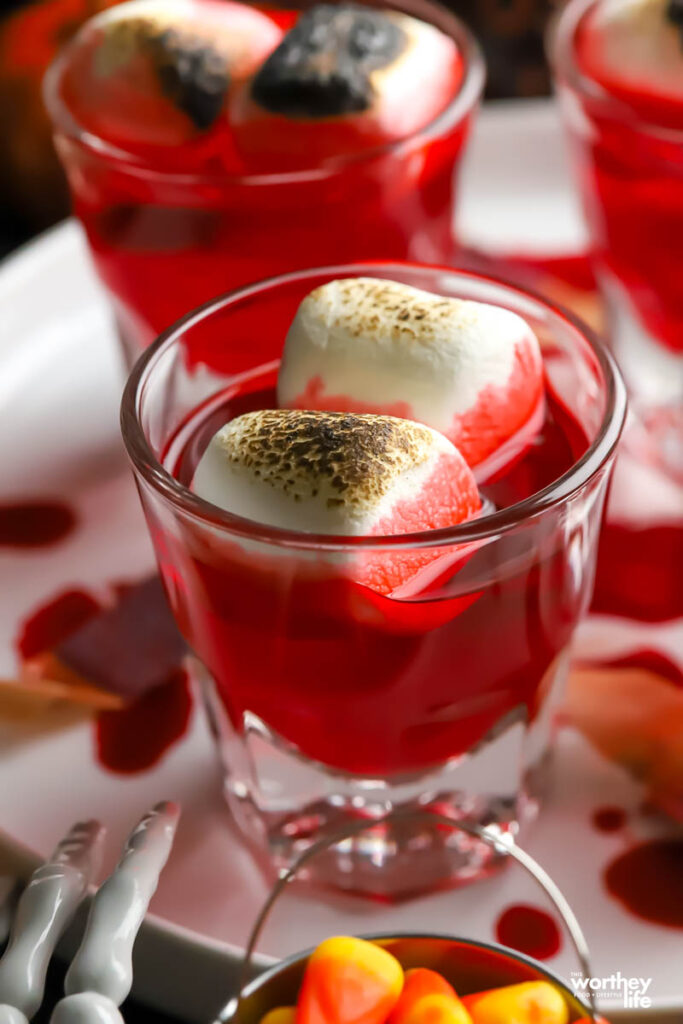 A popular Halloween request, the Blood Clot Shot contains Jack Daniel's, hard apple cider, apple liqueur, and orange bitters.
Torched marshmallows add the finishing sugary touch.
19 — Sex on the Beach Cocktail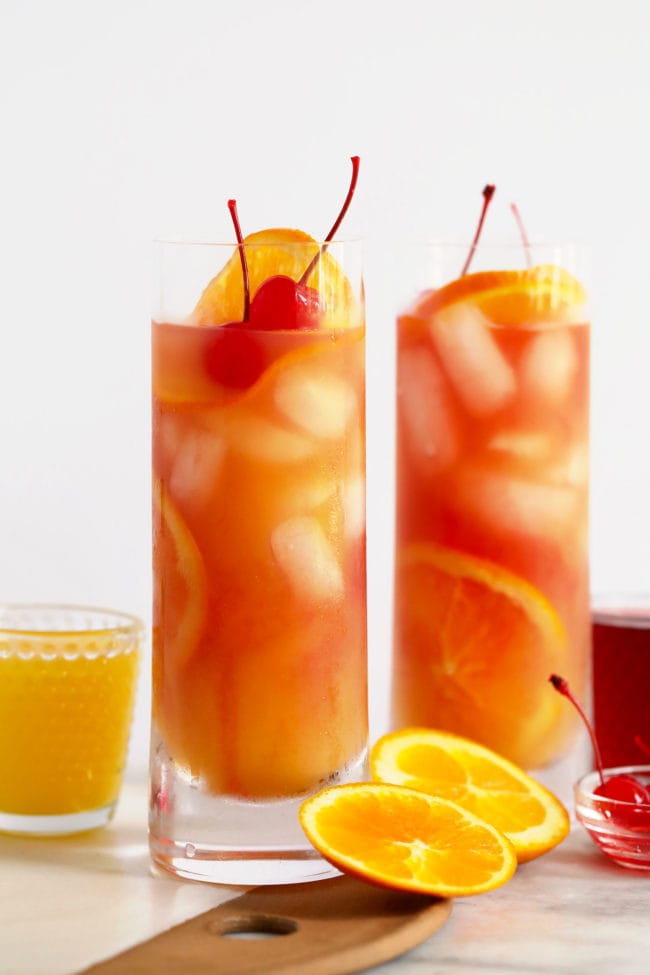 You'll feel like you're on the beach while sipping a refreshing Sex on the Beach Cocktail.
Orange juice, cranberry juice, vodka, and peach schnapps lend to its tropical flavors.
20 — Blue Balls Shot
Relieve all your stress with a Blue Balls Shot.
Made of coconut rum, Blue Curaçao, Peach Schnapps, and sweet and sour, this shot is also easy to make at home.
More Fun Cocktails to Try