Looking for imitation crab meat recipes? This list of tried-and-true recipes can help you thrive in the kitchen with these simple dishes.
Imitation crab, also known as crab sticks, is a great way to satisfy that seafood salad craving you have without breaking the bank.
What Exactly is Imitation Crab?
Imitation crab is consumed worldwide. However, it first popped up in Japan in the 1970s and continues to be a cheaper alternative to real, expensive crab meat.
Ironically, imitation crab consists of real fish meat and not crab. It's typically composed of Alaskan Pollock (a popular fish for fish sticks too), surimi, or a general white fish.
Then, the fish is deboned, minced into a paste, mixed with other flavors and ingredients, and piped into the rectangular mold that we know imitation crab as.
Finally, it's topped off with a light coating of orange food dye to imitate real crab meat. While real crab is more expensive, it also is more nutritious and flavorful than imitation crab.
However, that's not to say that there aren't amazing things that can be done with imitation crab. Take a look at the imitation crab meat recipes below!
What Does Imitation Crab Meat Pair Well With?
Since imitation crab isn't real, it requires a different set of flavors to pair with it when it comes to seasonings and drinks. Gin, vodka, tequila, and drier white wines pair well with imitation crab. So try the pink gin spritz, a skinny jalapeño margarita, or a vodka pear lavender lemonade.
Although, if you get your hands on real crab, go with rum or a sweet white wine instead like a classic rum punch or a mojito. If you are looking for an excellent seasoning for a white sauce to dip some imitation crab in but aren't sure what to go with, try this lemon pepper seasoning to (literally) spice things up.
Imitation Crab Meat Recipes
Salads
1 — Easy Crab Seafood Salad
This is one of the easiest Crab Seafood Salads to make and takes no time to whip together. Mix up imitation crab, mayonnaise, sour cream, celery, lemon juice, dijon mustard, chives, and dill, and serve on a sandwich or over lettuce (lettuce wrap style). Looking for something spicier? Add in some jalapeños, and enjoy!
2 — Crab Pasta Salad
There's not much better than seafood and pasta, and this crab pasta salad is no exception. Because this imitation crab meat recipe calls for feta cheese, the sauce is a notch in flavor, while the mayonnaise keeps the richness and texture.
This salad is diverse in how it can be served up. While it tastes excellent, step it up by putting it in a sandwich with lettuce and tomato. Make cups (like lettuce wraps). Or use it as a spread for crackers.
Not sure what to drink with it? Try pairing it with this Gin Citrus Punch Cocktail which is easy to make at home and delightful to sip on.
3 — Spicy Kani Salad
Sweet and spicy is a lovely flavor combination and this salad only exemplifies that. Although it only requires a few ingredients (cucumber, imitation crab, and a special dressing), it is as delicious as it is easy.
The cucumber cools and refreshes while the sriracha heats it up. Add some deep-fried tempura if you are looking for more crunch in this salad beyond what the cucumber can do. Want to keep things spicy? Pair it with this Spicy Paloma Cocktail.
Trying to cool things down? Pair this Spicy Kani Salad with acidic drinks such as lemonades or tomato-based drinks like a Sparkling Mint Meyer Lemonade, Pear Lavender Vodka Lemonade, or Bloody Mary.
Soups
4 — Seafood Chowder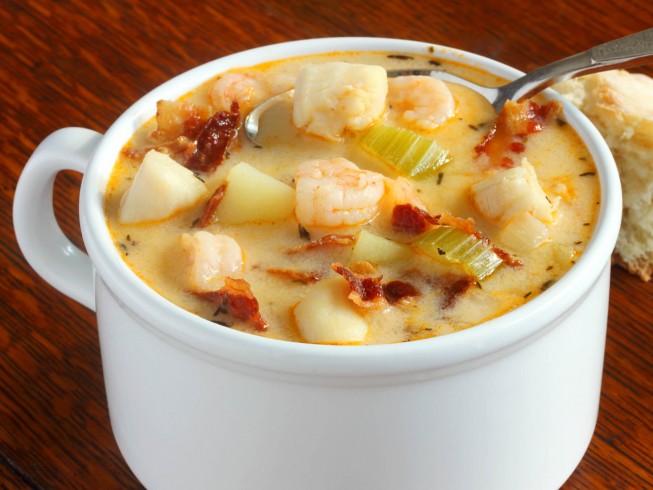 Chowder is such an excellent way to combine cream and seafood.
Although caloric due to the bacon, seafood, and cream, this chowder is also packed with carrots, potatoes, celery, and onion for some added healthy food.
5 — Crab Soup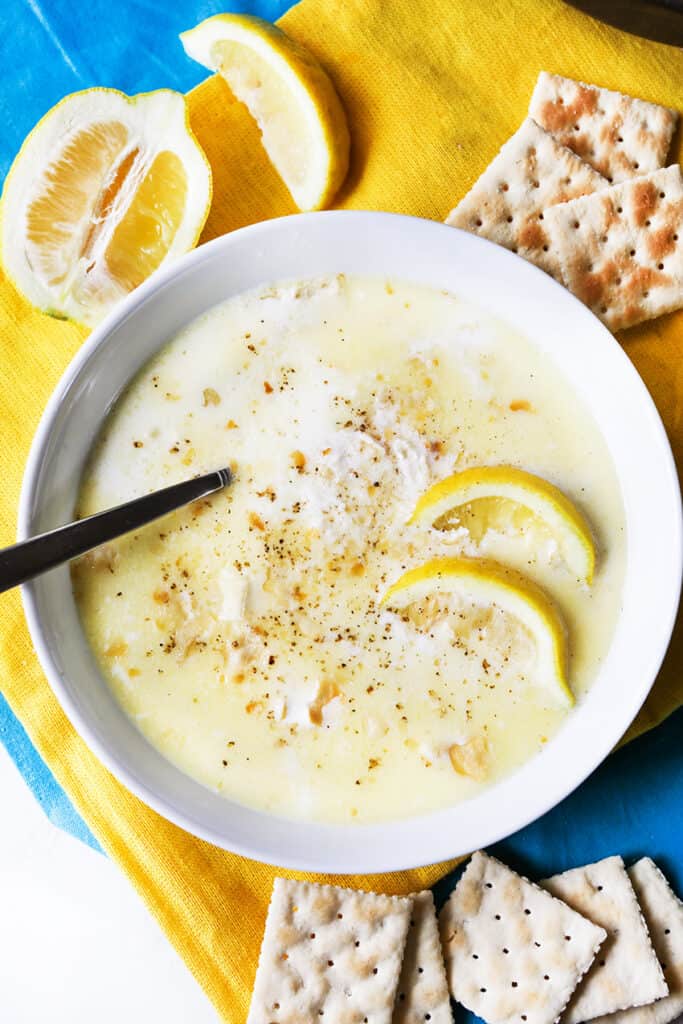 An easy five-ingredient soup that's perfect for cold winter nights. Simply combine whipped cream, butter, milk, imitation crab, and salt.
If you want to spice things up, try adding Old Bay seasoning or a homemade lemon pepper seasoning.
Snacks
6 — California Roll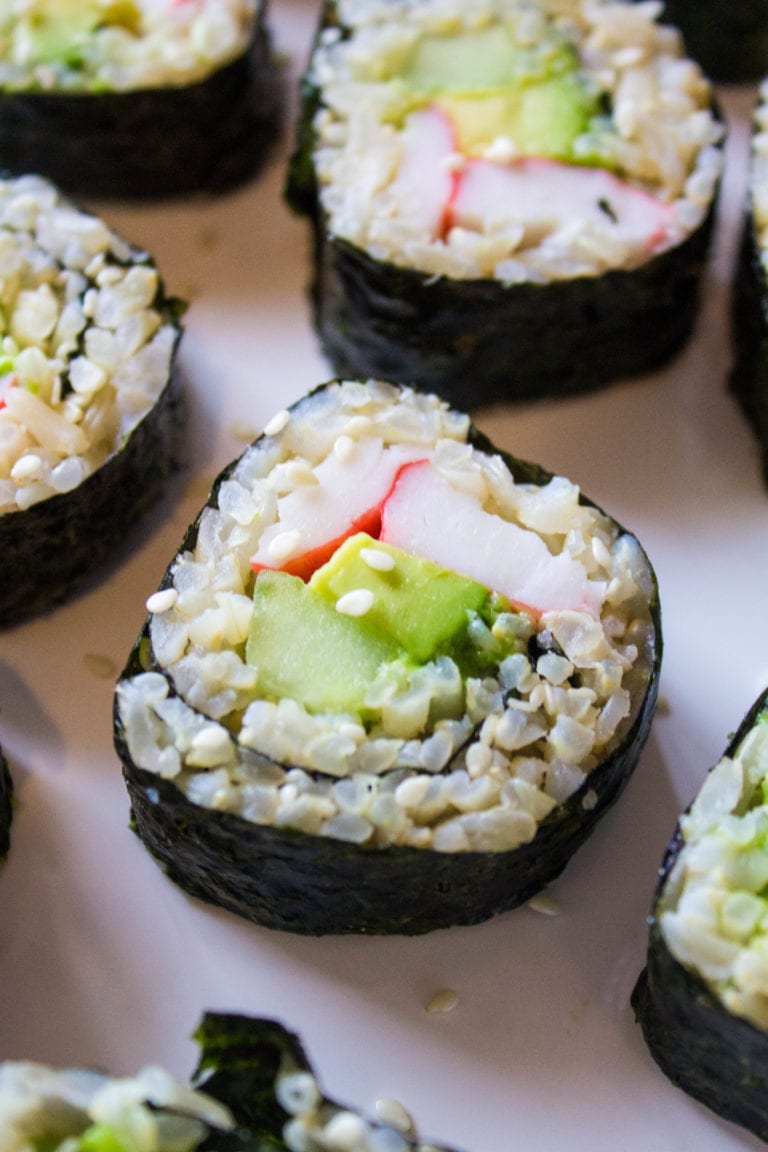 A classic sushi roll and all-around favorite, this California Roll is simple to make and packed with healthy foods such as avocado, cucumber, and brown or black rice (depending on your preference).
Add in some wasabi or ginger to pack in more flavor and enhance the taste of that imitation crab.
If it's sushi night, avoid very sweet cocktails because they will overpower the seafood flavor. Instead, try saki or lighter spirits.
Make cocktails with white wine, sparkling wine, or flavored vodka. For example, riesling, chardonnay, or a dry bear-like Soporro will work.
7 — Crab Cakes
A classic that works with tight budgets.
The mayonnaise and mustard add a tangy yet sweet flavor, while the Worcestershire and bread crumbs make the taste more complex and provide an added crunch to these cakes.
8 — Buffalo Crab Dip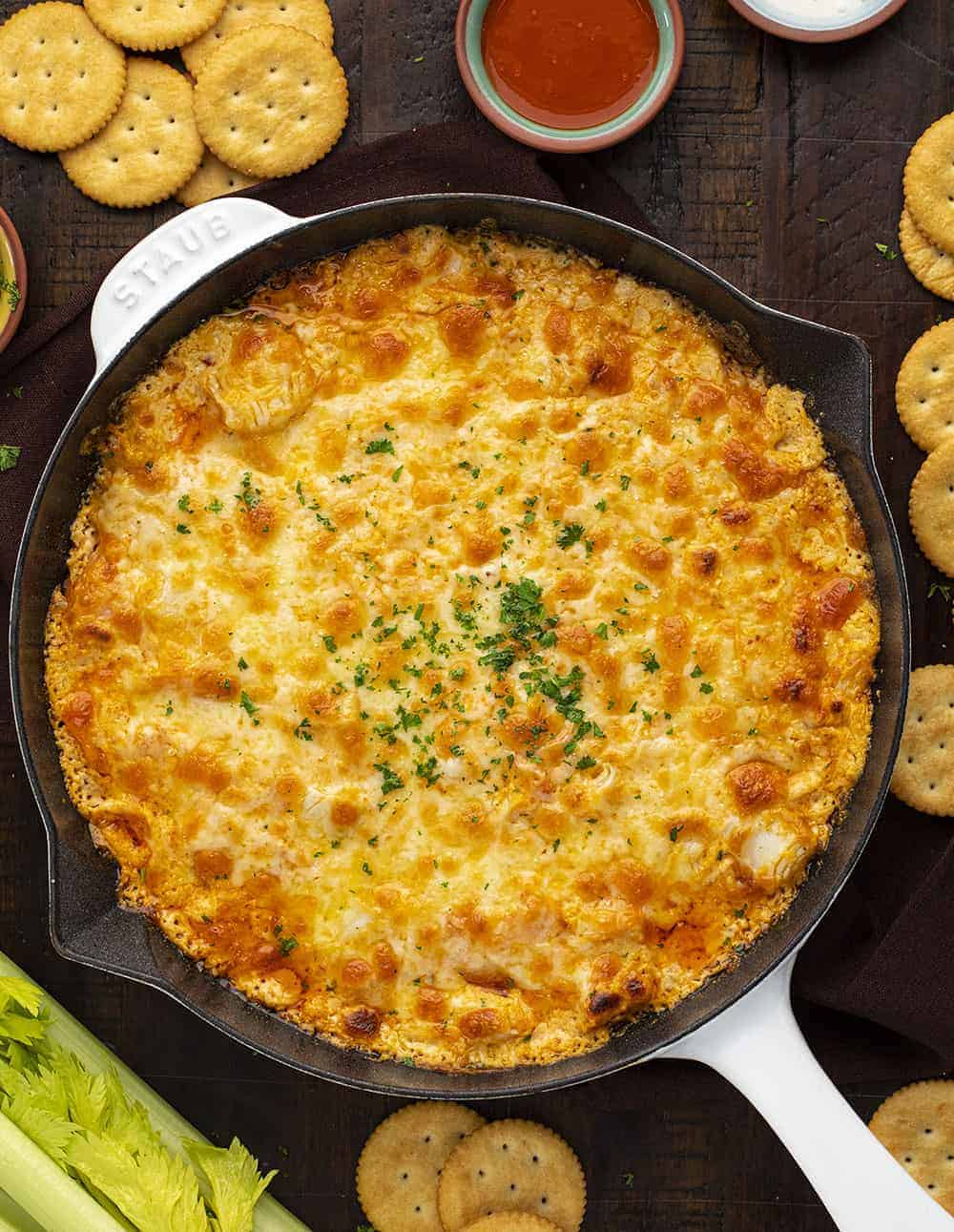 For your next party, you have to serve some Buffalo Crab Dip. It's a step up from traditional crab dip and provides an added spicy flavor.
Eat it with fresh veggies such as cut-up celery, carrots, peppers, fresh or garlic bread, or pretzels.
For those who like a kick, pair the dip with a Spicy Paloma Cocktail. And for those who do not like overpowering spice, a cooling Peach Iced Tea or refreshing Pink Lemonade Cocktail will do the trick.
9 — Devil Crab Cream Cheese Ball
Why have the carbs of the breading from the crab rangoon when you can skip them and just eat the insides?
This giant ball of crab and cream cheese is the perfect way to do that. Although, you can definitely serve it with a side of chips, celery, or red peppers.
Entrees
10 — Seafood Enchiladas
Enchiladas are delicious. And these enchiladas are filled with an array of sea flavors that play off each other to make you think you are in the middle of the Mexican ocean!
You simply need a handful of ingredients to whip up these enchiladas — ginger, jalapeño, cream sauce, pepper jack cheese, flour tortillas, milk, sour cream, and, of course, shrimp and imitation crab. Enjoy!
11 — Crab Rangoon Casserole
If you are like me and cannot get enough crab rangoons, this casserole will be your new favorite dish.
It's delicious, easy to put together, and easy to grab fresh ingredients to make it healthier and fresher.
This crab rangoon casserole dish has all the flavors and textures – smooth yet crunchy, creamy, and sweet, topped with butter, parmesan cheese, and panko breadcrumbs.
If you are looking for additional creaminess or crunch, up the number of toppings you add.
12 — Crab Quiche
Quiche is an excellent dish for brunch, a good snack, or a healthy and hearty meal, and it works for breakfast, lunch, or dinner.
And this crab quiche recipe will satisfactorily fill you up any time of day. The combination of heavy cream, monterey jack cheese, Tabasco sauce, and imitation crab meat is delectable.
Have a themed brunch? Serve this delicious imitation crab meat quiche with a cactus, retro, bridal, or pastel poolside theme.
If you want some sides to go with quiche, try some soup (tomato, chicken, vegetable, or cold), roasted veggies, or simply with bread.
Drinks that go well with quiche are sweeter or bubbly wines, such as champagne, since the bubbles, lemon acidity, and flavor profiles pair exceptionally well with the egg from the quiche.
Also, try a mimosa or bellini since the citrus flavors and bubbles compliment the quiche well. Alternatively, try iced tea (or spike your iced tea), lemonade (spike your lemonade, too), or coffee (spike your coffee or make it an old-fashioned)
13 — Crab Stuffed Mushrooms
Stuffed mushrooms are definitely underrated. So use the mushroom of your choice!
Baby bella or cremini mushrooms are great if you want to have many smaller stuffed mushrooms, while portobello mushrooms are great for making larger ones.
For the stuffing, combine imitation crab meat, cream cheese, onions, and spices and fill up the mushroom cap to the brim.
14 — Crab Pizza
Sometimes the most exciting combinations make the most delicious combinations.
This imitation crab meat recipe combines two delicious foods — pizza and crab!
This crab meat recipe is excellent if you are on a budget because it's cheap.
And it's great if you are a picky eater because it's so easy to customize. The pizza base starts with a crust.
Try making a homemade keto pizza crust or cauliflower pizza crust. Then, add fresh baby spinach, chopped scallions, and bacon. Top it off with cheese, cheese, and more cheese.
Hosting a party? Check out these creative ways to serve up a pizza.
Easy Cocktails that Pair Well Imitation Crab Recipes
If you want to eat well, cook quickly, and not break the bank, these imitation crab meat recipes are perfect. Bon appetite!
For more cocktails that pair with with imitation crab recipes, check out a few of our favorites from the archives below —
Don't forget to share your imitation crab dishes with us on Instagram using the hashtag #sugarandclothloves. We always love seeing all of your creations! Looking for more quick and delicious recipes? You can find them all right here with a few desserts to go along with them.
More Round Up Recipe Ideas