Looking for a creative way to label your holiday presents this year? Take inspiration from these unique DIY Christmas gift tags!
Alas, the perfect gift has been picked out. And then, you've even found the most unique way to wrap it. So now all that's needed for that final personal touch is a creative Christmas gift tag! Because do you really want to finish it off with one of those boring store-bought adhesive gift tags?
We're sharing our favorite DIY Christmas gift tag ideas that are budget-friendly. Most require materials that you probably already have laying around at home. And many even feature free printable templates so check them out below!
Christmas Gift Tag Ideas
1 — Accordion Gift Tag
All you need are some paper, a printer, scissors and the included free tag template to recreate these whimsical accordion gift tags. Enclose the tag in a mini envelope with a gift card, or hole punch and string in a tie, and you're all set! These could also function as Christmas cards!
2 — Monogrammed Ornament Gift Tag
Recycle your ornaments by transforming them into keepsake DIY monogrammed tags. Your gift recipient can then hang them on the Christmas tree for years to come.
3 — Holly Gift Tag with Printable
Jazz up your Christmas presents with this Holly gift tag that also makes for pretty table place cards. It's simply a free template for you to print out!
4 — Button Snowman Gift Tag
Have a collection of spare buttons that always come along with your garments? Use them to recreate a homemade snowman tag. To make the snow, just rip some paper. The messier the rip, the better since you'll get some texture to the snow.
5 — Bird Gift Topper with Printable
This bird gift topper works not only for the holiday season but also for other year-round special occasion gifts for birthdays, bridal showers, anniversaries and more. Once you print out the bird template. You can also leave it plain or draw or paint feather details.
6 — Wood Veneer Gift Tag
This DIY wood gift tag can literally be whipped up in 5 minutes. You can even use your leftover veneer scraps to make confetti to decorate your gift wrapping. It's way cheaper to use veneer than actual wood. But you still achieve the same look.
7 — Polymer Clay Gift Tag
Keychains, photo holders, decanter tags, pots and sculptures, there are so many versatile things that you can make with polymer clay.
And now you can add Christmas tags to that fun list of projects. We love that you can personalize this clay tag, which can also be used as an ornament.
8 — Black & White Modern Merry Christmas Gift Tag with Free Printable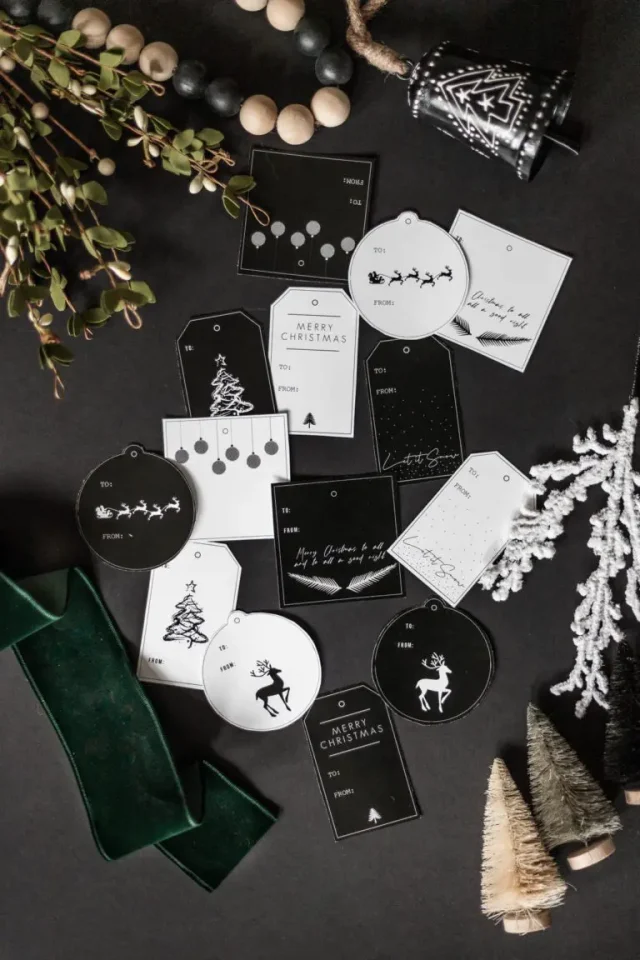 If modern is your style, then these monochromatic Christmas gift tags are just for you.
9 — Merry and Bright Printable Gift Tags with Free Printable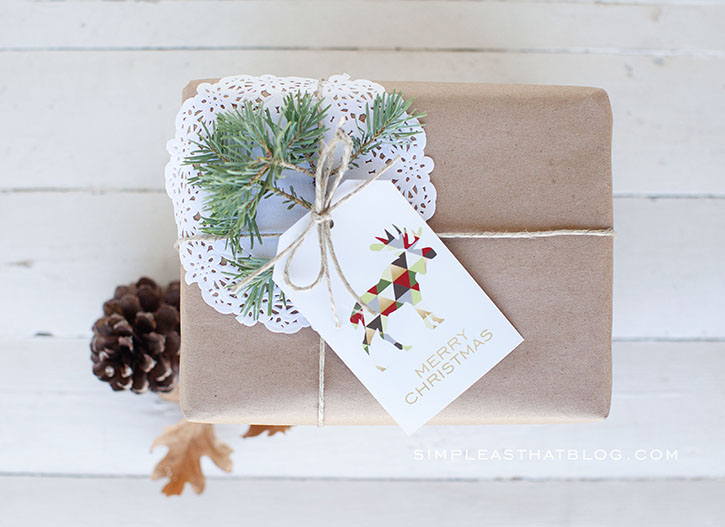 Download, print and cut these 4 free printable Christmas gift tags to spruce up your wrapping paper. We like that it only requires a white background so they're easy to print and require little color ink. Plus, write a message in the back to turn them into holiday cards that function as gift tags!
10 — Snowflake Gift Tags
The snowflake gift tag is one of many ideas to deck out those regular manilla shipping tags. This DIY also calls for some string, paper doilies, and die cut snowflake (that you can make at home with a Circuit or purchase them online or at your local craft store).
11 — Funny Christmas Gift Tags with Free Printable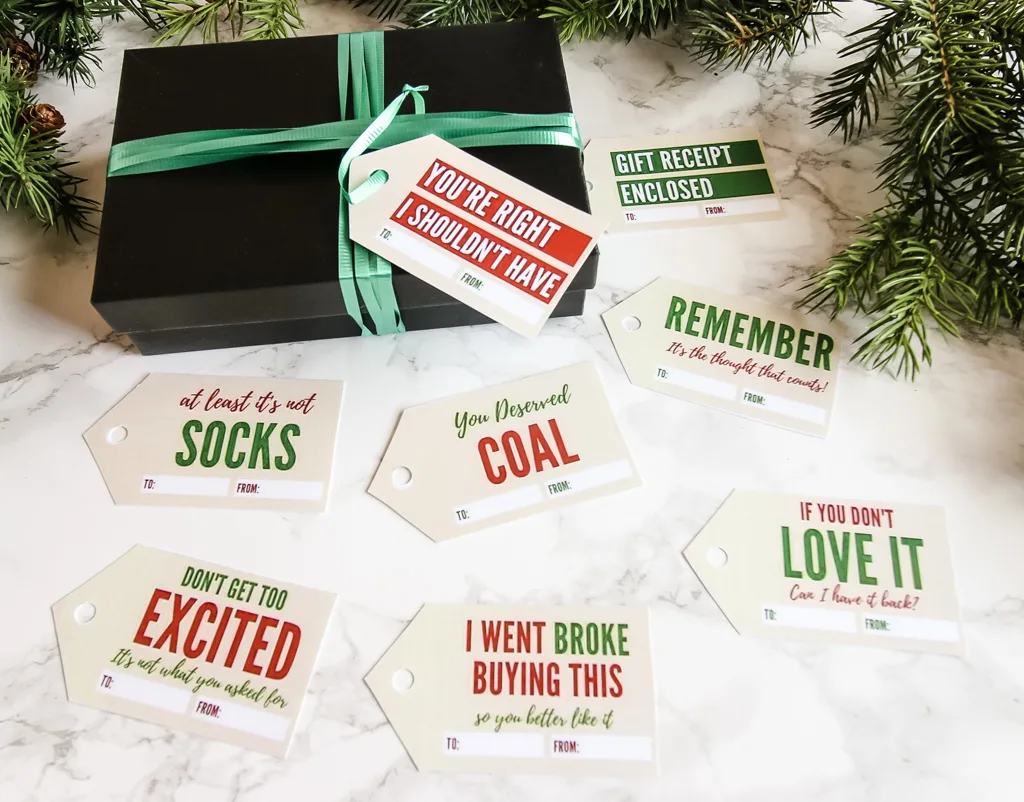 Bring the LOL's this season with these funny gift tags. They're cheeky, lighthearted and pair perfectly with gag gifts and White Elephant gifts, and dirty Santa gifts.
12 — Clothespin Gift Tag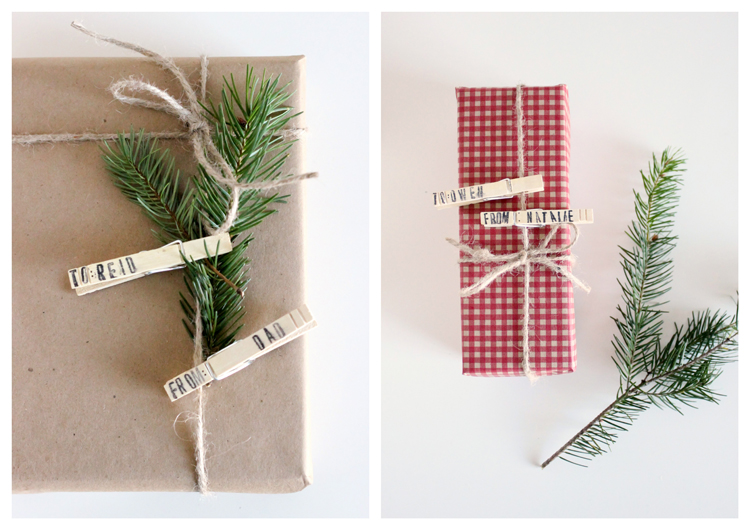 Your presents will surely stand out amongst all the gifts under the tree with this easy-to-make clothespin tag for personalized Christmas tags.
13 — Fabric Gift Tag
Dress up those paper gift tags with your extra fabric scraps. This specific DIY forms fabric presents. And you can apply the same concept by creating fabric ornaments, trees or snowflakes.
14 — Typographic Gift Tag
This typographic gift tag idea also works as a creative gift wrapping idea since it's graphic, fun and bold. Choose your favorite font in your gift recipient's initials, print it out in the color paper of your choice, and finally, affix it to your wrapping a personalized holiday present..
15 — Simple Christmas Gift Tags (Printable)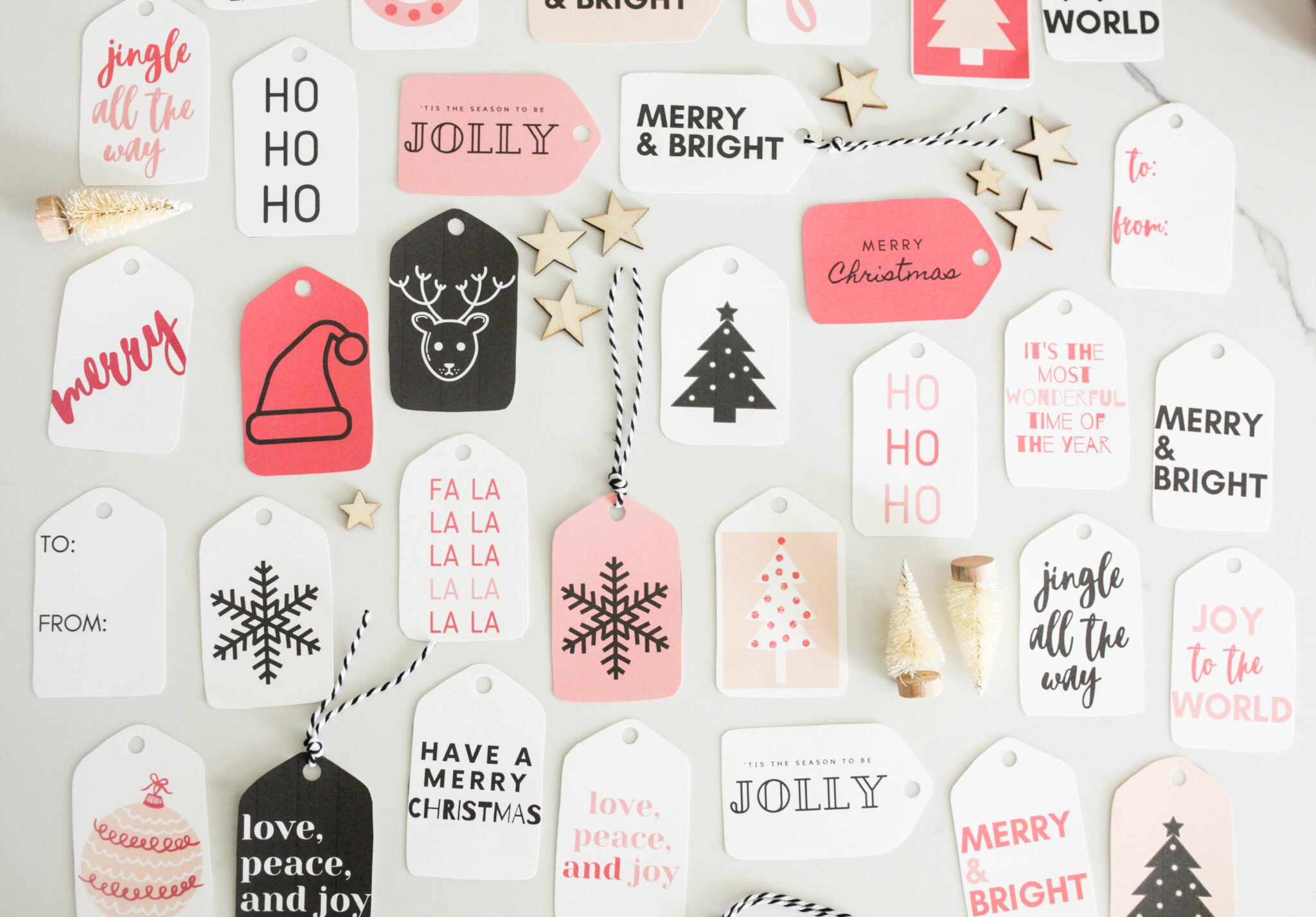 With over 64 modern yet colorful templates to choose from, you'll never have a shortage of cute holiday gift tags. They are holiday themed for a pink Christmas.
16 — Greenery Gift Tags with Printable
For something more traditional or minimal, opt for these classic greenery tags. There are different shapes. Some are blank, and some display holiday phrases like "Merry Christmas" and "Merry & Bright".
17 — Ornament Gift Tags with Printable
This ornament gift tag tutorial is similar to the DIY fabric gift tags in that they both are clever ways for you to reuse your fabric scraps. Simply use the downloadable template to cut out and fashion your DIY ornaments. You could also use scraps of leftover stationery paper or festive printed cocktail napkins.
18 — Santa Gift Tag with Soda Tabs
Ho, ho, ho, we can't feature Christmas gift tags without featuring at least one Santa Tag. Make use of your soda tab cans, and transform them into a festive Santa Claus tag.
Black ribbon serves as the belt while dabs of glitter form Santa's buttons. You can use any type of string or ribbon. However, baker's twine is always a fitting choice for Christmas.
19 — Artsy Doodles Gift Tag with Free Printable
We love this quirky eye design if you want to add an artsy touch. The free download even includes a coordinating gift wrapping design too.
20 — Rudolph Gift Tags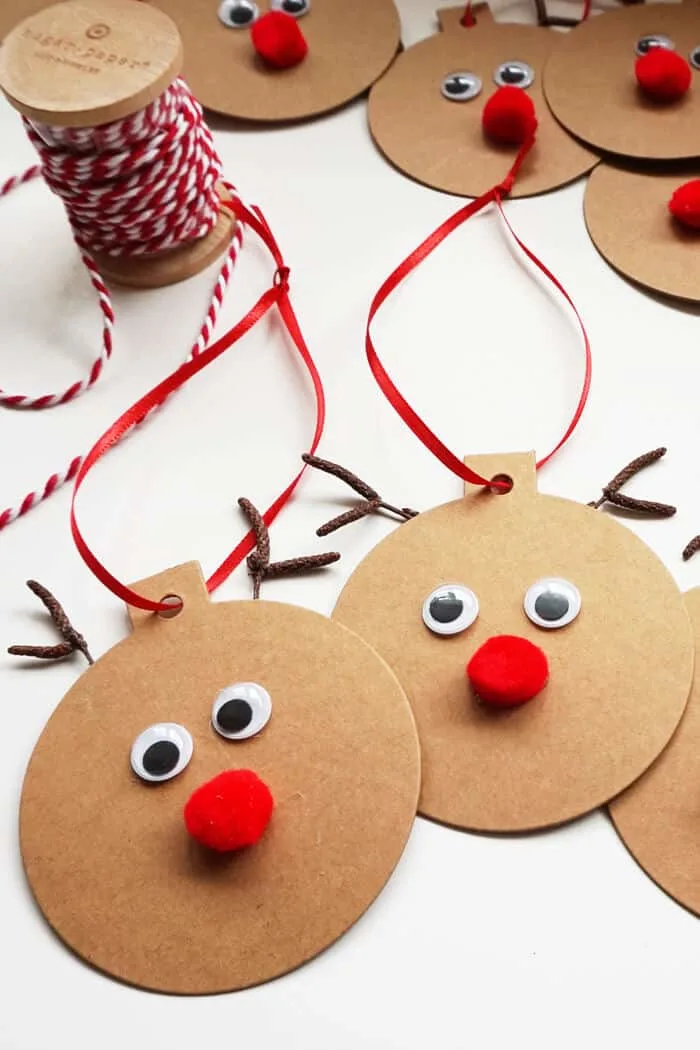 This Rudolph gift tag is a fun project you can do together with the kids. Red pom poms for his signature nose. Gather twigs outside for the antlers. Then, glue some googly eyes to cardboard rounds.
21 — Dip Dyed Gift Tag
Here's a quick 5-minute dip dyed gift tag if you're in a bind for time. Just mix some paint and water, and then, dip a tag into the watercolor mixture. If you do so quickly, you'll get a gradient ombre effect.
You can use red or green paint for the traditional Christmas color scheme. Or blue paint for those who celebrate Hanukkah.
22 — Fresh Herbs Gift Tag
Your holiday gifts will literally smell so fresh and so clean with a DIY fresh herbs gift tag. Slip in some basil, rosemary, peppermint, sage or whatever is sprouting in your home garden.
23 — Christmas Tree Gift Tag
We love this particular DIY Christmas tree tag with the extra touch of 3-dimensional texture with the yarn and star embellishments. And don't worry, there's a template to follow so you're not just winging the tree outline.
24 — Christmas Chalkboard Gift Tags (Printable)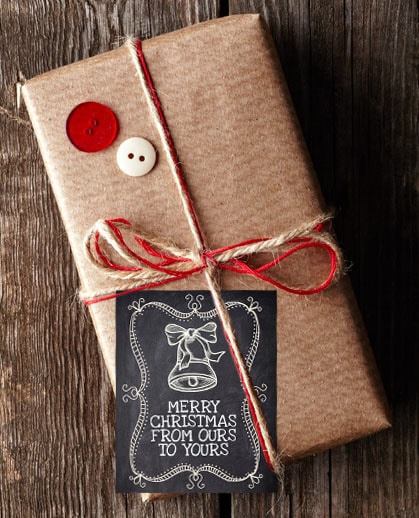 Spruce up that Kraft paper wrapping with these 9 chalkboard gift tag labels. You'll get the chalkboard look without the dusty mess. If you're worried about using up all your black ink, your local office and supply store (or even Walgreens) can print these on white ink. It's actually way cheaper than color printing!
25 — Christmas Gift Tags from Paper Plates
Its name says it all. This Christmas gift tag idea is constructed from paper plates. And Christmas has no shortage of paper serve-ware to choose from.
Still Looking for a Gift?
Are you still shopping for a gift and trying to fulfill those wish lists? If so, check out a few of our favorite gift guides below —